Great Photographers

Above: Elliott Erwitt, Paris, 1989
What makes a great photographer?
Greatness, like success, is difficult to define or quantify and means different things for different people. Money, exposure, awards, freedom to create at will and what else make a great photographer?
Are war photographers great?
Is a war photographer who is risking his or her life a great photographer for providing a window in a grotesque world we would otherwise not see? There are many photojournalists who, sadly, lost their life striving to bring us the best photograph ever. Some say they are indeed magnificent.
Are award wining photographers great?
Is a great photographer one who won countless photography competitions? Does the number of photography awards even matter? I know photographers whose walls are full of awards and they don't consider themselves good enough. That is the artist's struggle: the better they become the more disappointed they are with their work.

Above: Father daughter dance, by Calin (oh no, I do not consider myself a great photographer)
Are wedding photographers great?
After all, they document the birth of new families every weekend. Being a wedding photographer is one of the toughest jobs ever, from a stress standpoint (there is no second chance to take that first kiss photo) and a very physically intense job. Carrying two cameras in intense heat the whole day takes a toll on a photographer's body over time. Is it worth? Absolutely!!!
Are fashion photographers great?
Maybe, but not all of them. I know completely brilliant fashion photographers who are anonymous. There are some very famous fashion photographers but they are rather the exception then the rule. Then, is fame equal to greatness?
Does commercial success matter?
If we are talking about greatness, that should definitely be reflected in the huge fortunes amassed by the talented photographers. Well, if you show me a wealthy photographer, I will give you a free photoshoot next time you are in Toronto. Also, I know financially successful photographers who are not great, in fact they are fairly average.
We live in a world where there are more photos taken every day than in the last century. How can one be great when it is so difficult to differentiate yourself from the crowd. Is Photoshop the answer? Then you are not a photographer but a digital artist. Many photographers raise above the masses through hard work, the old secret of success. Sadly, it is not work to become a better photographer, but a better social media wiz, a better blogger, a better networker, a better SEO master, a better...
Are social media likes and shares an indicator of greatness?
By no means!!! Every day I see photos of cats gathering millions of likes while breathtaking images taken by professionals are just collecting social media dust. In fact if you pay a firm $10 they will give you thousands of likes. I don't know the market for that, but I heard it is that cheap!!! Also, when you like someone's video on Facebook or Instagram, do you even watch it? I bet you some of us shut it down after 10 seconds and then comment: AWESOME!!! Unfortunately, often a successful studio is one who spends more time blogging and on social media than improving their craft.
Is a great photographer some kid who stumbles upon an event and take a well exposed photo with his iPhone? Probably not. If none of the above are true, then what defines a great photographer?
In my opinion the greatest photographers are the ones who INFLUENCE people, whose work shape generations of followers and break new grounds, whose name we don't necessarily know but we recognize their work and we are big fans even when we don't follow them on social media because, in many cases they are in the photographer's heaven where the light is always perfect, cameras always work, the flashes trigger and the subjects graciously follow directions and are natural in front of the camera.
Who are those photographers? Sometimes they are not known, like in the image below where one of Thomas Kelley, Charles C. Ebbets and William Leftwhich is supposedly the author of the image. Was this a photojournalistic photo? By no means! The picture is part of an promotional campaign during the Great Depression.
Still, most of the time, the authors of the images are known and here are our heroes, the ones that make us work harder to endeavour to catch them, the ones who inspire our photos.
Henry Cartier-Bresson
I adore Cartier-Bresson, the French photographer considered the father of street photography. He is one of the founders of Magnum Photos, in my opinion, the most successful cooperative established by fellow photographers. Henry Cartier-Bresson wrote his masterpiece book, The Decisive Moment, whose title was inspired by Cardinal de Retz's quote "There is nothing in the world that does not have a decisive moment." Cartier-Bresson teaches us to wait patiently for the scene to unfold and in front of our lens and depress the shutter at the decisive moment, as opposed to what some photographers do, applying a technique condescendingly named "spray and pray".
As most photographers would agree, Ansel Adams is one of the best landscape photographers if not THE best! At least that is the opinion of all colleagues I interviewed. His black and white works are among the most valuable phootgraphic works ever created with one of them, according to CNN, worth $200 million. Adams was a pioneer photographer an avid traveler, successful businessman and genius in the darkroom. My personal favourite image is The Tetons and the Snake River (1942) - below.
Ansel Adams influenced the way I process images and I like to think the way I composed, though by no means I am comparing myself to such a photography genius. In the photographers community he is a revered undisputed master and every single photographer dreams of becoming an Ansel Adams one day.
Steve McCurry is another favourite of mine, a photojournalist who traveled to India to freelance. It was there where McCurry learned to wait for "people will forget the camera and the soul will drift up into view." As a wedding photographer, waiting is part of the game. Very often I had to wait until a child gave me the right expression and I always remembered Steve McCurry's words.
Centre the dominant eye
A second powerful technique used by McCurry in his works is to place the dominant eye in the centre of the frame to give the impression the eyes follow you. This is an old painting technique that McCurry mastered to perfection.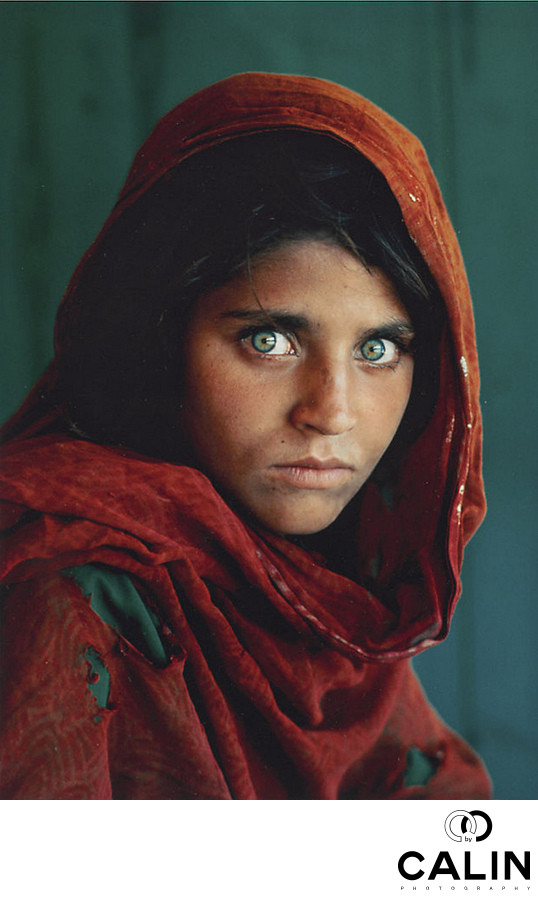 His most recognizable work is the Afghan Girl (above), a photograph that appeared the first time in National Geographic. That portrait uses the technique where he centres the dominant eye.
Dorothea Lange
The image of the Migrant Mother is the most iconic photo of the Great Depression. Dorothea Lange passed the "Pea Pickers Camp close to Los Angeles and returned on a gut feel. Her instincts were impeccable as she came across this mother of two children who had just sold the tires of the family car to buy food for her hungry children. This mother is obviously more preoccupied by the future of her family than by the big camera placed in front of her and that makes this image very powerful. The technique used here is "Fill the Frame."
I had to force myself to use this technique which I call "shoot tight" to make sure there is no doubt who the subject of the frame is. I find that the amateur photographers often shoot very wide and when you crop the image in post production, its quality drops dramatically.
Annie Leibovitz
Annie Leibovitz (Anna-Lou Leibovitz) is probably the most famous photographer still working today. If you can name a celebrity, there is a high probability that Annie Leibovitz has taken her portrait. From John Lennon's portrait (on the day he died) to Demi Moore, Rolling Stones and The Queen Elizabeth II, Annie Leibowitz photographed them all.
Other giants of photography that influenced masses and we strongly suggest reviewing are:
Patrick Demarchelier
Richard Avedon
Diane Arbus
Elliott Erwitt
Sebastiao Salgado
Brassai
David LaChapelle
Alfred Stieglitz
Robert Capa
Edward Weston
Helmut Newton
Irving Penn
Garry Winogrand
Paul Strand
Walker Evans
Cindy Sherman
David Bailey
Man Ray
Andreas Gursky
Martin Parr
Imogen Cunningham
André Kertész
Eugène Atget
Peter Lindbergh
Ellen von Unwerth
Bill Brandt
Margaret Bourke-White
Bruce Weber
Nick Knight
Terry Richardson
Arnold Newman
Sally Mann
Mary Ellen Mark
James Nachtwey
Gordon Parks
Robert Mapplethorpe
William Eggleston
Don McCullin
August Sander
Patrick Demarchelier
William Klein
Vivian Maier
W. Eugene Smith