TORONTO BOTANICAL GARDEN ENGAGEMENT PHOTO
As a Toronto engagement photographer,I have several favourite locations where I like to shoot, and Toronto Botanical Garden is one of them. As such, I use every opportunity to recommend my couples to have their wedding day and engagement portraits done in Toronto Botanical Garden.
This couple who got married at Barcelo Maya are big photography lovers. Although it might sound hard to believe, they hired me to do three engagement photo shoots. We did the first first two e-sessions in Toronto one in Yorkville and Distillery District and another one in Toronto Botanical Garden. The third photo session was an engagement/pre-wedding photo shoot in Mexico.
For this particular engagement portrait session, Katerina purchased a beautiful pair of Wifey for Lifey bridal sandals by Sophia Webster. This particular image is dedicated to them. This engagement picture includes only the feet of Katerina and Taylor separated by an ampersand. I shot this image during the golden hour in September when the light was perfect. I asked Katerina and Taylor to hug and I shot this picture at ground level. The unique point of view makes this a striking picture. Also, the fact that the only see the engaged couple's feet, according to the gestalt law of closure creates tension as our brain is trying to complete the photo.
This is a symmetrical photo with the subjects placed slightly off centre towards the right side of the frame. That creates negative space on the left which balances the positive space on the right resulting in a great shot. Because I shot this image at a very shallow depth of field, and the background is plain, the subject stands out. Even more, the beautiful orange backlight creates separation between from the background. In order to create this striking engagement photo, I used my medium telephoto Canon 85 mm lens shot at f2.5.
From a colours perspective, we have a few colour schemes balanced harmoniously in this image. First, Katerina's legs contain orange tones complemented by Taylor's blue jeans. The green and yellow background complete the analogous colour combination (a combination of colours that are adjacent on the colour wheel).
This image was so masterfully captured in camera that I didn't have to spend hours in post production. I only applied a vignette, softened the skin and enhance the colours vibrance.
Toronto Botanical Garden Photographer
Why do I love so much Toronto Botanical Garden? First, it is one of the most beautiful photography locations in the GTA offering perfect backdrops for your wedding day and engagement portraits.
Second, parking is never a problem if you plan carefully to avoid blackout dates when TBG holds events.
Third, should you want to get married at Toronto Botanical Garden, the establishment has two banquet halls appropriate for small to medium size weddings: the Floral Hall and the Garden Hall. The staff at this that wedding venue is very helpful and often told passersby to wait so I can get my shot.
Also very important, the wide diversity of plants and flowers in the garden allows a Toronto wedding photographer to take striking photographs of wedding rings as you can see in the picture below.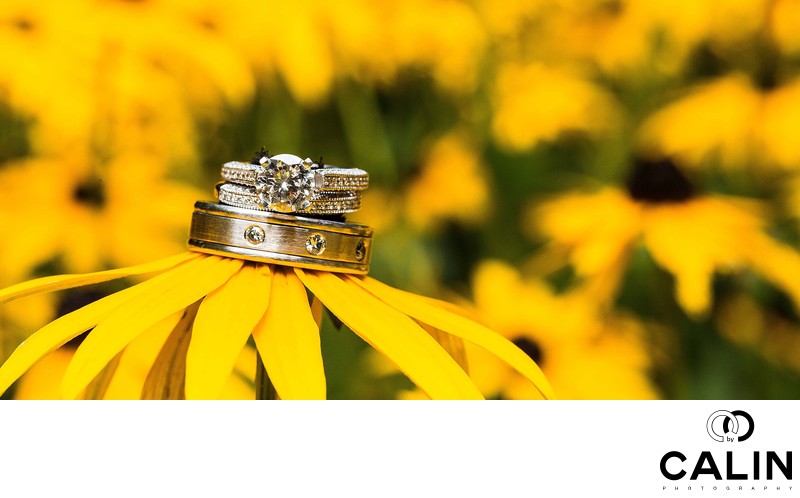 Location: 777 Lawrence Ave E, North York, ON M3C 1P2.