Engagement Photo Session Tips and FAQs


Q: What is an engagement photo shoot?
According to the wedding industry experts, an engagement photo shoot (also called e-shoot, engagement shoot or e-session) is a short photo shoot where you and the love of your life will have a good time while I happen to photograph you.
Q: Why is an engagement photography session important?
Finding an amazing photographer took a lot of time and effort and you want your wedding photos to look amazing. The engagement session is a trial to see how you, your fiancee and the photographer work together. Some couples are more comfortable in front of the camera while some others feel intimidated by the big honking lens. The engagement session gives you an opportunity to get yourself comfortable and act naturally in front of the camera.
Q: What is the purpose of an engagement photo session?
Besides taking the best engagement photos you and your fiancée ever had, the engagement photo shoot helps you learn more about photography (I talk quite a lot and explain why I do what I do). Also, it gives you an idea about my working style and personality so that you are comfortable in front of the lens on your wedding day.
An engagement shoot also gives me an opportunity to learn about you. What makes you laugh, what you like and what makes you cry.
Q: What do we need to prepare for the engagement photo shoot
For your engagement shoot, please create a mood board on Pinterest so I can learn more about your style and preferences. Pin 8 engagement photos from my website and 2 from other engagement websites or Pinterest. This is not a shot list, it is a tool that will allow me to understand your style. Share the board with me by email please
Next, decide on a location. If you need suggestions, use the list of Toronto engagement photography locations
Q: What locations do you recommend for your outdoors engagement portraits?
<![endif]--> Select locations that mean something to YOU and your fiancee, not simply because everybody on Pinterest has their engagement photos taken in a particular location. Do you want your engagement shoot to look like everybody else's? If you met or had a first date in a coffee shop, ask the owner's permission to take a few engagement photos inside or at least in front of the building or on their patio. In Toronto, every couple has their own magic areas when they hang out and if we photograph your engagement session there, you will look natural and the results will be great!!!

Q: Are props a good idea for our engagement photography session
While props look good in engagement photos, bringing a lot of of items could be a recipe for disaster. Quite a few many times the helium balloons flew away before the session even started only to spoil the mood of the couple who spent time and money on those. Still, if you always wanted that amazing shot of you holding the … (insert the prop name here)…let's do that. We will start with the props and then leave them in the car.
Q: We want our engagement shoot featured in a magazine or on a blog. What do we need?
If you want your engagement session published, there are a few tricks to make such production happen. You will need a bigger budget for such photo shoot, but it is totally worthed.
In this case, first, we need to discuss a list of shots, then we need a lot of props... blogs and magazine love props and detail shots.
We also need to photograph only when the light is perfect or use studio lights on your outdoor engagement session. We will need up to 8 hours to achieve the desired results. Chances are that we will need to shoot over 2 days. Also a good idea is to have a makeup artist and hair stylist follow us on set. To increase our chances to have your engagement photos published, we need to discuss a theme and a location that goes with that theme.
Q: What are the best times Shoot
The best time to photograph is either 1 hour before to 1 hour after the sunset OR, if you are a morning person, 1 hour before to 1 hour after the sunrise. In Toronto, the latter option is better as the streets will be empty at sunrise. However, getting your hair and makeup done before the sunrise, while not impossible, present a challenge.
Photographing your engagement session at sunrise or sunset allows us to obtain three different looks: daylight, sunset and night shots.
Pro Tip: Book two tentative days for your engagement session, so you have a backup if the weather is bad.
As Toronto portrait and wedding photographers, we photograph every day when the weather allows it. Our peak time is in from May until the end of October, a popular period for foliage engagement shoots. By booking two days, in case it rains on your main day, you don't need to wait for the next available date, which could be months away. By then the foliage will be gone.
Q: We are not comfortable in front of a camera. How can we look natural in our engagement pictures?
Unless you are an actor, model or you are super confident, it is normal to be shy in front of the camera. Treat your engagement photo shoot like a date with the love of your life where we just happen to take photos. This mindset will help you have fun! Drink a glass (or maximum two) of champagne before or during the shoot to relax and enjoy the experience!
Another trick to make you relax is that I use small equipment and not those honking lenses that scare any subject who happen to be in front of that photographer. The small lenses look less intimidating.
To make you fell more comfortable, during the engagement portrait session, I might ask you to tell me a story or to do silly things to elicit reaction and make you feel at ease.
A drink or two during your engagement photo shoot work wonders for the shy persons. I will drive you around so you can enjoy a drink o two on a terrace. That will also give us another opportunity to take candid shots of you and your fiancee.
Finally, posing makes everybody look uncomfortable and that will show in your engagement photos. The antidote is movement and a technique called posing in motion where I will pose you, then break the pose, ask you to take a few steps, then ask you to step back into that pose. If you can, it will look natural, if not, we will get a few giggles on camera. Using this technique on an outdoor portrait session never fails!! Also, you might want to discover the inner model in you and practice at home a few poses before your engagement shoot. However, we will guide you along the way - don't worry about it. Below is an example where movement generates the right emotion and look.
Q: What to wear during your engagement photography shoot
Wear comfortable clothes so you look natural in your engagement photos. For the night/evening part of the engagement shoot, consider wearing slightly more formal outfits.
When it comes to clothes, please stay away from bright whites, heavily visible logos or super heavy patterns. Pick the clothes that define you and consider the location where we are going to shoot. Red makes the subject "pop" so I highly recommend red tops/dresses/jackets.
Have a bag where you can place all the clothes, phones, keys, etc.
How many outfits should we bring? Bring 2-3 outfits (a casual and a more formal one) so that we achieve several looks.
As a general rule, the pants should be darker than the top. The eye travels to the brightest part of the photos and you don't want your fiancee white pants to be a distraction in all your engagement photos. You might want to bring a few sets of clothing and we can decide before we start.
Bring a lot of accessories.
Red, blue and yellow are primary colours and they always match to create a pleasing colour harmony that will look amazing in your wedding photos.
Q: I have 1,000 shoes, can I wear them all to our engagement session?
I am a big fan of shoes, just ask my wife!! Still, I encourage you to wear on your photoshoot only a few pairs that go well with your outfits. Also, bring at least a pair of flats or running shoes. You need to be comfortable while walking or climbing a hill. Your high heels will shine in those those dramatic engagement images!! If you have a brand new pair of Louboutins, let's start photographing them first while they look immaculate… like we did in the image below of those gorgeous Sophia Webster Wifey for Lifey sandals. The bride to be purchased them specially for this occasion and we started the engagement shoot taking a few shots where they are the main subject.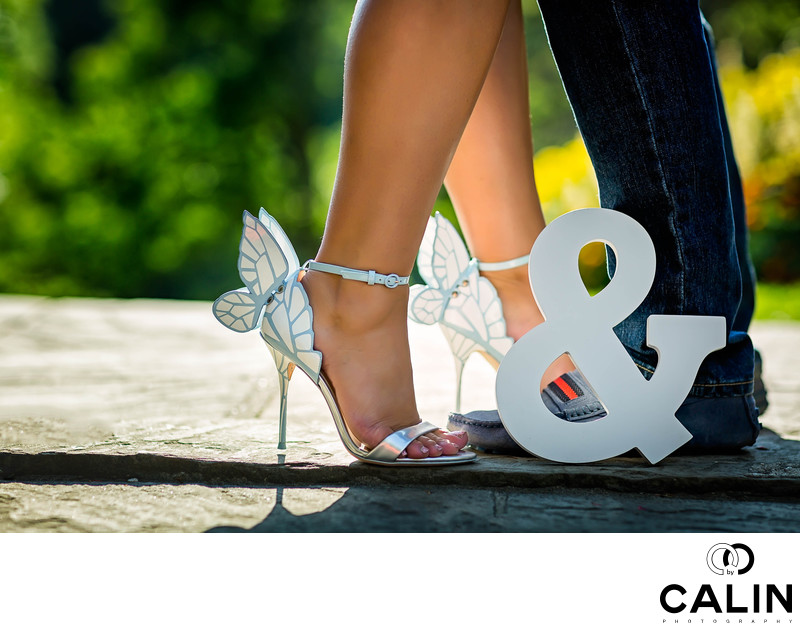 Q: Can we take a photo of the shoes, or a photo in front of ...
If you want a photo of a particular element or a specific location, please inform us in advance and we will be happy to oblige. After all, it is your engagement session and not our photo shoot, so you need to be happy with the results.
Q: Do we need a permit for our engagement photography session?
Depending on the location where you want to have the engagement photos, you might be required to buy an engagement photography permit. Popular locations such as Distillery District, require a permit.
Q: Can our parents join us during our engagement photo session?
Often parents want to meet the wedding photographer, especially if they pay for the wedding photography. Also, they want to help with the props, clothing, etc. Based on my experience, bringing your parents along on your engagement shoot is a bad idea. If your fiancee is not 100% natural in front of the camera, having the bride's parents present during the shoot makes things worse. One of the qualities of a good photographer is to make subjects "open" in front of the camera. I like taking with my couples so that when it's time to photograph, they feel natural in and forget my presence. That why I manage to capture images like the one below. However, when the parents are present, most often the engaged couples control their feelings which does not help the engagement photos.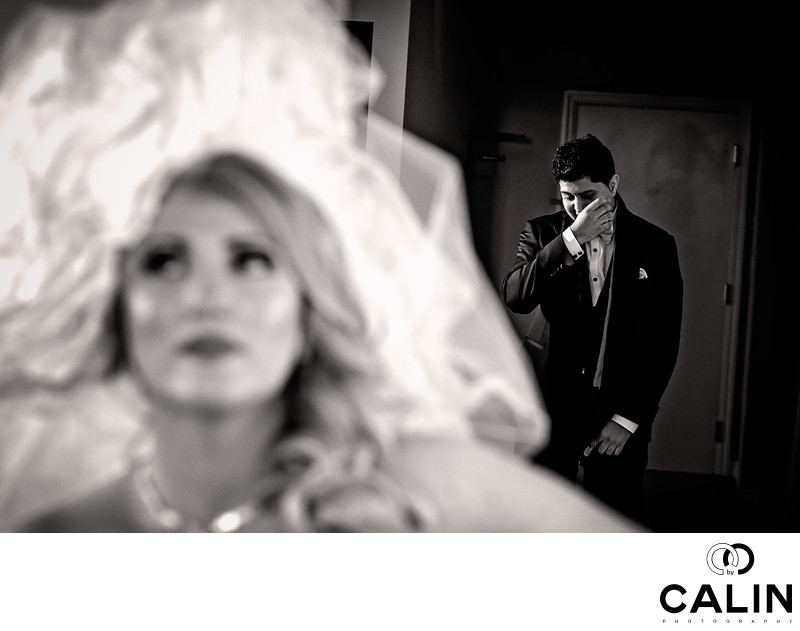 Q: Is it a good idea to do the makeup and hair myself for our engagement?
I don't doubt your artistic abilities and I know you can look amazing with wearing DYI makeup during your engagement session. Still, I suggest you hire a makeup artist and hair stylist. They use professional cosmetics look good to the camera. Saving on your makeup and hair is not a good idea if you want to look good in your engagement photos.
Pro Tips: Have your makeup and hair trials done the same day as the engagement photo shoot (that way you will look stunning!!!). Many makeup artists and hair stylists offer trials, which you can schedule on your engagement shoot day. Build time buffers. Often makeup and hair take longer than expected and we lose the light, which is the key ingredient for beautiful engagement images.
Bring a hairspray with you just in case we shoot by the lake or it is windy or humid and your beautiful hair will need some help.
Q: Can we take engagement photos with our pet?
I am a big pet lover and while they are fun indeed (I have a 120lb Bouvier des Flandres), my advice is to limit the pet photo-shoot to half an hour and to bring a human to handle your furry friend.
Q: How can we get those romantic engagement shots we saw on your website?
The type of engagement photos in which you are interested are created, not simply taken. The body language of you and your fiancee, the composition, lighting and emotion in your engagement need to be perfect. Trust me when we photograph and we will create the engagement imagery you will be happy to print and hang on your wall.
Master the art of the "almost a kiss". An "almost a kiss", where you breathe each other in is more sensual than a regular kiss. The tension of the almost a kiss helps creating very powerful engagement pictures. The trick is that during the "almost a kiss" to synchronize the facial expressions: serious, funny, romantic. I will guide you at the right moments of the photo shoot.
Thank you for checking out these tips for perfect engagement photos. If you found them useful and inspiring, share them with your friends.
If you want to learn more about engagement photos and engagements please read 30 Powerful Facts about Engagement Photos (with Charts)