Top 20 Wedding Trends (with charts)
Here are the hottest wedding trends based on google searches monitored over the last 14 years.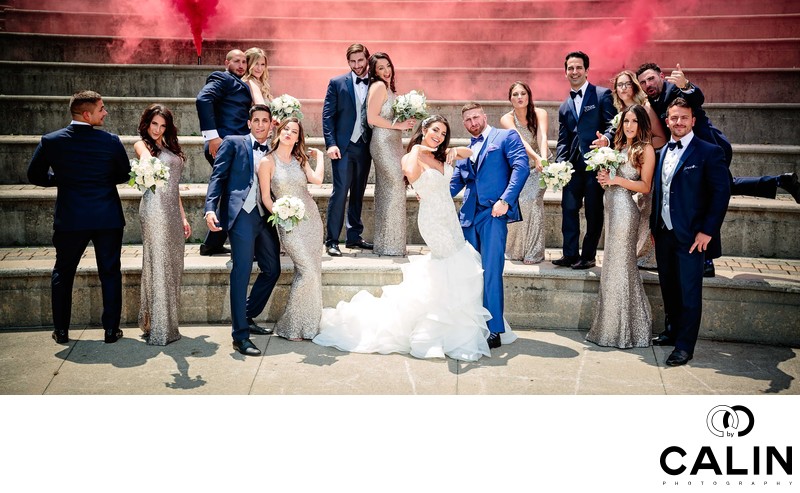 Share of Brides' Mind
Before we start listing the wedding trends, here is a chart that puts things in perspectives and shows what brides search before their big day. The wedding dress tops all searches with 2 million monthly searches worldwide. At the end of the article, you will find a list of most popular wedding related google searches.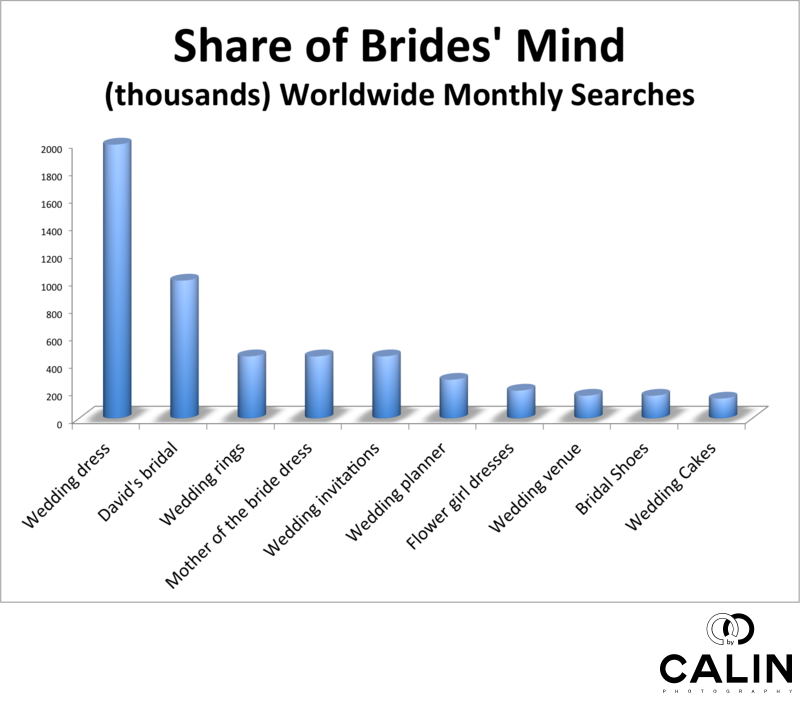 Here are the top 20 wedding trends:
1. GREENHOUSE WEDDINGs ARE All the Rage in the US
This year we are seeing a breakout in searches for greenhouse weddings and the US is the main driver of this trend.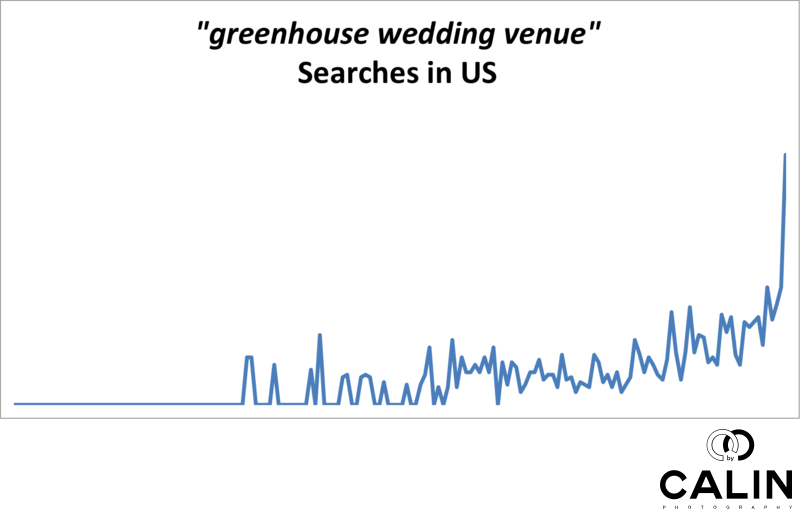 All major wedding blogs in the US (The Knot, Martha Stewart Weddings, etc.) list this trend, so it might be a self fulfilling prophecy. Once the bride and groom are reading that greenhouse weddings are hot, they start searching for such venues for their special day.
2. BRIDES DUMP TIARAS IN FAVOUR OF THE FLOWER CROWNS
Brides are migrating from the tiara to flower crowns and as you can see in the charts below. The flower crown (in red) overthrows the tiara (in blue).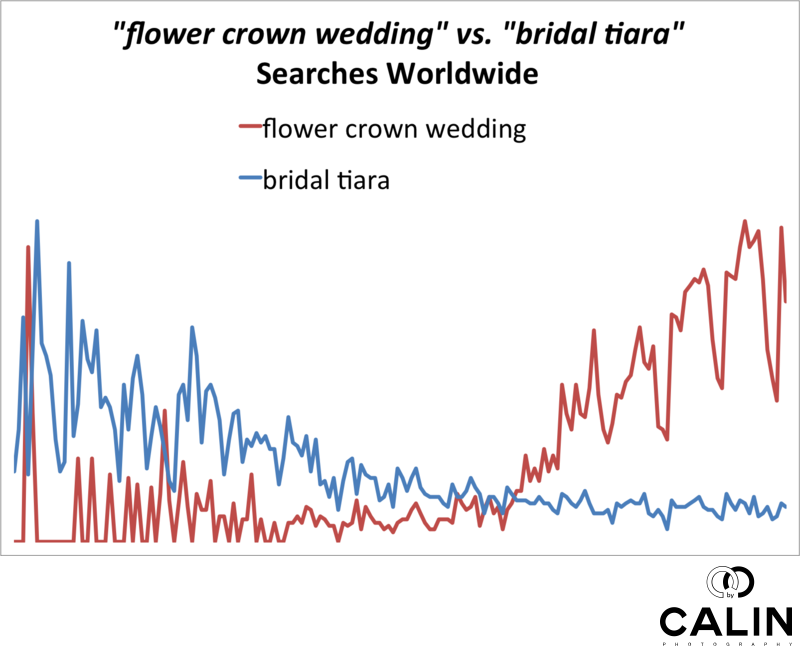 3. Barn Weddings are More Popular
In the last decade there have been a rising number of couples looking to tie the knot in a more rustic setting. With more than the world population living in urban areas, it is normal for a larger percentage of brides to want a different kind of setting.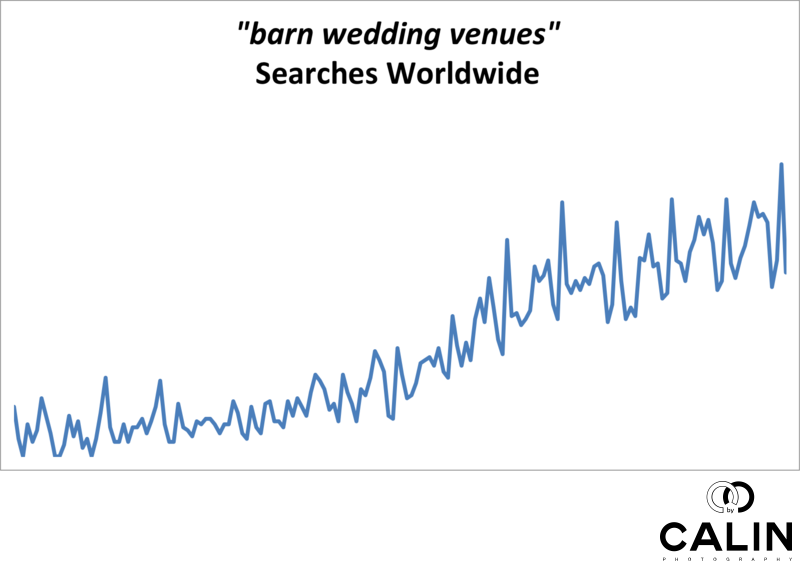 Most global searches for "barn wedding venues", 45% come from UK (45%), US (23%), New Zealand (13%), Canada (12%) and Australia (7%).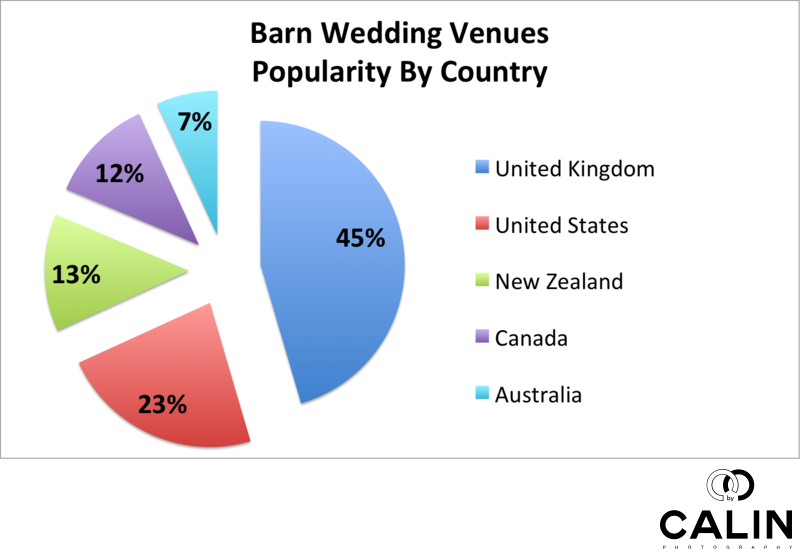 4. Rustic Weddings are Also Popular
Rustic weddings are seeing a significant rise in interest. In contrast, the traditional "banquet hall wedding" searches, have been flat over the last 14 years. Most "rustic wedding" searches originate in the US.

5. Outdoor Weddings Reached a Plateau
After almost a decade of sustained growth, it looks like the outdoor weddings move reached a plateau in 2013 and is now hovering around 10,000 searches per month. January and July are the months where we see an increase in searches for outdoor wedding venues.


The move is more prevalent in the US, Canada, Australia and UK.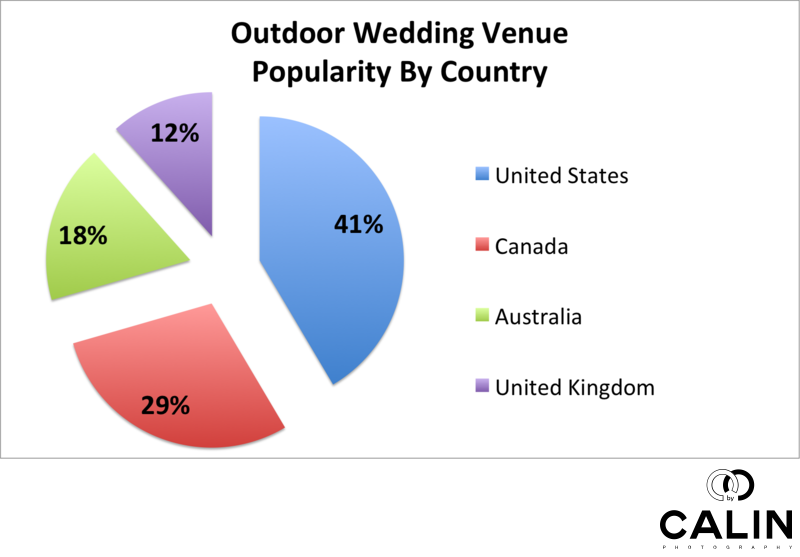 6. UNIQUE WEDDING VENUES Are Going Strong
In the last few years there has been an increased interest in unique wedding venues, as shown by the global google searches. This is confirmed by more specific searches for greenhouse, barn and outdoor wedding venues that are seeing a significant surge in searches this year. We observed the trend mostly in the US and UK.


7. Long Sleeve Wedding Dress Increased in Popularity
The sleeve wedding dress is back and is currently enjoying 94 K searches worldwide per month. A third of those brides are looking for "long sleeve lace wedding dresses". Large marriage blogs in North America and Europe anticipated a raise in brides' intention to wear a sleeve dress on their wedding day.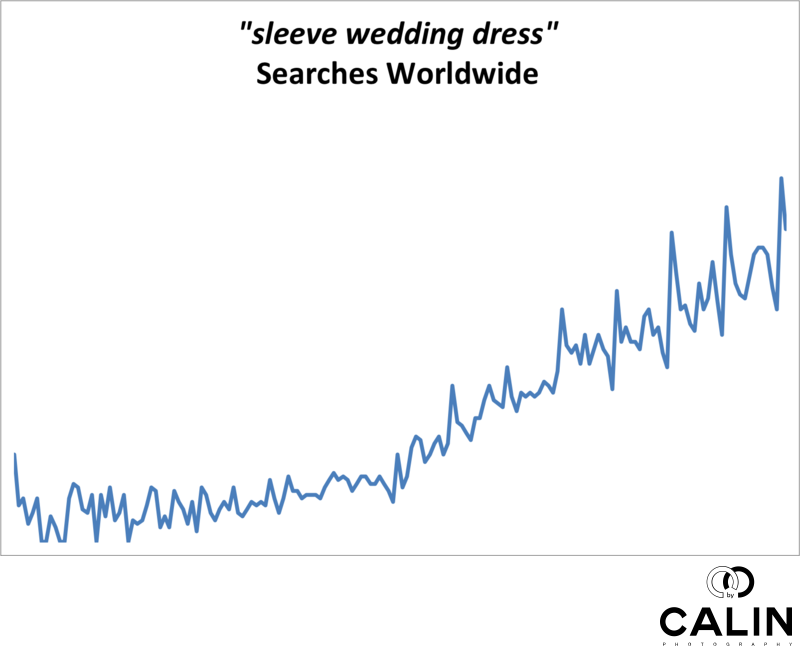 The long sleeve wedding dresses are most popular in Australia, US, UK, New Zealand and Canada.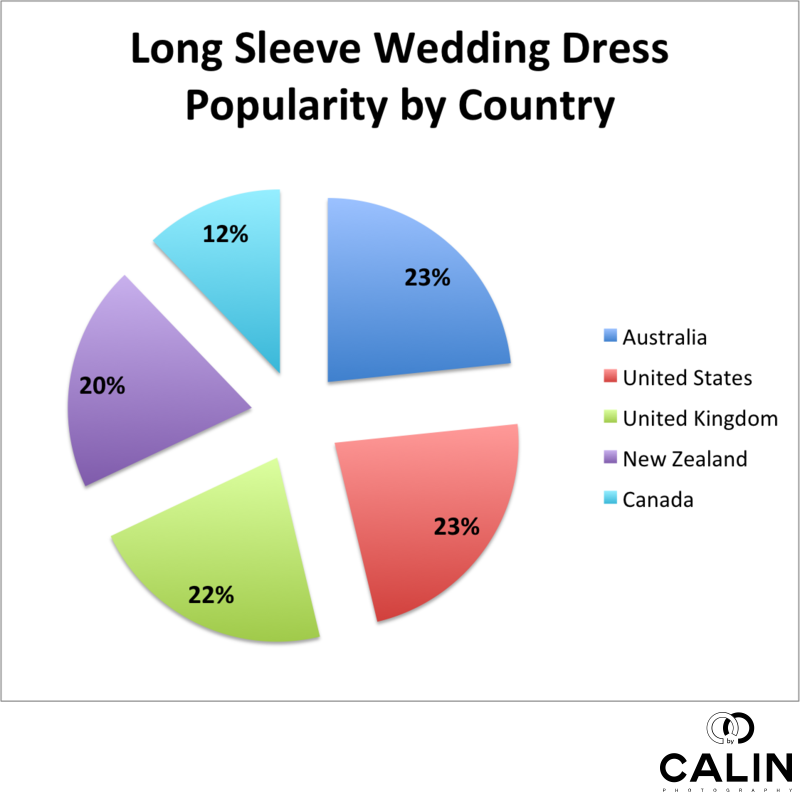 8. Lace Sleeve Wedding Dress Are Also Increasing in Popularity
It looks like lace is making a comeback this year in Australia, US, UK and Canada.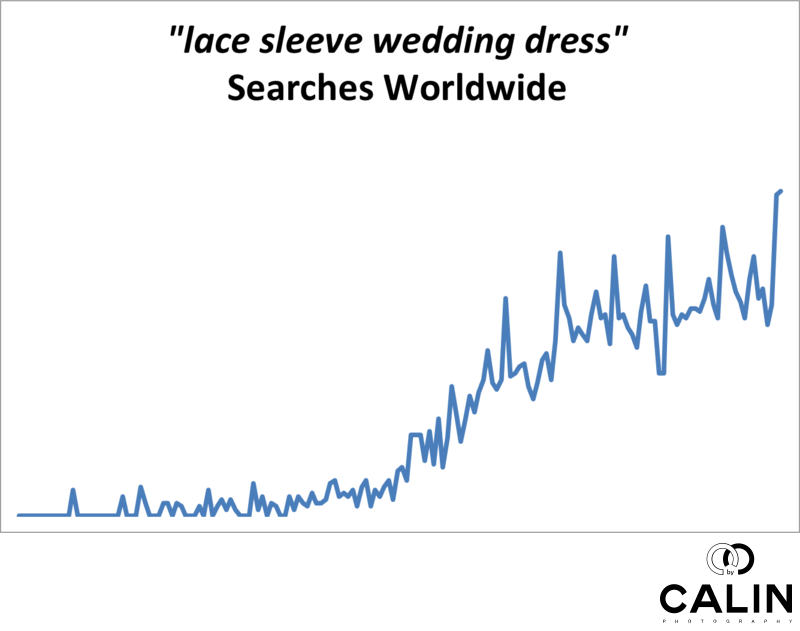 9. Designer Wedding Dresses are Shunned
According to our research, nowadays our beautiful brides are less interested in designer dresses. Still, designer wedding dresses remain popular in UK, Pakistan, Australia, Canada, US and India.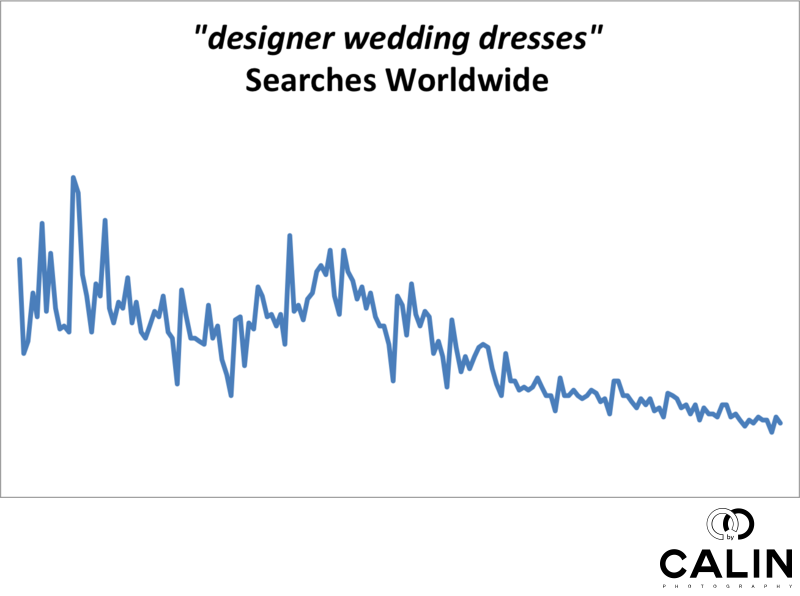 10. Vera Wang Wedding Dresses Are Loosing Ground RApidly
Unfortunately for Vera Wang, the popularity of her wedding gowns is dropping like a rock. Some of the reasons could be the reduced appetite of brides for a wedding dress retailing from $3,500 and often go over $10,000 when her other brand White by Vera retails at David's Bridal for as low as $700. Also, replicas of her high end dresses are selling for a tenth of the price.
Also, her brand reputation was damaged when when stores charged Chinese brides to be around $500 to try on her dresses and forbid taking photos of the dresses inside the stores (possibly to avoid her designs being stolen).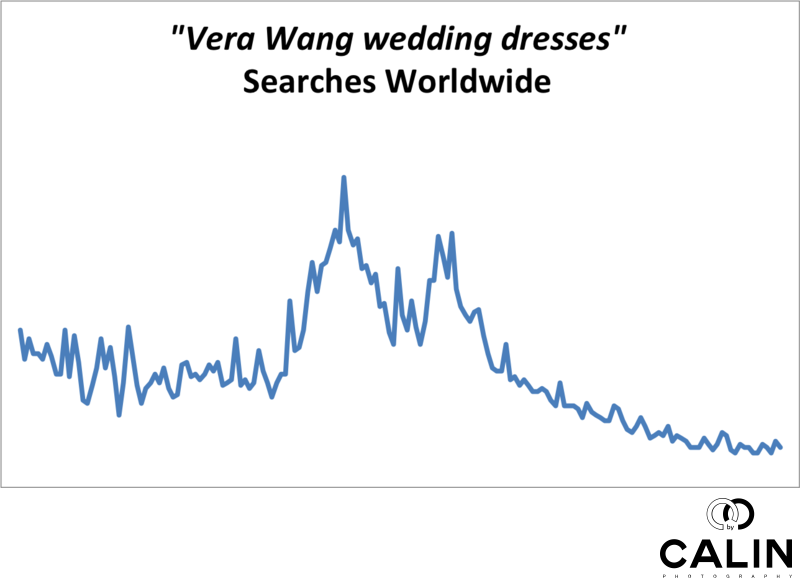 Still, at 40,000 monthly searches, Vera Wang's brand is far from disappearing.
Vera Wang is most popular in Ireland, Australia, Singapore, UK, US, Canada, Philippines, UAE, Malysia and Norway.
11. Wedding Favors are Going Out of Favor
Do you know that 70% of the guests do NOT pick up the wedding favors? Now, that is why, more and more brides decide to forego the wedding favors as you can see in the chart below.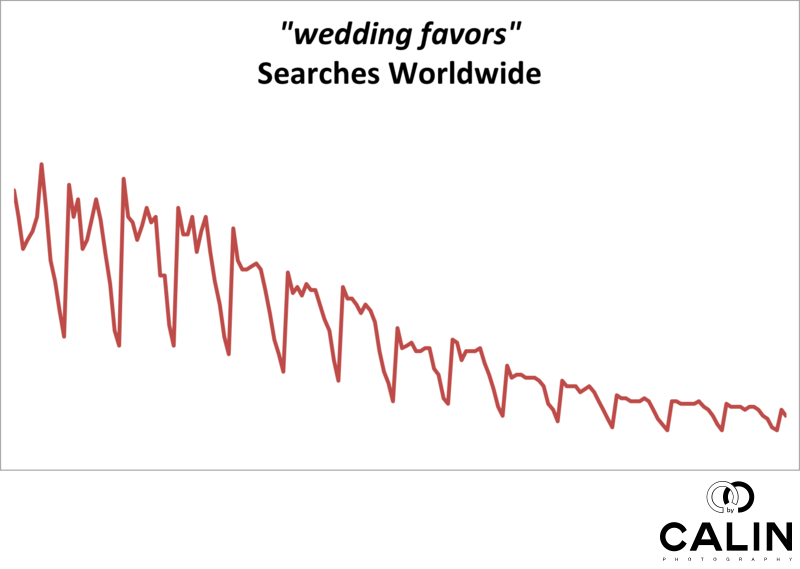 Favors are still popular in Trinidad and Tobago, US, Canada, Singapore, Philippines and Ireland.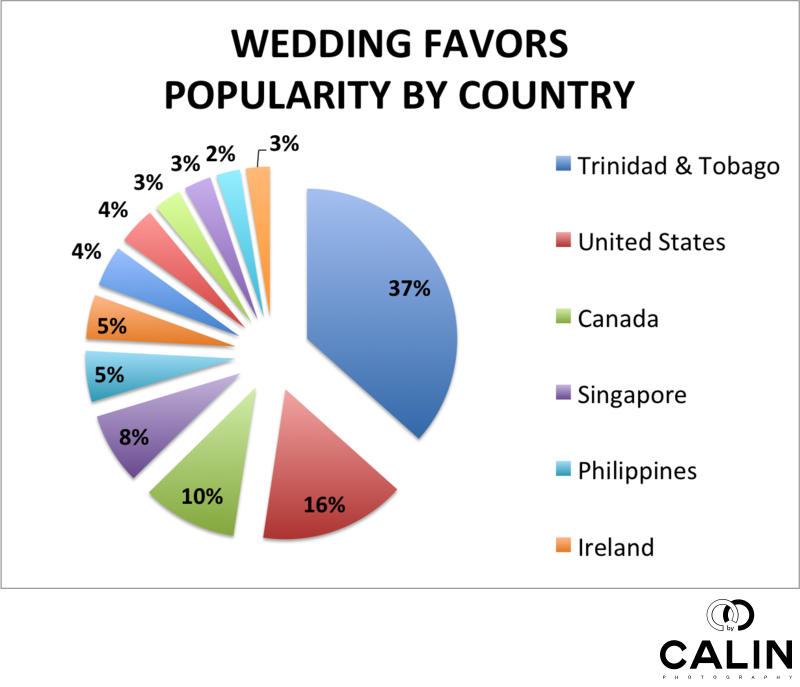 12. First Look is Becoming More Popular
The first look is becoming more popular among today's bride and groom. In my consultations with couples, I emphasize the following advantages of a first look: more time to spend together, more photography time hence more candid wedding photos, another opportunity to live intense emotions.
The wedding first look is most popular in the US, Canada and the UK. In the US, here are the top 10 states where the first look is very popular: Hawaii, Louisiana, Arkansas, West Virginia, Indiana, South Carolina, Alabama, Mississippi, Ohio and Delaware.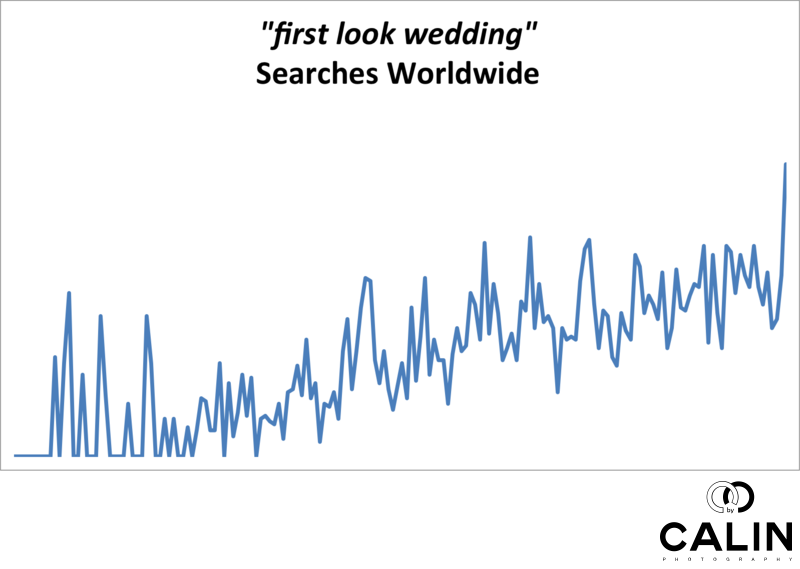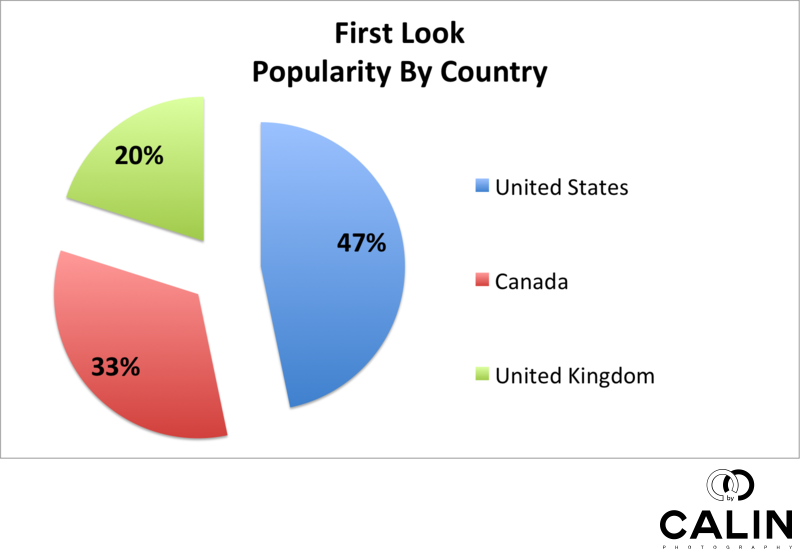 13. Wedding Invitations are Less Popular
With the advent of wedding websites it looks like wedding invitations have past their primetime. It is cheaper and easier to send online invites and that hurts the traditional wedding invitations business.
Another trend we observed was an increase in the number of searches for cheap wedding invitations, Vistaprint and Etsy wedding invitations. Also, unique invitations such as the rustic, metallic, plexiglass are seeing some growth.
There are still 450,000 monthly searches for wedding invitations. Print invitations are most popular in Trinidad and Tobago, Jamaica, South Africa, Ireland, US, Australia, Philippines, UK, Canada, New Zealand, Sri Lanka, Puerto Rico and UAE.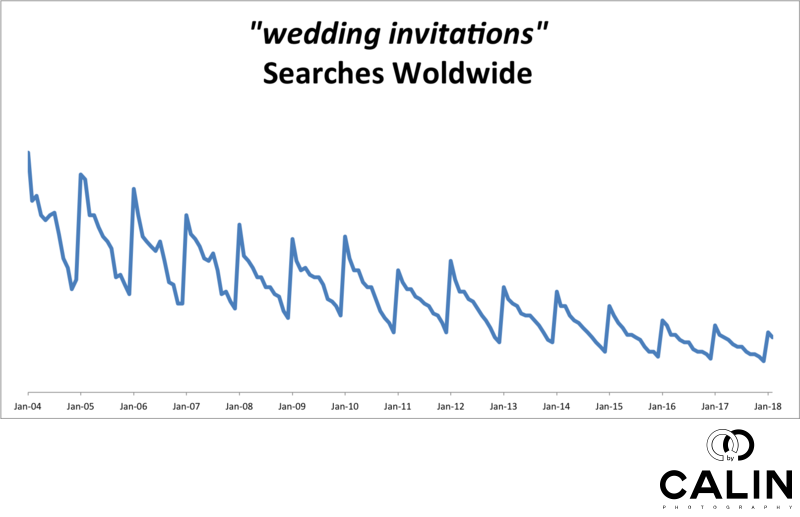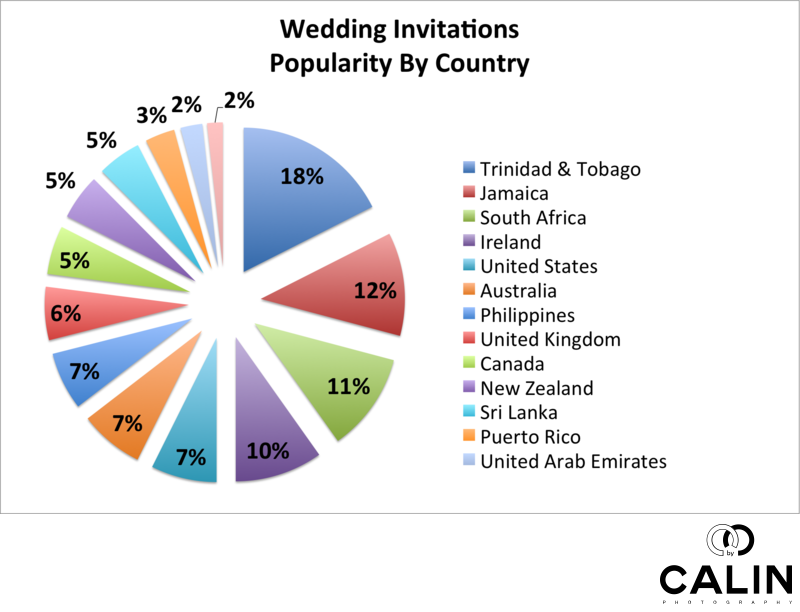 14. Fewer Couples Want a Wedding Cake
In the last years the popularity of the wedding cakes has declined dramatically worldwide. However, there are still 143 thousand monthly searches for weddings worldwide. Among the countries where they cakes are most popular we are listing: Sri Lanka, Trinidad & Tobago, Jamaica, Nigeria, UK, Ireland, South Africa, Ghana, US, New Zealand, Philippines, Canada, Singapore, etc.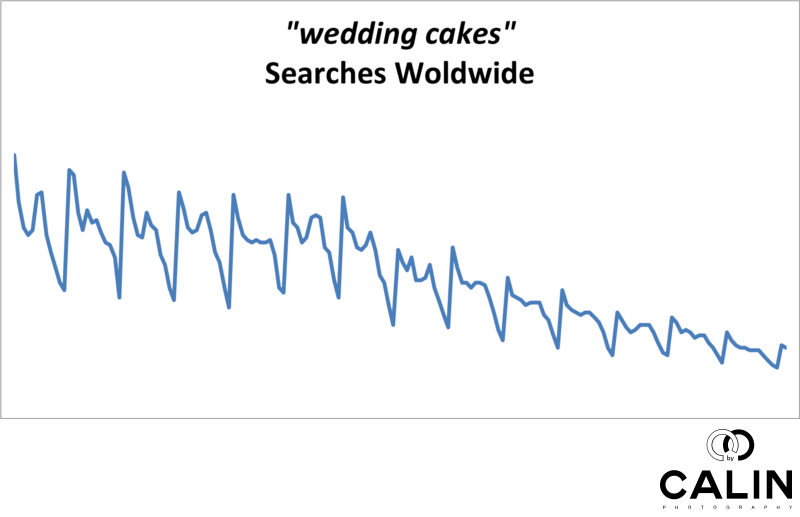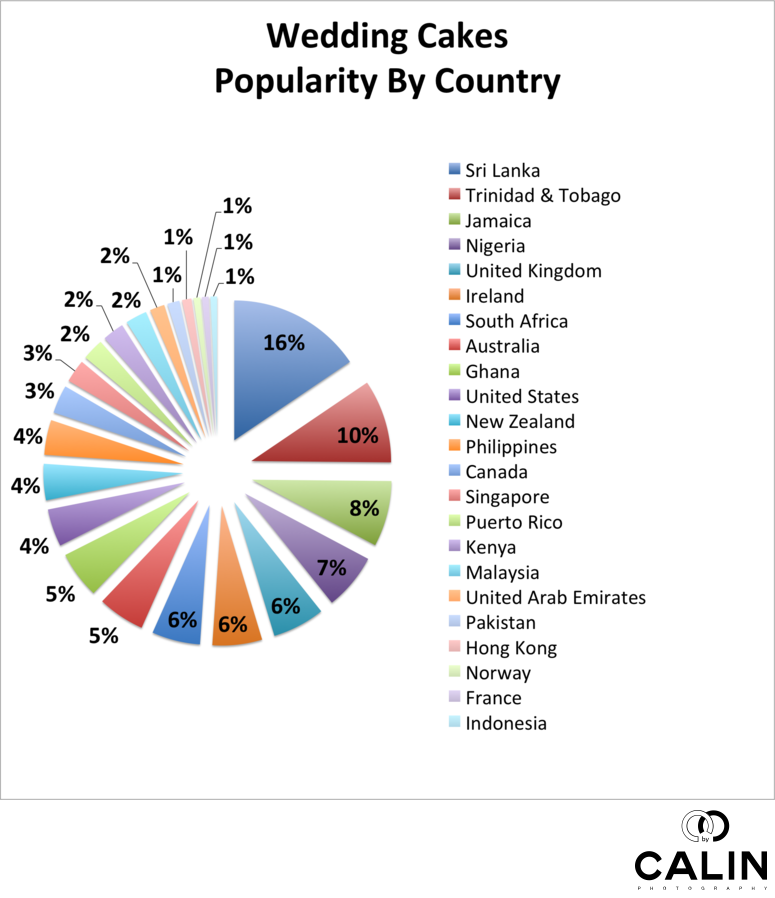 15. Photo Booths are Increasing in Popularity
In the last decade photo booths have increased in popularity and reached a plateau as you can see in the chart below. They are most popular among couples in Malaysia, Singapore, Ireland, St. Helena, UK.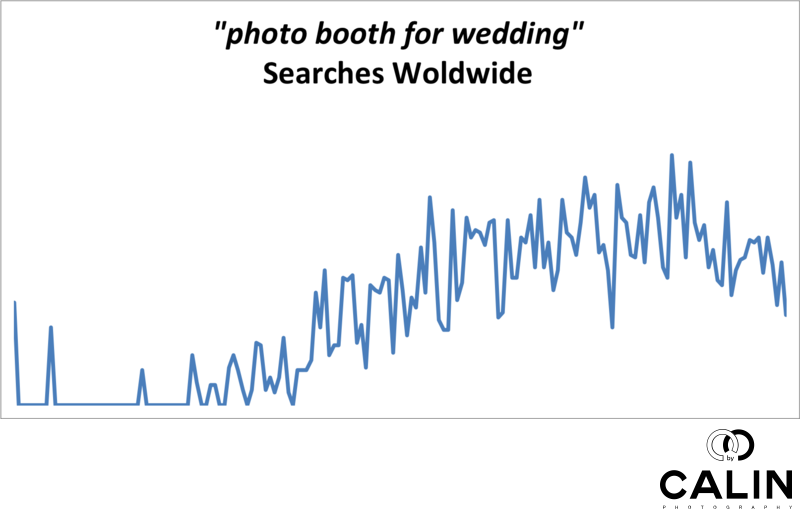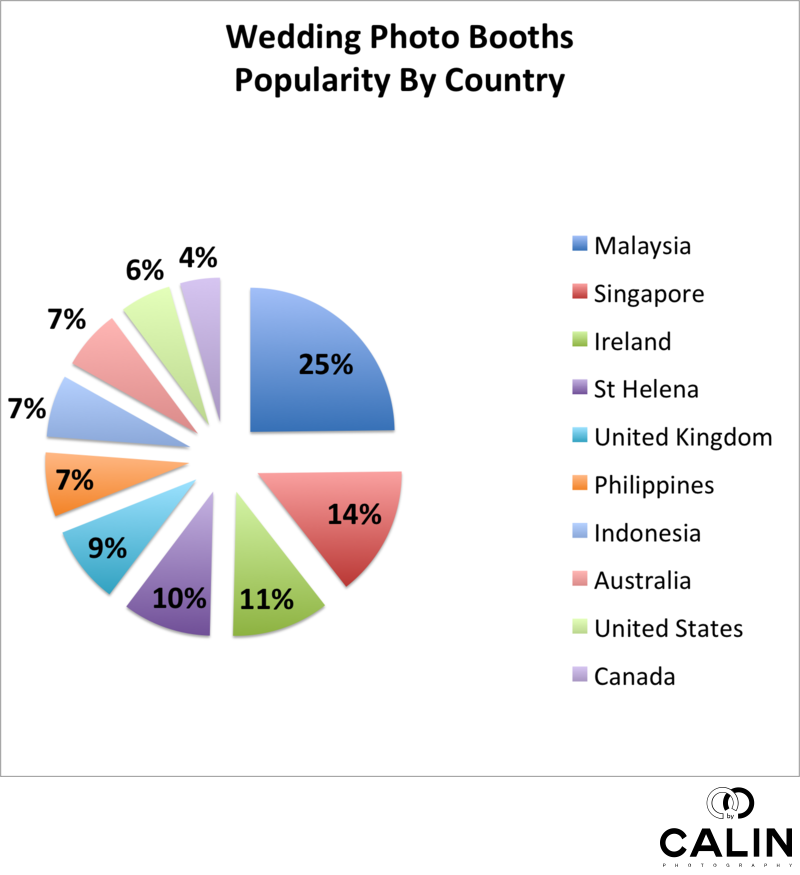 16. Baby's Breath is Becoming Very Popular in the US
Many wedding blogs suggest baby's breath as a way to cut wedding costs of floral designs and bridal bouquet and it seems that resonates with the brides in the US. It is one of the most important flower trends we saw in the last decade.
Baby breath floral arrangements look splendid, so let's embrace this trend that is not going away.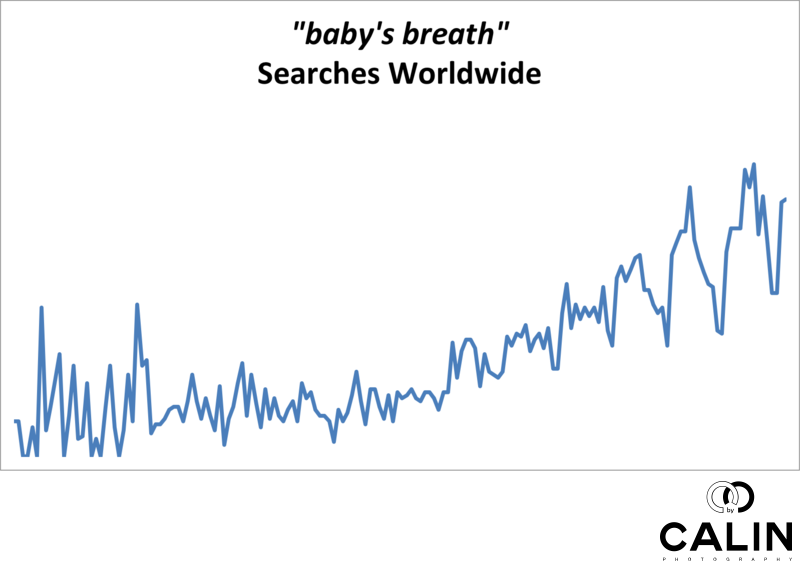 17. More Brides are Looking for Wedding Dresses with Black
In the last fourteen years, the number of brides who are looking for a dress with black or a black wedding dress has increased as you can see in the chart below. This trend is more prevalent in the US.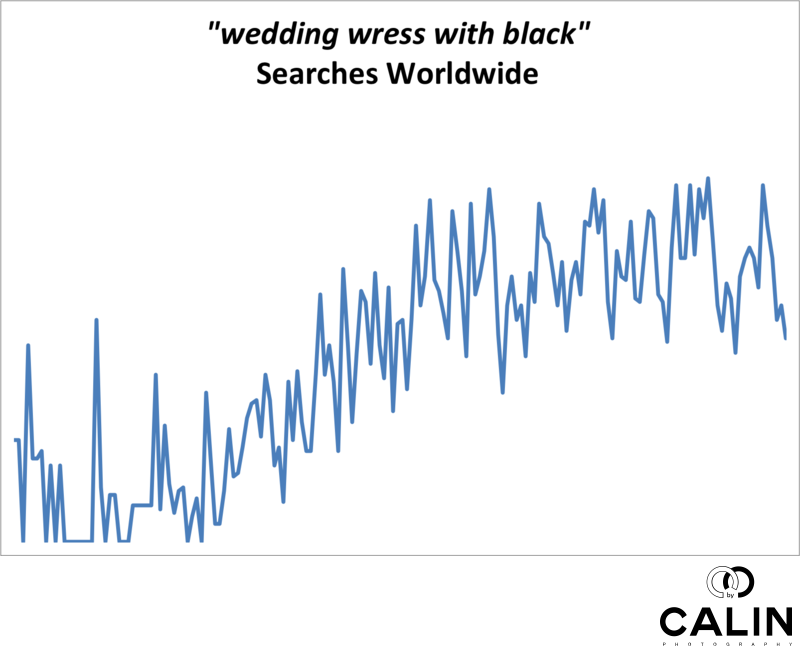 18. Wedding Dresses With Capes are Hot in the UK and US
Looking at the last 14 years of data, we can see that in the last 5 years the searches for a "wedding dress with cape" increased significantly and the trend will most probably continue in the future.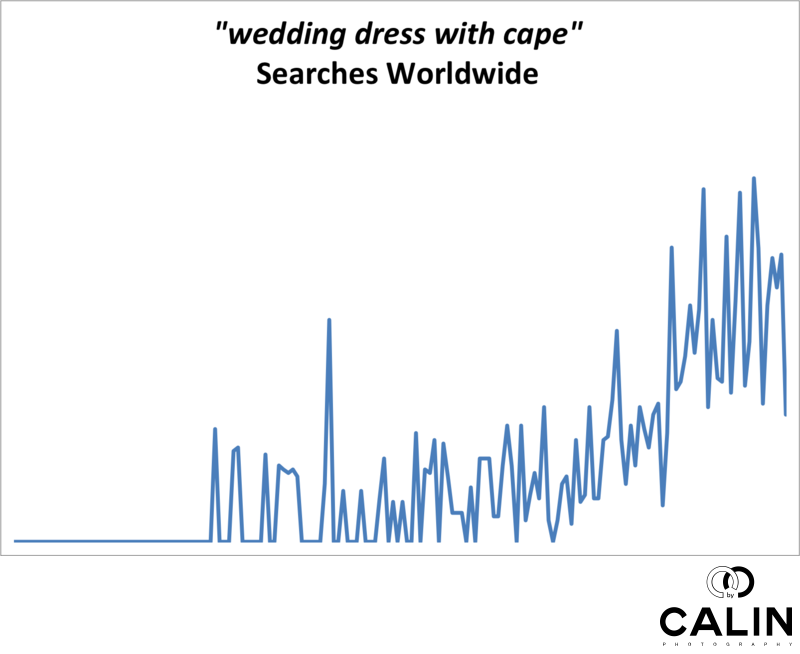 19. More Brides and Grooms Want a Small Wedding
We observed a constant increase in the number of couples who prefer a small event. Small weddings are most popular among brides and grooms in South Africa, Ireland, UK, US, Australia. We notice an increased tendency to search for restaurants that can host wedding receptions.
In the last 20 years the cost of a wedding skyrocketed when adjusted with inflation. Wedding magazines and blogs push their vendors products as a "must have". As a result of increasing costs per guest, couples choose to reduce the number of guests. That is one of the top tactics recommended by the omniscient blogs to cut wedding budgets.
Unfortunately, if brides follow that advice, brides will spend less (as a percentage of budget) on what is more important: friends, family and guests.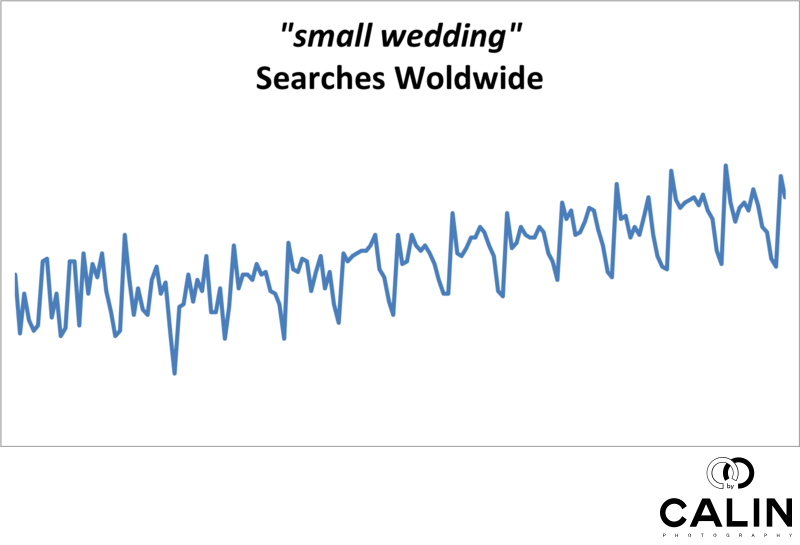 20. More Couples Elope
Closely related to the previous trend, more couples than ever decide to elope. Elopement is most popular among couples in US, Australia, Canada, New Zealand, Ireland. Currently, there is an average of 25,000 searches for "elopement" per month.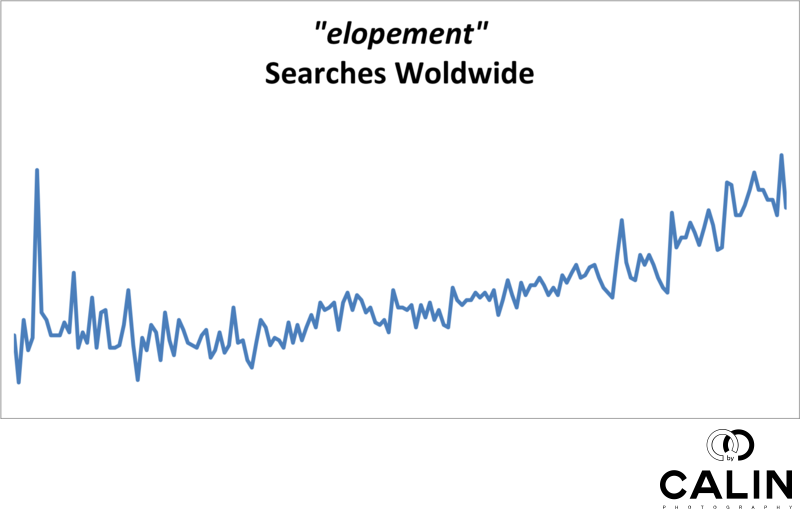 Other Notable Trends
21. Brides Are More Interested in Wedding Decor
There are 85,000 searches for wedding decorations and the number is expected to continue. As a result of a strong push from the blogs, wedding details are gaining importance.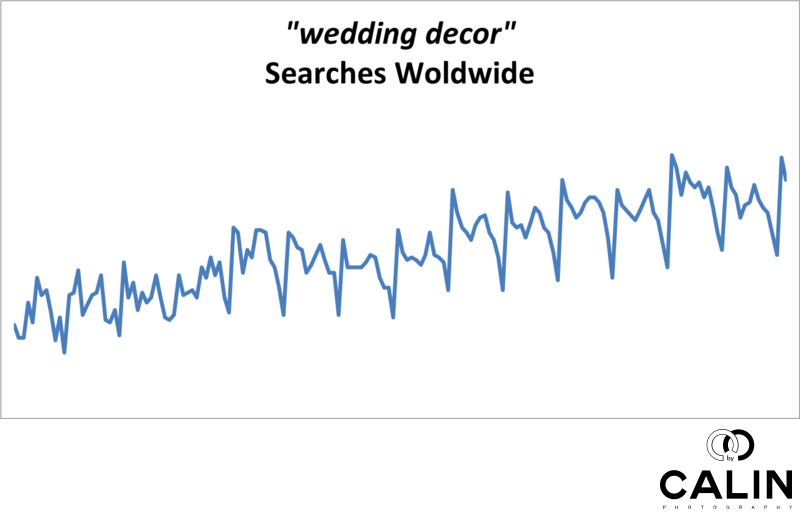 22. The Number of Bohemian Weddings is on the Rise
Bohemian weddings are not becoming mainstream any time soon, but they are gaining in popularity as you can see in the chart below.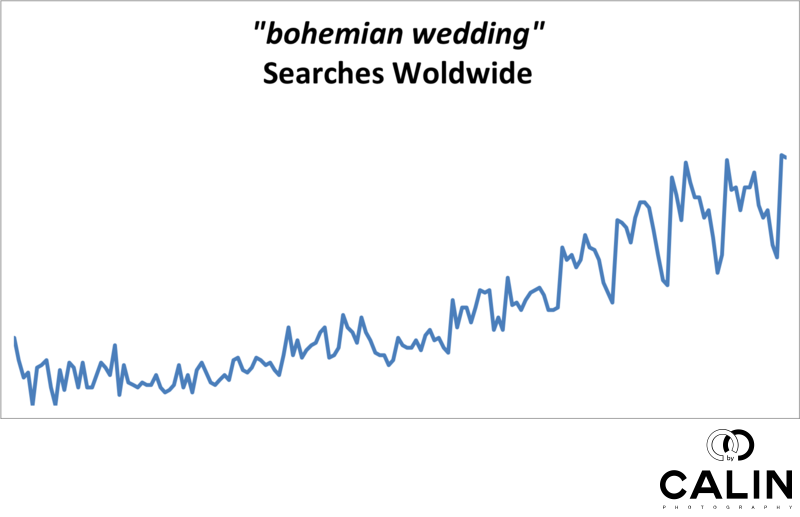 23. Naked Cakes are Still Very Popular
Cakes without frosting are also known as naked cakes and we have seen an increase in popularity in the last 5 years. Every month there are 22,000 searches for "naked wedding cakes."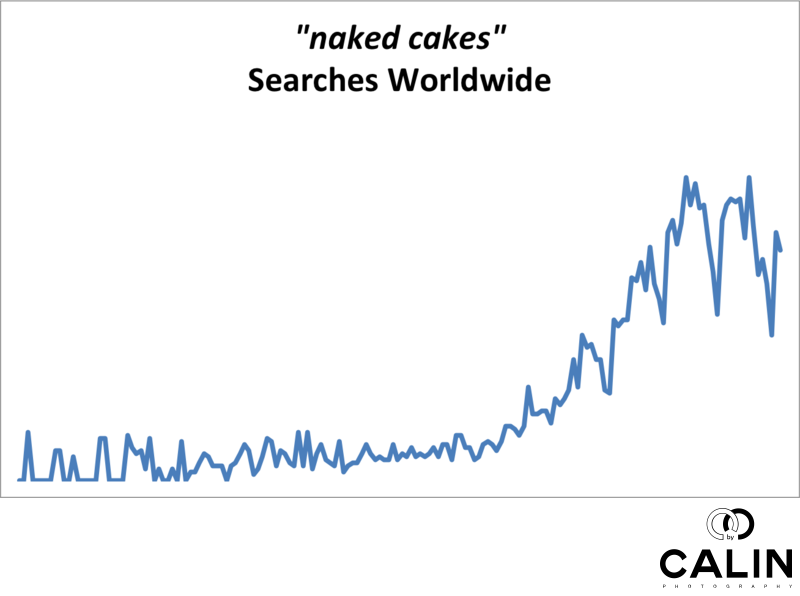 Table 1. Most Popular Searches Worldwide in the Last 12 Months (thousands searches)
| | |
| --- | --- |
| Brides Search on Google | Monthly Searches |
| Wedding dresses | 1,988 K |
| David's Bridal | 1,000 K |
| Wedding rings | 450 K |
| Mother of the bride dress | 450 K |
| Wedding invitations | 450 K |
| Wedding planners | 280 K |
| Flower girl dresses | 201 K |
| Wedding venue | 164 K |
| Bridal shoes | 164 K |
| Wedding cakes | 143 K |
| Beach wedding dresses | 110 K |
| Cheap wedding dress | 96 K |
| Plus Size Wedding Dress | 95 K |
| Long sleeve wedding dresses | 94 K |
| Wedding favors | 90 K |
| Wedding decorations | 85 K |
| Mother of the groom dress | 74 K |
| Wedding flowers | 74 K |
| Vintage wedding dresses | 60 K |
| Wedding hashtags | 60 K |
| Mermaid wedding dress | 60 K |
| Lace wedding dress | 50 K |
| Indian wedding dress | 50 K |
| Wedding ideas | 49 K |
| Short wedding dresses | 50 K |
| Vera Wang wedding dresses | 40 K |
| Casual wedding dresses | 33 K |
| Wedding centrepieces | 33 K |
| Wedding veils | 33 K |
| Long sleeve lace wedding dress | 32 K |
| Black wedding dresses | 30 K |
| Wedding ceremony | 27 K |
| Bohemian wedding dress | 27 K |
| Sexy wedding dresses | 27 K |
| Maternity wedding dress | 27 K |
| Wedding registry | 27 K |
| Beach wedding | 27 K |
| Elopement | 25 K |
| Wedding colors | 22 K |
Comments
Our findings are based only on facts (google searches) not on bridal fashion week or experts opinions. and we are not making forward-looking statements about the upcoming wedding season unless it is extremely clear that a certain trend will continue.
These facts sometimes contradict experts opinion and we tend to believe google, not the "experts" who might have an agenda (push their vendors' products for example).
It came as a surprise to us but we did not see any raise in ultra violet wedding related searches yet despite the fact ultra violet is pantone color of 2018. We will need to do additional work to uncover any trends around this color palette.
Also, we were not able to distinguish between brides looking for "wedding planners" or professionals looking to enter the wedding planning arena. As such, we did not discuss this trend.
Even though some important blogs mentioned an increase of the number of destination weddings, google searches do not reflect that.
Having worked in forecasting in our previous lives, we know how difficult it is to make accurate trends forecasts. A giant forecaster once said: "in forecasting out ought to give either the number or the date, but never both." There are multiple variables that influence trends and it is very difficult to be consistently accurate in predicting trends.
All images and charts were created by us. If you use any chart, please give photo credit to Photography by Calin and provide a link to our website.