BARCELO MAYA PALACE DELUXE WEDDING - THE ULTIMATE GUIDE
This is the ultimate guide to your perfect Barcelo Maya Palace Deluxe wedding. It was written specifically for the Palace Resort on Mayan Riviera although some topics apply to other hotels in the Barcelo Maya Grand Resort, such as Barcelo Maya Beach Resort and Barcelo Maya Colonial. This article will save you time and money. Have a fantastic wedding and a long and happy life together! If you are looking for a weeding photographer, please do not hesitate to email me at info@bycalin.com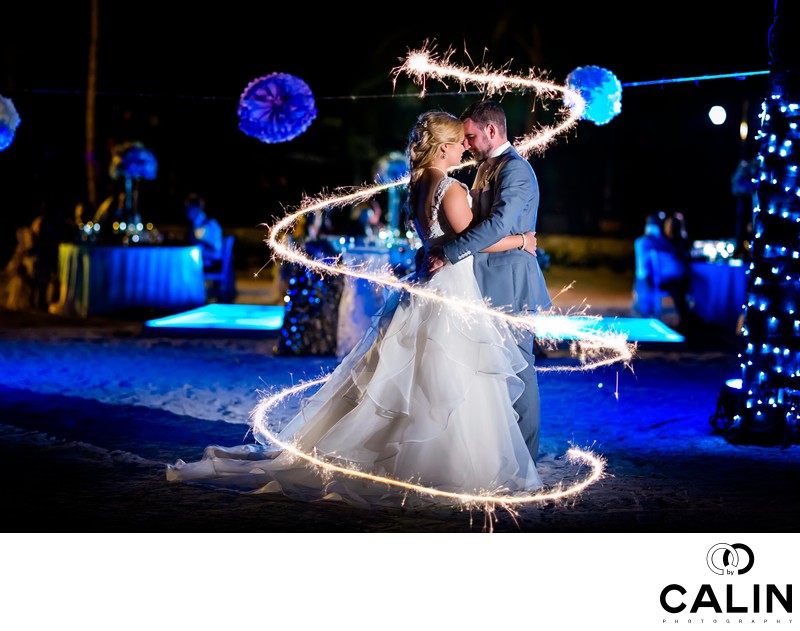 Here is the structure of this document.
1. Barcelo Maya Palace Deluxe Wedding Ceremony Requirements
2. How to Book Your Barcelo Maya Palace Wedding
3. Barcelo Maya Palace Deluxe Wedding Packages
3.1. Symbolic Wedding Packages
3.2. South Asian Wedding Packages
3.3. Catholic Wedding Packages
4. Other Wedding Costs by Vendors
5. Best Locations for Your Barcelo Maya Palace Deluxe Wedding Ceremony
6. Best Wedding Photography Locations in the Area
8. Pros and Cons of Having a Barcelo Maya Palace Deluxe Wedding
9. Tips on How to Have the Best Barcelo Maya Palace Wedding
10. Best Wedding Photographers
12. Real Barcelo Maya Palace Deluxe Wedding - Katerina and Taylor

If you have a civil ceremony at Barcelo, you will be considered legally married in Mexico. However, you need to legalize the documents in your own country.
The bride and groom and four witnesses must be at the hotel four business days prior to the wedding. Saturdays, Sundays and Mexican legal holidays are not considered business days.

Civil ceremonies are performed by a Justice of The Peace in Spanish and translated into English. Please inquire about additional fees besides the ones listed below:
| | |
| --- | --- |
| Cost Item | Fee USD$ |
| Apostille Seal | $95 |
| Blood Tests | $230 |
| Judge Transportation | $100 |
| Documentation | $750 |
If you choose to have a symbolic ceremony to avoid paperwork, you should first get married in your own country. Also, couples who want to renew their vows usually pick a symbolic ceremony held by a non-denominational minister.
The bride and groom must be at the resort 2 to 3 business days before the wedding. Saturdays, Sundays and Mexican legal holidays are not considered business days.
Symbolic ceremonies are performed in Spanish or English
Catholic ceremonies are performed only at the Nuestra Señora de Guadalupe chapel

Catholic ceremonies require a Nihil Obstat letter. This is a document that confirms that all the conditions required by the Catholic Church to be married are met by the bride and groom

Catholic ceremonies can be performed from Monday to Saturday (except Tuesdays) and are subject to priest's availability

For Catholic Ceremonies the bride and groom should be at the resort three business days prior to the wedding. Saturday, Sunday, and Mexican legal holidays are not considered business days.
If you are getting married on Riviera Maya, you might as well have a Mayan wedding ceremony performed by a shaman according to the traditional Mayan customs. The ceremonies can be held Mondays to Saturdays.
First, you need to inquire about the availability. In order to do so, please email weddings3@barcelomaya.com and one of the wedding coordinators will reply. Christian Jimenez is one of the best Barcelo wedding coordinators.
Here's the information that the resort requires in order to confirm availability.
Bride and groom's full names
Email addresses
Phone numbers
Name of the travel agent (person)
Name of the travel agency
Type of wedding (legal, symbolic, Catholic, South Asian, or Mayan)
Wedding package
Number of Wedding Guests (tentative)
Second, your wedding coordinator will put your wedding date ON HOLD. This does not mean your wedding day is confirmed.
Three, to secure your wedding day, within two months, you need to email a copy of the Reservation Manifest or an invoice from your travel agent. The confirmation must include the name of the bride and groom, the arrival date and the departure date and time. Only then, Barcelo will be able to confirm your wedding date.
Next, start planning with your wedding coordinator. Please note that 90% of your guests have to stay at Barcelo. For those guests who choose to stay at the different hotel, there are costs about which you should be aware. There is a $15/guests fee to use the gazebo. Bonus tip: your wedding coordinator can waive some small fees. Please inquire about any other fees with the establishment.
3.BARCELO MAYA PALACE DELUXE WEDDING PACKAGES FOR 2017
Please find below a summary of the wedding prices and packages. These prices apply to the all hotels in Barcelo Grand Resort complex, located on Riviera Maya about 10 minute drive from Puerto Aventuras. For more details, please contact the establishment.
| | |
| --- | --- |
| Package | Cost US$ |
| Blueberry Dream | $1,900 |
| Mint Breeze | $2,600 |
| Strawberry Passion | $4,100 |
| Tangerine Sunset | $11,400 |
| Coconut Paradise | Free |
| | |
| --- | --- |
| Package | Cost/Guest* |
| Mint Breeze | $30 |
| Strawberry Passion | $70 |
| Tangerine Sunset | $79 |
*Cost/Guest refers to the cost per additional guests not included in the package.
Please note that the wedding packages above do not include services such as: photography, videography, DJ, etc.
Barcelo Maya Palace is specialized in Indian, Muslim, Sikh, weddings. Here is a summary of the South Asian wedding packages offered. The price list is for 50 guests and the right column provides the cost per head for the extra guests.
| | |
| --- | --- |
| Wedding Package | Price* |
| Moksha | Complimentary |
| Dharma | US$4,500 |
| Artha | US$8,300 |
| Karma Love | US$14,000 |
*Price for 50 guests
Extra Cost/Guest
Moksha $50
Dharma $50
Artha $55
Karma Love $70
For more details please contact the establishment.
3.3. CATHOLIC WEDDING PACKAGES
Catholic ceremonies will only be hold in the Nuestra Señora de Guadalupe chapel. If you dream about a beach ceremony, please select one of the symbolic wedding packages.
| | |
| --- | --- |
| Catholic Wedding Package | Price |
| Coconut Paradise | Not Available |
| Mint Breeze Package | US$3,100 |
| Strawberry Passion | US$4,600 |
| Tangerine Sunset | US$11,900 |


Hair and makeup is included in the wedding packages but if you want to bring outside hair and makeup artists it will cost you US$300.
Officiant US$300 cash paid before the ceremony.
Mariachi (45 minutes) US$512
DJ (3 hours) - $700 (I heard of cases where the DJ stayed two extra hours at no charge because the wedding coordinator asked him)
Open Bar
If your guests do not stay at the Palace or you want extended open bar, here are the fees you need to pay.
domestic drinks US$12 per person per hour
premium drinks US$15 per person per hour
Photography and Videography (Please see section 10 for prices)
For photography services, you can use your own photographer or the one provided by the hotel. The resort will obviously support their in house studio. Also, local photographers will claim you can not bring your own photographer which is not true. Others say it is illegal to hire a Canadian. False! I photographed several weddings at this resort, so I am proof this is not true. In fact, I confirmed with the Mexican Consulate in Toronto that I have the legal right to photograph in Mexico without a work permit or special visa. If the transaction occurs outside Mexico, you do not need to pay taxes. However, if the payment occurs in Mexico, you are supposed to pay local VAT taxes called IVA = 16%. As a side note, all the prices at Barcelo shops include taxes.
If your photographer does not stay at the resort for 4 days, you will need to pay a $500 fee. The above apply to videography services as well.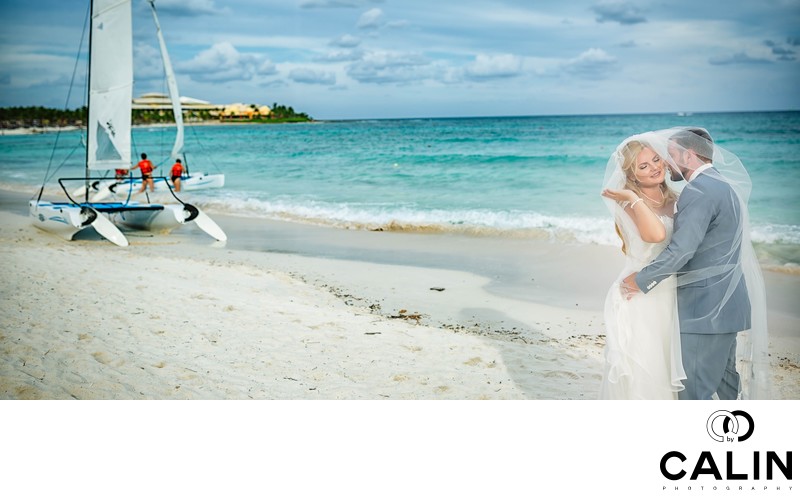 You have a few options when it comes to the location of your wedding ceremony. As usually, each has its own pros and cons.
The gazebo is one of the most popular. Among the biggest advantages of the gazebo is that you will be protected from the sun. Second, the gazebo looks beautiful decorated. Unfortunately, sometimes curious passersby stop to look at the ceremony and might photo bomb your wedding shots.
The coral beach across from the buffet restaurant Coral Grill and Bar is your second option. This is by also a good area for wedding pictures. Because the beach is rocky, it is deserted. As such you will have the ocean as a perfect backdrop without anybody ruining your marriage images.
I do not recommend the sandy beach by the pools in the Coco Bar area because there are always swimmers in the background.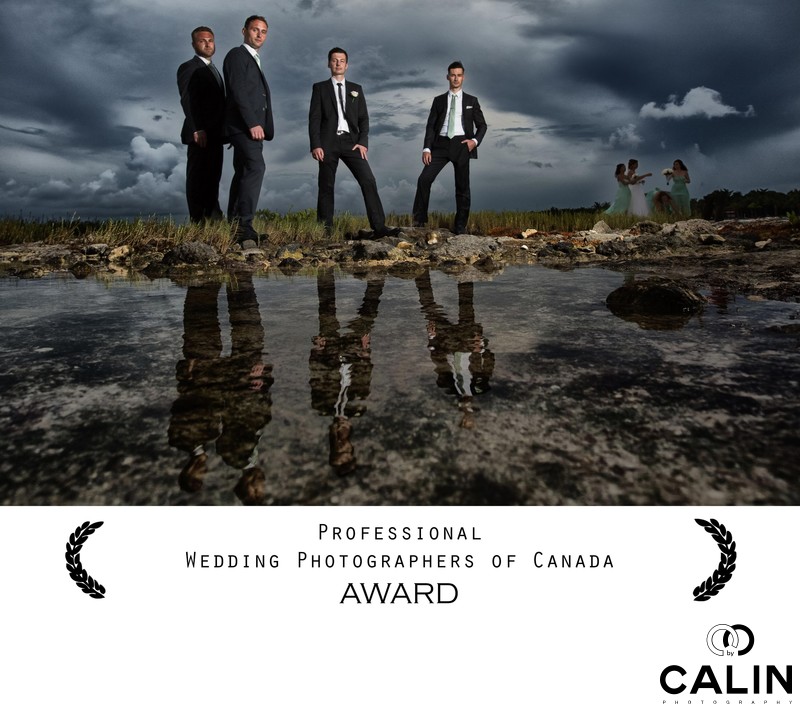 For your family photos there are a few good spots at the Palace. My first preference is the rooftop during golden hour. Next, the steps of the Gazebo and third, the coral beach. If it rains, the lobby might be the best bet or if you wish we can take the family photos the next day.
For the creative photo shoot I suggest going to the Maya Caribe beach next to buffet restaurant Captain Morgan Grill. Also, I strongly recommend doing a dedicated photo shoot on a separate day. That way, you will be able to fully enjoy your wedding day. There are many options, from shooting inside the resort to going to a cenote or a white sand beach.


BEST TIME TO PHOTOGRAPH AT BARCELO MAYA
The best time of the year to photograph a wedding on Riviera Maya is during the dry season (end of October to April). In terms of time of the day, the golden hour is the best part of the day for wedding photos. Below you can find a table listing the morning and Golden Hour, my favourite period of the day for wedding photos at Barcelo Maya. This applies to all the resorts in the complex.
| | |
| --- | --- |
| Month | Morning Golden Hour |
| January | 7:30 - 8:30am |
| February | 7:20 - 8:20am |
| March | 7:00 - 8:00 am |
| April | 6:30 - 7:30am |
| May | 6:00 - 7:00am |
| June | 6:00 - 7:00am |
| July | 6:15 - 7:15am |
| August | 6:30 - 7:30am |
| September | 6:30 - 7:30am |
| October | 6:45 - 7:45am |
| November | 7:00 - 8:00am |
| December | 7:15 - 8:15am |
| | |
| --- | --- |
| Month | Evening Golden Hour |
| January | 5:30 - 6:30 p.m. |
| February | 5:45 - 6:45 p.m. |
| March | 6:00 - 7:00 p.m. |
| April | 6:00 - 7:00 p.m. |
| May | 6:30 - 7:30 p.m. |
| June | 6:30 - 7:30 p.m. |
| July | 6:30 - 7:30 p.m. |
| August | 6:20 - 7:20 p.m. |
| September | 5:50 - 6:50 p.m. |
| October | 5:20 - 6:20 p.m. |
| November | 5:00 - 6:00 p.m. |
| December | 5:00 - 6:00 p.m. |
Please note that the sun sets earlier in areas with tall buildings or trees. Also, you want to avoid having the photo shoot between 12 and 3pm as it is very hot, especially in the summer. Also, the light is really unflattering around noon.
If you and your guests arrive together at the airport, there is an option to have a dedicated shuttle bus only for you and your wedding party. Otherwise, your tour operators' buses will take you to Barcelo, minutes from Puerto Aventuras, a little town with about 10,000 inhabitants on Mayan Riviera.
Inside the resort there are many means of transportation ranging from double-decker shuttle buses to cabs or car rentals. They are safe and come fairly often. Also, the bellboys can call a cab or give you more information about the schedule of the shuttle buses.
You can rent a car at the office found at the lower level at the Palace, close to the gym and the wedding coordinators office. There is parking available in the underground.
On the wedding day, you can request a golf cart that will take you to the spa where you will have your preparation. Either call the reception or ask the bellboys to call one for you. The same golf cart will take you back to the Palace one you are done with your hair and makeup. When you are ready to go to your ceremony, your wedding coordinator will escort you to the underground garage so that nobody sees you. From there, you will take the elevator to the shops level hallway that leads to the gazebo or the coral beach. Please note that golf carts start their service at 8 a.m. However, one of my brides had some issues and could not get the golf cart until 8:30 a.m. As such, she had to walk to the spa, which is 10 minutes walk on the beach. It is always a good idea to build in some time buffers in your wedding timeline.
Here are the pros and cons of having a wedding of this beautiful resort.
Pros
Barcelo wedding packages are way less expensive than in US or Canada
Riviera Maya boasts splendid scenery that will make your wedding photos look perfect
How often can you spend a week or two with your friends and family in paradise?
The wedding dinner is delicious
Barcelo provides one in-room safe regardless of the room, from junior suites to penthouses. I never had issues with the in-room safe even though I left expensive equipment inside.
Tasty food for adults and kids
Plenty of à la carte restaurants in the complex
Phenomenal entertainment
Beautiful pools for adults and children
Entertainment for children
Snorkel with the sea turtles and plenty of fish right at the beach next to the pools (feed them pieces of bananas - they love it)
El Jaguar Disco Club is awesome
The Theater has good shows every single day
Beautiful rooms from the Junior Suite to the exclusive penthouses
Internet in your room (at extra cost)
Cons
Sometimes you cannot find the exact brands you prefer
The products sold at the shops are a bit pricey
You have to pay for the Internet US$7/day (if you pay through your room, you get a 25% discount.)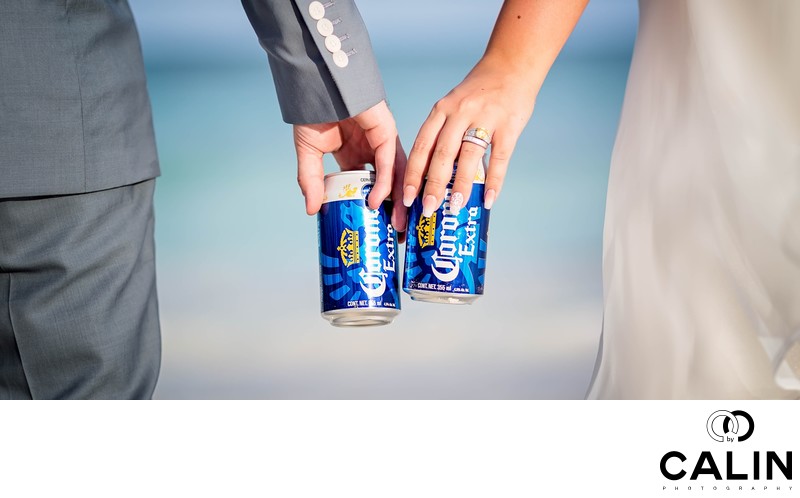 If you have a beach wedding reception at night I strongly recommend that you add string light and instruct your DJ to project his lights towards your head table. Please take a look of my Barcelo Maya album under weddings/albums to see how your wedding could look like if you pick a beach package.
As a Barcelo Palace guest, you can visit all the other hotels: Barcelo Maya Beach Resort, Barcelo Maya Colonial, Caribe and Tropical. I urge you to visit the Tokyo Japanese restaurant where you can have a delicious teppanyaki and a lot of fun, the mall, and the Jaguar Disco Club.
As a Premium Level or Club Premium client ($25/day per person), you enjoy privileges such as:
unlimited a-la-carte restaurant access
welcome letter with a bottle of sparkling wine
private early check-in and late check-out
free wifi in the room
access to the Club Premium lounge with computers, internet, bar and concierge services. Given that internet is $7/day, I think Club Premium could be a good option for a couple getting married here
On your wedding day, please build some time buffers in case things don't go according to plan.
If you want to do a pre-wedding photo shoot, at the ruins you might not be allowed. Instead, I can take it to a private beach 10 minutes walk from the ruins.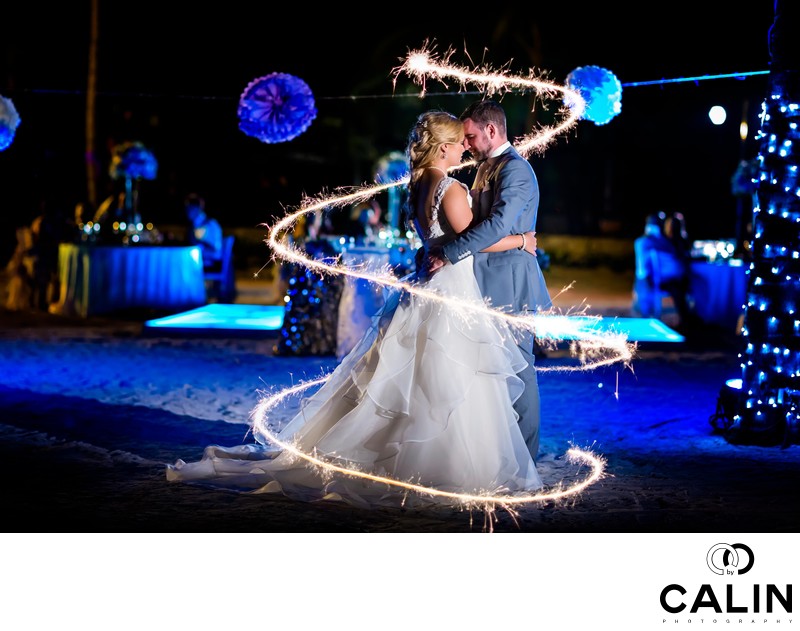 I am a Professional wedding photographer based in Toronto and a judge in Canadian National Wedding Photography Competitions. I know a thing or two about photography.
For the destination weddings I do, couples cover the accommodation and flight costs besides the wedding photography package.
Contact me to inquire about availability and discuss my Barcelo Maya wedding packages.
These stipulations apply to legal marriages and are general guidelines. Please contact the establishment for the most updated list of documents you need. Here is the list that will give you a head start in your preparations:
Original passports plus certified copies
Birth certificates
Four witnesses with birth certificates and tourist cards
Translation of documents into Spanish by an official translator
Prenuptial medical certificates with blood tests issued in Mexico within 15 days of ceremony
If the bride or groom were previously married they need a divorce decree (certified copy) and a death certificate if widowed
An appostile document must be attached to the divorce decree, death certificate, adoption or name change documents
Please note that the couple has to arrive in Mexico 3 working days prior to the wedding date and the witnesses 2 working days. Saturdays, Sundays and legal holidays are not business days. Here is a list of Mexico's legal holidays.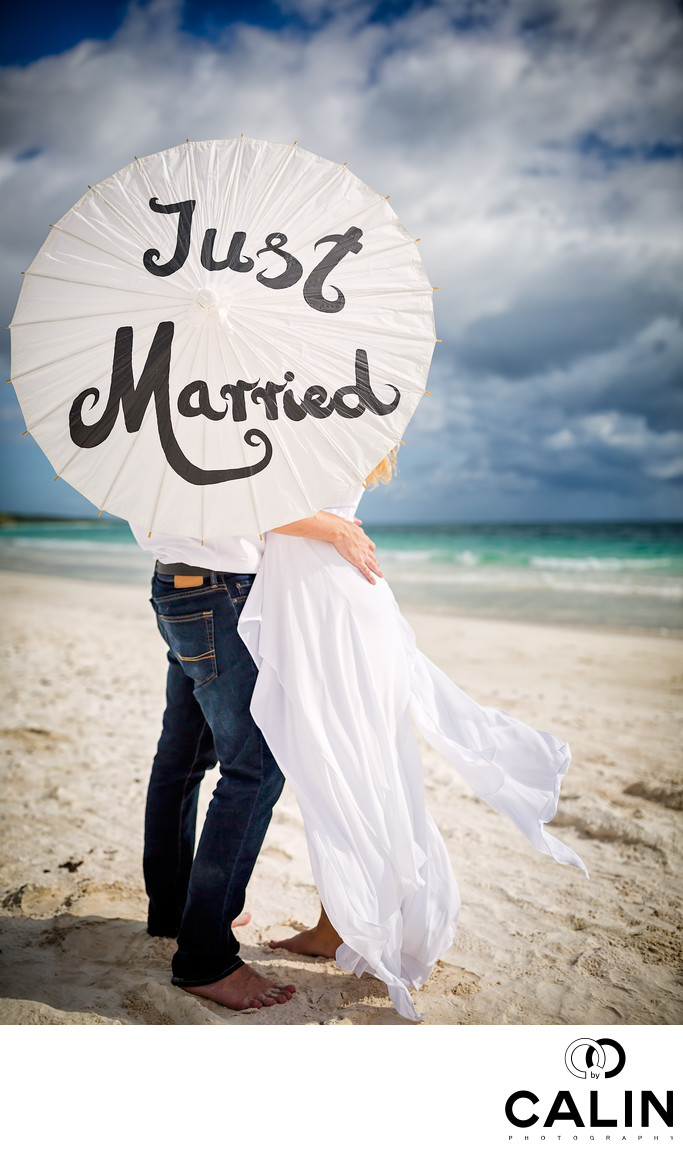 I hope this collection of information and tips will help you plan your wedding! Feel free to share the link on social media or your friends if you feel other brides will benefit from it. Have a fantastic Barcelo wedding!


Photographing Katerina and Taylor wedding was a delight and I hope you enjoyed the gallery. Here is a video clip with highlights of their wedding.
Before coming to Mexico, I had a chance to photograph the couple here, in Toronto. Also, the day before the wedding, we went to Tulum for a pre-wedding photo shoot. Originally, we intended to visit the ruins for the shoot. However, we were denied access when Katerina showed up carrying a wedding gown. As such, we went to a private beach 10 minutes walk from the ruins where we shot some gorgeous images. I strongly recommend all my brides to have their engagement photos or a pre-wedding photo shoot about a month before the wedding. The reasons behind my suggestion are multifold. First, it allows the couple to learn how I work. Second, it's a good rehearsal for the wedding day and the bride and groom will be more relaxed during the wedding. Three, I also teach the bride and groom about light, posing and photography in general. That way, we can increase our chances of creating splendid imagery.
Katerina and Taylor started their day getting ready in their beautiful oceanview room. First, I photographed the boys getting ready inside the room, then we went out. We took the majority of the photos on the coral beach across from the buffet restaurant Coral Grill and by the Coco Bar and the pools.
Katerina got ready at the splendid spa located at Barcelo Maya Caribe after a few hiccups with the golf cart. The spa provides perfect conditions for the bride preparation. It boasts huge floor to ceiling windows that allow plenty of natural light, a key ingredient for excellent photos. Also, I love photographing reflections and the mirrors in the spa are perfect for that. Overall, I'm very pleased with the wedding pictures taken during Katerina's getting ready.
Next, we came back to the palace for the wedding ceremony which took place in the gazebo at Palace. The wedding coordinator drove a golf cart into the underground parking lot so that nobody could see the beautiful bride. Barcelo are very good at orchestrating weddings. That is not surprising. According to estimates, Barcelo Palace does at least 700 weddings per year in the whole complex of five resorts over 2000. Once the ceremony ended and the newlyweds and their guests had a couple of champagne we took the family photos on the gazebo steps. After that, we took some bridal party shots on the coral beach and took some fun shots at the lobby bar. Soon after we went for the creative shots to the white sand beach at Barcelo Maya Caribe. Once we finished our photo shoot we returned for the wedding reception.
The couple had the most beautiful beach reception I have ever seen. It was on the beach across from the Coco Bar, a perfect location if I may say. The bride and groom decorated the setting impeccably with light strings and paper lanterns. Also very important, they rented blue up lights to highlight the palm trees, which gave the atmosphere a dream like a look. They booked the Tangerine Sunset Wedding Package and it was totally worth. After the wedding reception that ended at 10:00 p.m., we went to El Jaguar disco bar to continue the party.
Last comments: I have received emails from brides who are getting married at Barcelo Bavaro Palace Deluxe in Punta Cana asking for information. Unfortunately, I am not familiar with Barcelo Bavaro Palace Deluxe and I cannot help them.
Vendor Love:
Makeup Artist and Hair Stylist:
Lucia @LooksbyLucia (on Instagram)
Venue Barcelo Maya Palace