Most Unique Wedding Venues Toronto
Most Unique Wedding Venues Toronto (updated)
As Toronto wedding photographers, we have documented hundreds of marriages. Here are the most unique wedding venues in Toronto according to brides, planners, photographers and other industry professionals.
---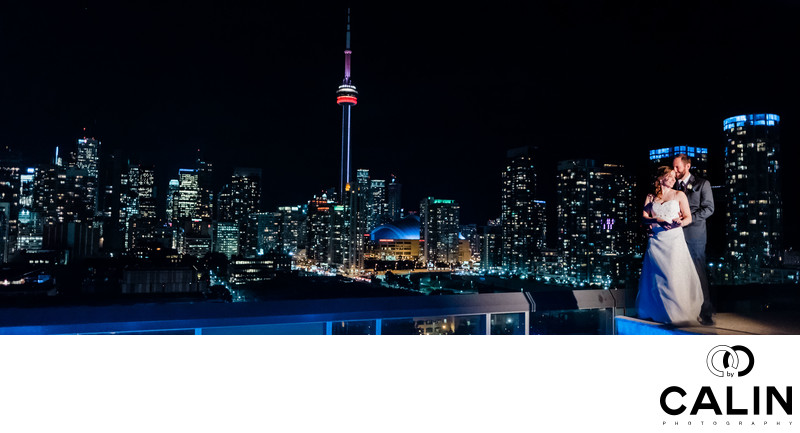 1. Thompson Hotel Toronto
Conveniently located in King West Village, one of Toronto's trendiest neighbourhoods, this unique event venue offers breathtaking views of the city skyline, phenomenal food and more.
1.1 The Rooftop
One of the most unique features and main attraction of the Thompson Hotel is its rooftop, a perfect setting for outdoor wedding ceremonies and couple photo shoots.
If you have your wedding ceremony on the rooftop and allocate 10 minutes for night photos, we guarantee stunning results.
1.2. The Lobby Bar & Mural
An interesting spot in this hotel is the lobby bar located next to the reception area. The bar features a large mural of Toronto skyline created by the Spanish artist Javier Mariscal. The mural constitutes the perfect backdrop for your family and wedding party photos if the weather does not cooperate.
1.3. Screening Room
Another unique feature of this hotel is the screening room, often used for private screenings and presentations. Here is where during dinner, we usually take the bride and groom for a series of romantic photos. The screening room is very close to the hall where your wedding reception will take place at Thompson Hotel.
If the weather is beautiful on your special day, we can take wedding party photos in the Victoria Memorial Square Park located across from the hotel.
---


2. THE GREAT HALL
The Great Hall offers over 20,000 sq. ft. of upscale premier landmark event venue destination with four distinctive venues in downtown Toronto. With 130 years and around three centuries delivering astounding experiences, achieving clients' desires and making promises a reality. The unique landmark echoes of royal, grand and unique wedding moments with a team who curates experiences and enjoys challenges to deliver a non-traditional wedding but always one that has a spark to it comprises of four venues each of has its own identity.
2.1. Main Hall
The flagship venue, Main Hall, features a horseshoe balcony, 30-foot ceilings, Waterford crystal chandeliers and wall of gilded scrollwork framing the legendary stage
2.2 Longboat Hall
Truly unique space featuring the lovingly restored original indoor running track as a 360-degree balcony, sandstone brick, cast iron pillars, and the polished concrete floor combine to lend this singular venue an air of Industrial Age charm.
2.3 Drawing Room
Adaptable as it is intimate, with a gourmet presentation kitchen, restored 19th century windows, and decorative marble fireplace
2.4 Conversation Room
Overlooking Queen St, with crisp white walls, crown mouldings, and chevron hardwood floors creating an atmosphere of airy, Victorian charm.
---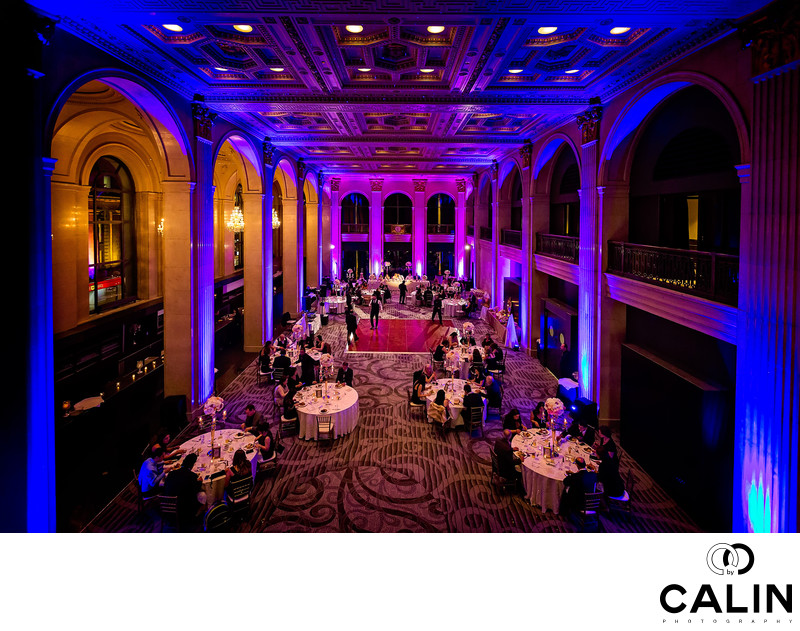 3. ONE KING WEST HOTEL
Another unique banquet hall located in downtown Toronto is One King West. A former Dominion Bank building, the hotel offers several of halls perfect for your wedding reception and ceremony.
Among this venue's most distinctive features we can list the cool vault, the longest bar in Canada and a huge banquet hall as well as smaller rooms for more intimate weddings.
If you plan a wedding at One King West, the hotel offers so many beautiful photography backdrops that you won't even need to go outdoors to shoot if the weather is bad. Among many unique locations at One King West, we love the following:
3.1. The Grand Banking Hall
The Grand Banking Hall (photo above - 8,000 sq. ft. event space) can accommodate up to 500 guests and boasts 45 ft ceilings and the longest bar in Canada (100 ft counter).
3.2 The Vault
Another unique room is The Vault. A former vault of Dominion Bank, it is now one of the most famous photography locations in the city and used for fashion photo shoots and in movies. This special room can host smaller events up to 80 guests.
Tip for the bride and groom: If you are getting married at a different event venue and want to take your couple photos at the vault, you will need a photography permit.
The Vault is very popular and it is common to have two photoshoots going on at the same time. Allocate extra time on your wedding day for a photo shoot at this location.
3.3. Austin Gallery
This 2000 sq. ft. two story room is the perfect setting for your wedding ceremony or an intimate event. Your friends and family can watch you walk down the aisle from the large balcony or sitting in the main space that can accommodate up to 100 guests seated or 300 guests if you have a cocktail reception.
3.4. Fifteen Hundred
Located on the fourteen floor of the hotel, this intimate wedding venue boasts floor to ceiling windows, a private rooftop terrace and breathtaking views of the financial district.
You can see a full One King West wedding album here.
For more information, please visit One King West website.
---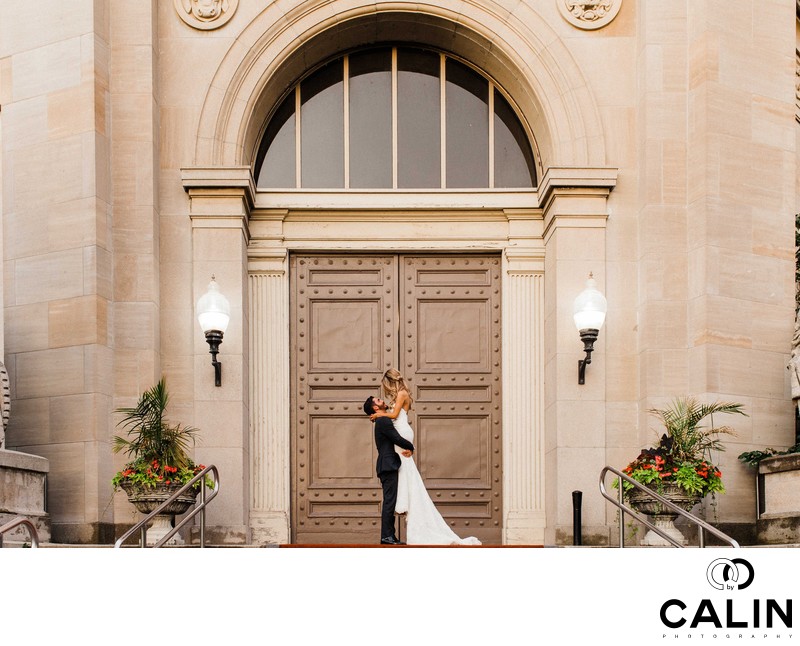 4. Liberty Grand
This special 100,000 square feet luxurious event venue located on the shores of Lake Ontario, minutes from downtown Toronto, is unlike any other in the GTA. The Beaux-Arts building was built in 1926 and offers three luxurious banquet halls and one open concept event space, plus a courtyard.
4.1. Governor's Room
Governor's Room is the largest hall (8,000 square feet) that boasts high ceilings (27 ft), french doors and a massive oak staircase. With a capacity of up to 1500 people, this exceptional ballroom meets the exigent requirements of today's discerning couples.
4.2. Centennial Room and Renaissance Room
These two banquet halls (5,500 square feet each) are the mirror image of each other and can accommodate up to 300 people in a banquet style setting. The massive arched windows give the bride and groom beautiful views of Lake Ontario. Each of the two share has its own foyer that can host your cocktail hour.
4.3. The Artifacts Room
This hall offers 20,000 of open space that you can design in whichever way you desire. The Artifacts room offers unmatched sound and lighting systems and often hosts fashion shows, TIFF opening nights and other high end events.
A notable feature of the hall is its private terrace and the semi-private lobby.
4.4. The Courtyard
The triangular courtyard can accommodate up to 400 people and is the perfect setting for your outdoor wedding ceremony. Also, this is our favourite spot to take bridal party and family photos.
Please visit this page for a full Liberty Grand wedding guide with tonnes of information and tips on how to make your special day perfect.
---


5. Berkeley Church
Berkeley Church is a former church built in 1871 that was converted into an exceptional event space.
Berkeley Church unique features include a grand ballroom adorned with fireplaces, a Victorian inspired bar, a 60 ft ceiling towering over a sui generis 17 ft high stained glass windows. In addition, the establishment offers a mezzanine, a wine cellar, the Circa Lounge and a private courtyard. One of the hidden gems of Berkeley Church is its outstanding acoustic.
5.1. The Grand Ballroom
This is the perfect venue for a cocktail reception or a sittingspecial event and can accommodate 330 seated guests or 580 if you plan a cocktail reception.
To give you an idea of its size, the space has approximatively 3,600 square feet.
String lights hanging over the Grand Ballroom create a warm and inviting atmosphere while the 450 square feet stage makes this event space perfect for a lavish wedding ceremony.
Among the most beautiful elements of the Grand Ballroom are the two fireplaces, 11 painted wooden columns a beautiful plank hardwood floor and the Victorian inspired bar.
5.2. The Mezzanine
The Mezzanine is located on the second floor and offers 2,850 sq. ft. of trendy elegance. It is generally used for more intimate wedding ceremonies and it is perfect to host your cocktail hour.
In our travels to Berkeley Church I have seen the mezzanine host live bands, sushi bars, cigar rollers, photo booths and other attractions your guests will adore.
The 17 feet stained glass windows create a perfect backdrop for your ceremony and intimate photos of the newlyweds.
5.3. The Circa Lounge
This is an intimate room (1,000 square feet) used for winter indoor photo shoots, bridal party and family photos and it is adjacent to the courtyard.
5.4. The Wine Cellar
The 500 sq. ft. wine cellar is mainly used for bride and groom photo shoots and to host your cocktail hour.
5.5. The Courtyard
The Berkeley Church intimate courtyard offers 1200 sq. ft. of garden space that can be used for your cocktail hour and a perfect spot for night shots.
Tip
The establishment is only 1 km from distillery district and you could have a first look and your photo shoot there before you head to your ceremony.
Please visit this page for a full Berkeley Church wedding album.
---

6. EVERGREEN BRICK WORKS
Evergreen Brick Works is the second most popular venue in the GTA. Located near downtown Toronto, the event venue is a unique setting for your special day.
What makes it so particularly remarkable? The location features splendid backdrops for wedding photos from graffiti walls (above), greenery, heritage buildings, brick kilns, greenery, a pond, winding pathways and much more.
Evergreen Brick Works is also a non-profit organization dedicated to sustainability and eco conscious couples love this green venue.
6.1. Frances and Tim Prince Terrace
You could have an outdoor wedding ceremony on the Frances and Tim Prince Terrace, a 7,500 square feet space overlooking the pond and capable of accommodating 250 guests. Also, the terrace gives you the perfect backdrop for family photos.
6.2. CRH Gallery and Koerner Gardens
Large weddings are hosted by the vast CRH Gallery and Koerner Gardens a space totalling 28,000 square feet of history and modern elegance. The two spaces can accomodate up to 2,500 guests and are the home to beer festivals and farmer markets.
TIPs
CRH Gallery is a perfect spot for your first look! Also, don't forget to take a few photos along the winding pathways.
If you are planning to have your engagement session here, the best time to shoot is early in the morning before the tourists arrive.
---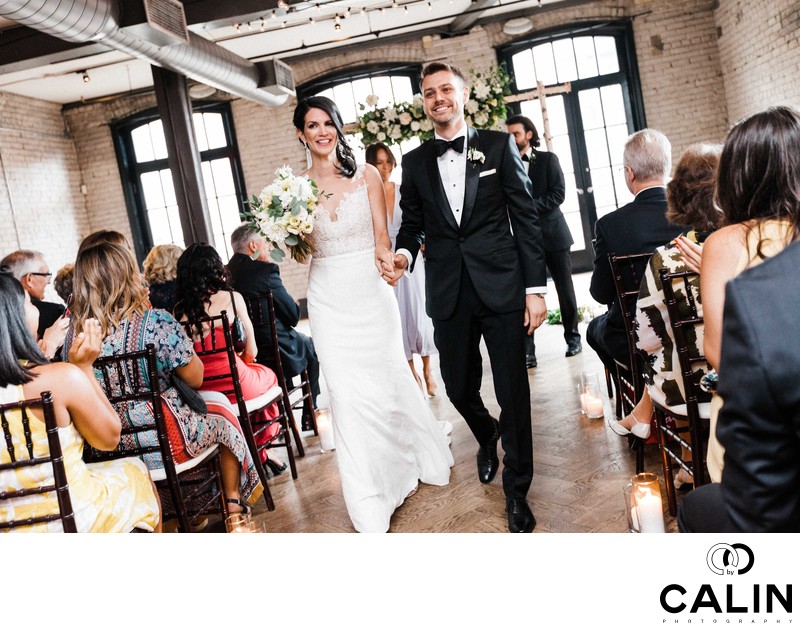 7. Storys Building
The multi floor building is the perfect venue for the sophisticated brides and grooms who are looking for a venue full of character, EXCELLENT food and service in the heart of our beautiful city. Storys building hosts plenty of movie premiere parties especially during TIFF and if it is good enough for George Clooney and Ryan Gosling, it might do for you as well.
The exposed ductwork, wooden beams and brick walls, the string lights and chandeliers create a perfect ambiance for your ceremony and reception. The space (14,000 square feet) is divided in multiple floors that will host different parts of your day.
Generally, couples tie the knot on the second floor while the third floor is prepared for the cocktail hour. Afterwards, guests enjoy the hors d'oeuvres and drinks on the third floor while the staff prepares the second floor for dinner. After dinner, everyone heads to the third floor for the dances and drinks.
If you want to see a full Storys building wedding we photographed, please visit this gallery.
Given the popularity of this super trendy historical building, you might want to secure your date early. The venue is also home to one of Toronto's high end Byblos restaurant (you can also choose offsite catering).
We highly recommend taking some night shots around the building and we can show you a few spots where in 5-10 minutes we can create magic images you will cherish forever.
---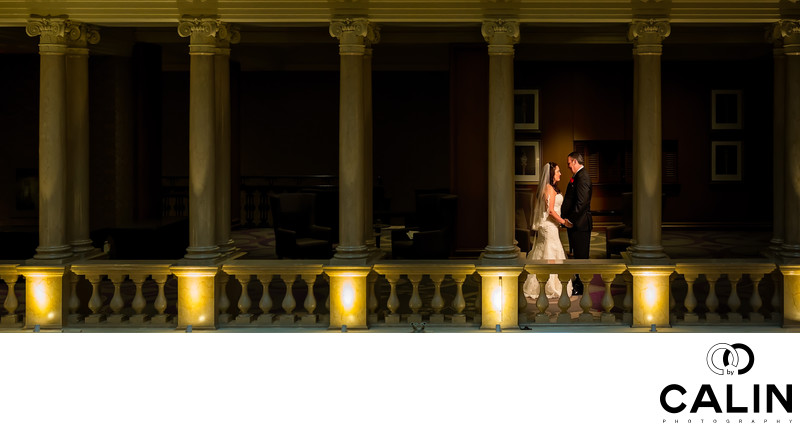 8. KING EDWARD HOTEL
King Edward is one of the our favourite event spaces in town for a few reasons. First, the hotel offers perfect backdrops for your wedding photos. The library, the columns on the second floor and more. Second, the rooms are beautiful and the food and service are stellar. After all, King Eddie is a five star hotel built for royalty. Also, its location is unbeatable, minutes from subway, Eaton Centre and the financial district.
Here is a splendid wedding at King Edward Hotel
The venue underwent massive renovations in until 2017 and it looks stunning.
8.1. Crystal Ballroom
The 5,000 sq. ft. room is the dream venue for your big day with floor to ceiling windows that allow you to admire the downtown area and Lake Ontario form the 17th floor of the splendid hotel. It can accommodate up to 280 guests.
The room received its name from the massive chandeliers adorned with crystals that complement the wall sconces in creating a warm and exclusive atmosphere.
8.2. The Vanity Fair Ballroom
This large ballroom is located at the second level and boasts an arched dome and two large crystal chandeliers, a large dance floor and it can accommodate up to 280 guests.
8.3. The Sovereign Ballroom
The Sovereign ballroom delights the couples with its Edwardian architecture and bright, dreamy look due in part to its massive floor to ceiling windows and high ceilings. The room can accommodate up to 190 guests.
8.4. The Windsor Ballroom
The Windsor Ballroom is located at the lower level and can host weddings up to 150 guests.
8.5. Knightsbridge and Belgravia
The two hidden gems of King Edward Hotel are perfect for intimate weddings and couples usually get married in the Belgravia Room and have their intimate reception in Knightsbridge Room.
---

9. Chateau Le Parc
Chateau Le Parc is a brand new and modern event venue located north of Toronto, perfect for the couples who are looking for for an amazing experience. And among its special features we love the courtyard, the two halls, two futuristic side entrances with splendid lighting fixtures, the two bridal suites, the lobby, perfect for wedding photos and more.
Here is a complete love story at Château Le Parc.
9.1. The Banquet Halls (A and B)
The two halls showcase state of the art sound and lighting systems, screens that project live video from your wedding, dry ice and mist equipment and more. Each of them can accommodate 250-300 guests.
9.2. The Courtyard
The covered courtyard is perfect for outdoor weddings and has a capacity of 200 guests. Its canopy will protect you and your guests from the strong sun during the hot Toronto summers. It has direct access from Hall B and during your wedding reception, your guests can enjoy a drink outdoors. The courtyard is also perfect for taking romantic bride and groom portraits and bridal party photos.
9.3. Parking
While some venues are notorious for lack of parking spaces, Chateau Le Parc offers plenty of outdoor and indoor parking (and valet parking if you so desire).
---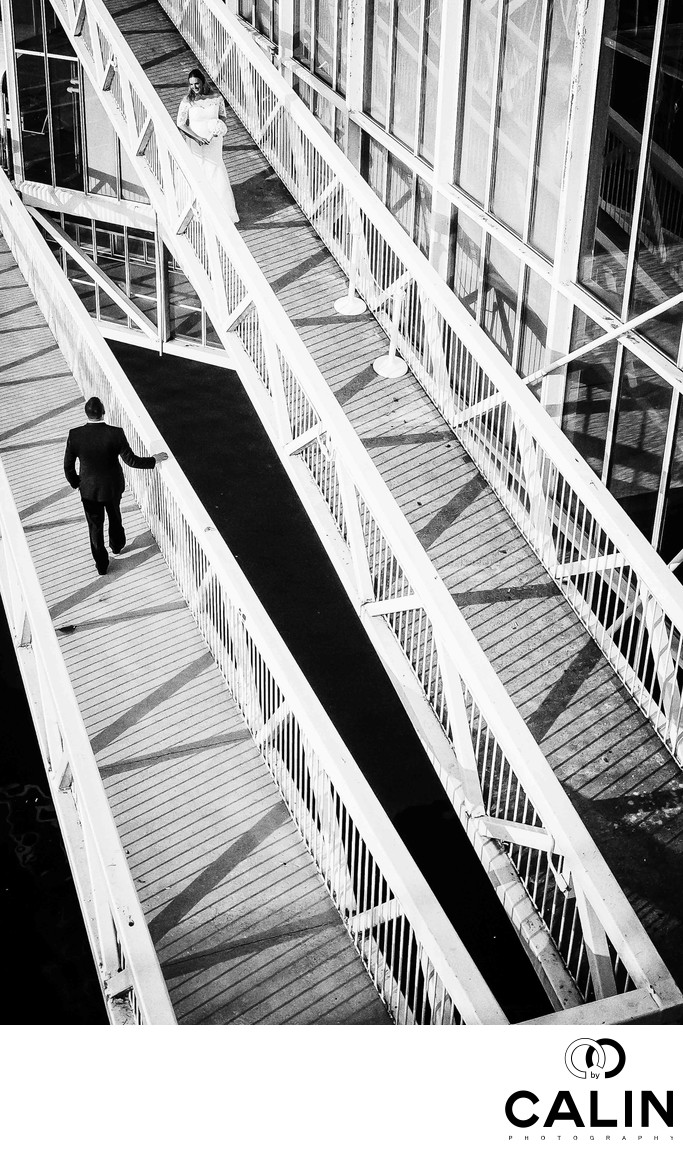 10. ATLANTIS PAVILIONS
Located minutes from downtown Toronto, Atlantis Pavilions is one of the most picturesque wedding venues on Lake Ontario. With its avant-garde architecture and located next to the former IMAX dome, Atlantis is a very popular location for couples to get married. Also, this is a very good spot for your engagement images and if you want to explore that, please contact the establishment at info@atlantispavilions.com or call (416) 260-8000.
10.1. The Rooftop
You can have your wedding ceremony on the rooftop and enjoy the one of a kind views of the city skyline and breathtaking sights of the Lake Ontario when you are saying "I DO". The rooftop is one of my favourites for family and group photos as the suspended buildings provide a spectacular backdrop for your photos.
The venue offers a variety of options for your reception and here are the ballrooms you can select depending on the size of your wedding and of course, your budget.
10.2. METROPOLITAN BALLROOM
The Metropolitan ballroom is the best from a photographers' perspective with breathtaking views of the Toronto skyline. Capable of accommodating 450 guests, this room boasts 30-foot windows that offer an unobstructed view of the CN Tower, Rogers Centre and other landmarks.
10.3. TRILLIUM BALLROOM
Trillium Ballroom is a smaller room that can accommodate 170 people and offers great views of the city skyline, which makes it a great location for night photos.
A unique feature of the Trillium Ballroom is that your photos can be projected on the outdoor walls for your guests to enjoy during the cocktail hour.
10.4. SKYLINE BALLROOM
This is a great setting for the brides who are planning a smaller wedding (up to 100 guests) and like beautiful views of the Toronto skyline.
10.5. LAKEVIEW BALLROOM
If you are having an intimate wedding (up to 100 people) and you love the view of Lake Ontario, then you will love Lakeview Room. With floor to ceiling windows, this room is perfect for your ceremony, cocktail hour and reception.
Originally, the wedding venue was part of the Ontario Place and was first opened on May 22, 1971. The complex included three artificial islands and five accompanying buildings called "Pods". The suspended buildings are made of steel and aluminium and are linked to the islands by steel bridges. Each of the pod buildings is square with an 88ft side. The buildings complex included the Cinesphere, the home of the first permanent IMAX theatre.
10.6 BEST SPOTS TO PHOTOGRAPH AT ATLANTIS PAVILIONS
The futuristic look of the complex makes it perfect for wedding photography. When all the downtown Toronto buildings turn on the lights at night, the view is amazing and allows a photographer to create dramatic wedding photos.
For your creative wedding portraits you need to visit the rooftop. On the East side of the rooftop, one can photograph the splendid downtown skyline. On the South side, lake Ontario with the occasional planes departing or landing at the Billy Bishop Toronto Airport make it a perfect backdrop for romantic wedding pics.
Budget time for a quick photo night photo shoot on the rooftop. I usually bring smoke grenades, special lights and sparklers that will make your photos look absolutely stunning.
---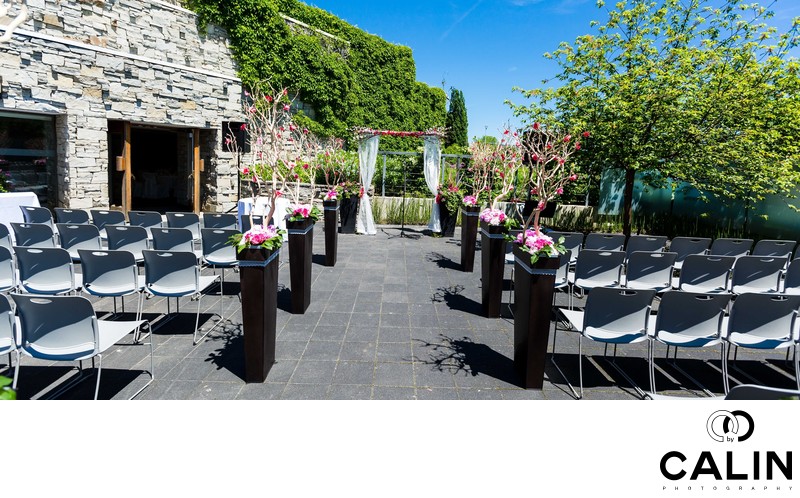 11. Toronto Botanical Garden
Toronto Botanical Garden is a breathtaking location that offers 17 award winning gardens where you can take romantic photos on your big day, an unbeatable cost per person, a large parking lot and other features that make it one of the most sought after venues in the Greater Toronto Area.
Its proximity to two majour highways (401 and Don Valley Parkway) make it an accessible event space loved by brides and guests alike.

---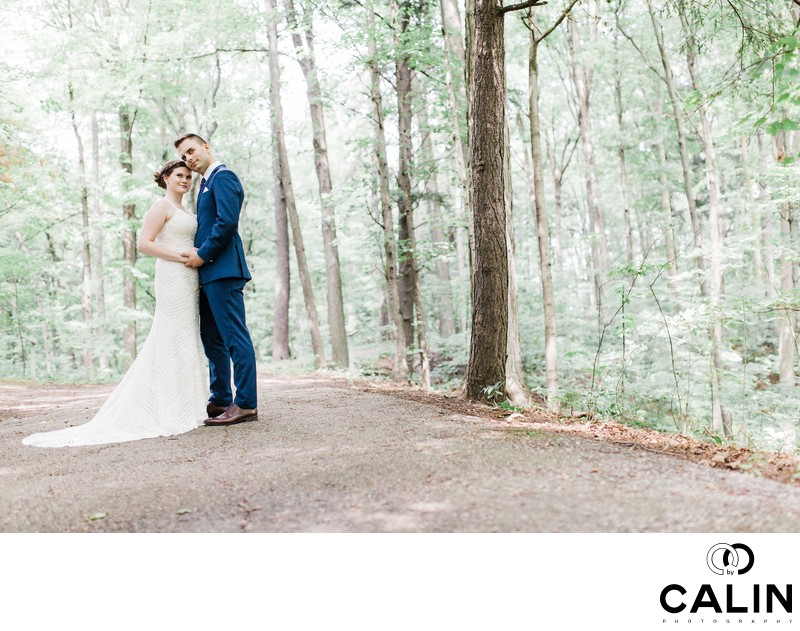 12. KORTRIGHT CENTRE FOR CONSERVATION
Do you dream about having about getting married in a forest? Do you want your special day to have a rustic wedding feel without travelling too far outside the GTA? In that case, you might want to consider having a Kortright Centre wedding.
On your special day you can have an outdoor ceremony, dance under the stars, walk along splendid forest pathways, go horse riding and take advantage of many other unique features of this wedding venue.
Kortright Centre is the third most popular wedding venue in Toronto by Google searches.
---


13. Casa Loma
Casa Loma was built between 1911 and 1914 by Sir Henry Mill Pellatt as his privates residence. Because his owner was affected by the first world were and the Great Depression, the city of Toronto owns this Castle today. It is one of the most desired wedding photography locations in the GTA. From beautiful gardens to hidden tunnels, to splendid rooms that can accommodate your wedding, the castle is the perfect wedding venue for the sophisticated bride.
If you want to take your wedding day portraits or a pre-wedding photo session at Casa Loma, you will need a photography permit. Please contact the establishment at 416-923-1171 or by email at info@casaloma.ca . Be aware that due to the large number of inquiries Casa Loma is notoriously slow to reply. Also, should you want to book the castle for your wedding, please do so anywhere between 18 to 24 months prior to your wedding day.


Most Unique Wedding Venues Toronto