Average Price of Wedding Photography in Toronto
Average Price of Wedding Photography in Toronto [2023-2024]
What is the average price of wedding photography in Toronto in 2023? What is the average photography package couples buy in Toronto and in Canada? Find the answer to this question and more below.
Key Takeaway
In 2023-2024, the average price of wedding photography in Toronto can run between $4,000 and $5,000 for a base package and sometimes can exceed $10,000. Packages usually include 8 to 10 hours of coverage and one or two photographers.
Please note that we charge $2,399 for 8 hours of photography and $1,199 for micro weddings (4 hours of photography). For more information, please do not hesitate to contact us!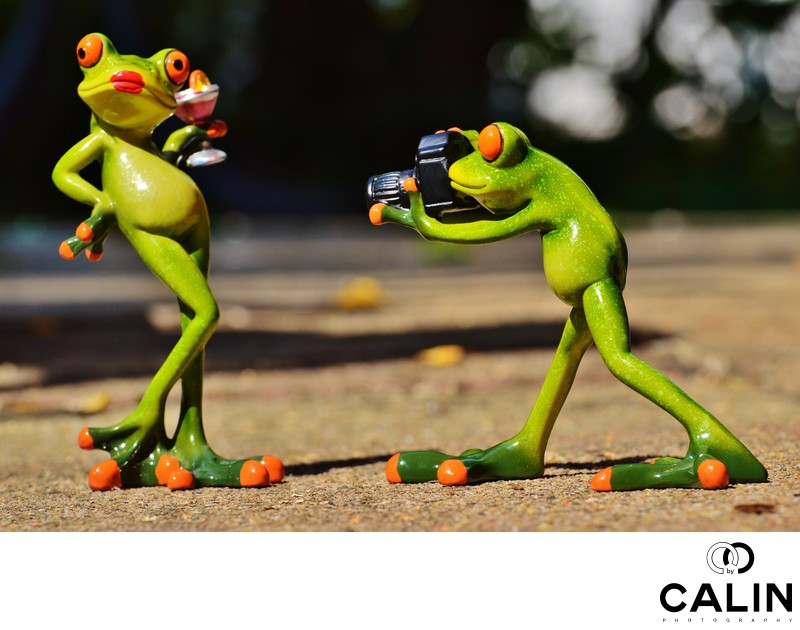 How Did We Calculate The Average?
In Toronto, everyone is a wedding photographer! As the industry is not regulated, if you have $1,000 you can go to Costco, buy a camera and you are in business! However, it is not that type of photographers we looked at.
We looked at the Top 50 Toronto studios or individual professional photographers to determine their average fees and their distribution. Chart 1 below clearly shows that 33% of the studios researched in Toronto charge around $4,300.
Please note that destination wedding photographers will build custom packages or offer a la carte options based on the travel and shooting time.
We only looked at wedding photography pricing not at photo booth or wedding videography services. If any bride and groom desire such services, please let me know and I will prepare an analysis.
Affordable Wedding Photography
Despite rising costs, our prices are extremely competitive! We monitor our competitors to make sure we offer the best value in the GTA. You can check our affordable prices and packages here. Should you have any questions, do not hesitate to contact us.
Factors Impacting Pricing
If you analyze pricing quotes from different photographers, you will notice huge pricing differences. Why such a wide range of price points? What variables impact the average photography price?
The most important factors that influence wedding photography costs are: coverage length (time), number of shooters, products included in the collection. In addition, brand name, experience and marketing skills play a crucial role in the amount charged.
Number of Hours of Photography
Time is a direct cost for the artist and the more time a bride requires, the more expensive it gets. If a couple needs coverage after midnight or the event is outside the photographer's area, chances are the she can not book another gig the following day, so the couple might have to pay extra.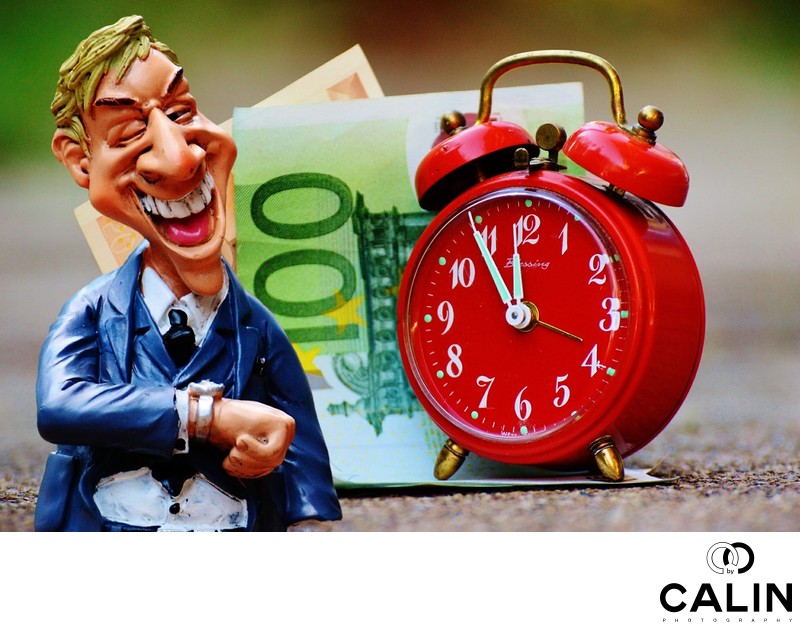 On average, packages include 8-10 hours of photography. Do you want a lot of reception images? You might have to buy extra hours and that doesn't come cheap.
Preferably, you could schedule the main events (cake cutting, bouquet and garter toss) immediately after dinner and let your photographers go one hour into the dances. Most dancing shots are repetitive so you won't miss much.
NUMBER OF PHOTOGRAPHERS
Having multiple shooters document your big day has its advantages: you will get a large diversity of shots captured from various angles, you will have multiple artists with different interpretations of your wedding day, etc.
However, additional shooters cost extra. A second photographer will cost you another $700 but gives you a good ROI and in my opinion is worth the money.


EXPERIENCE, FAME AND BRAND NAME
Experience and skill, fame and brand name go hand in hand. It is almost self explanatory that well known artists are in high demand so they charge above market rates for their services. Newbies often shoot for free so if you have a small budget, you might want to explore that option.
Please note that the results might vary.
MARKETING ACUMEN
One of the factors that influences fees is the marketing abilities of a studio. The better an artist is at marketing her business, the higher the fees she can command.
TRAVEL COSTS
This applies mostly to artists who bundle their travel costs into the packages offered. Please note that some companies do not charge travel fees, especially if your reception takes place in a place on their bucket list.
Geography
Your wedding's geographical location will affect the cash amount you will spend on your portraits. Getting married in a remote town? You can find an affordable local photographer who will give you a great deal.
Tying the knot in downtown Toronto? You will spend more on photography. For money saving tips, check our Best Wedding Budget Tips.
Photographers' locations. You can find more affordable photographers outside of Toronto downtown core where rents are prohibitive. A photographer operating from home incurs lower costs so you will save money and get a better deal.
Prints
Additional photo albums and engagement sessions will increase the amount spent on photography. An album sells for over $600-$1200 and represents a large percentage of your average photography package.
An engagement session will set you back over $500-$1,200, depending on the duration, location and so on. Also, canvases, metallic prints, etc are unique products created for you and they are not cheap.
Do you want large prints? Professional photo labs are quite pricey. If your wedding pictures are a big deal for you, pay for professional prints. Couples on a budget can try inexpensive labs like Shutterfly.
Is editing and retouching of wedding pics included or you have to pay extra? How much more?
Most photographers process wedding pictures themselves while others outsource to cheap shops abroad. The cost of processing is an important driver in the total price brides pay.
Another variable driving photographers costs is the equipment used. Some photographers use very expensive equipment and charge for it.
Advertising costs. Do you see their ads in luxury wedding magazines or met them at premium wedding shows? Their packages are overpriced.
CHART 1: AVERAGE WEDDING PHOTOGRAPHY PRICE IN TORONTO - BASED ON the STUDIOS we ANALYSED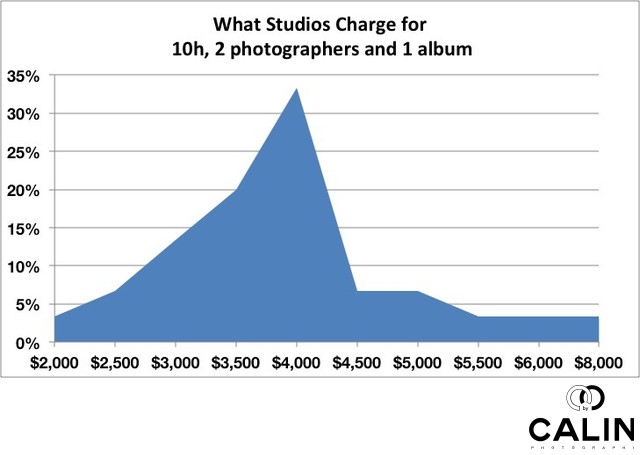 Calculating the Average Price Of Wedding Photography in Toronto
In 2023-2024, The average wedding budget in Toronto is around $44,200-$50,000 for about 135 guests. It's important to note that the actual cost of a wedding can vary greatly depending on factors such as the number of guests, venue, catering, and other expenses. Couples should create a realistic wedding budget plan by determining how much they can afford to spend and breaking down costs for each item, such as reception, ceremony, wedding attire, floral, photography, entertainment, transportation, and bridal party gifts. By doing so, they can stay on track with their wedding planning and expenditures without jeopardizing their long-term financial goals.
The amount couples are spending these days on their wedding is significantly higher than $11,000, the amount paid in the '80s adjusted for inflation.
Even more important, the more couples spend on their wedding, the less happy they are afterward. They can not afford a house in good neighbourhoods, so their children attend low-quality schools, which impacts their future.
Today, the recommended amount clients are expected to pay for photography is about 10% of the wedding budget. It follows that in 2023-2024, the average wedding photography price in Toronto is between $4,400 - $5,000 (including HST).
That is consistent with our Prices Survey of over 50 studios in the GTA. In Canada, wedding photographers charge on average $4,000.
Generally, packages include a photo album, two wedding photographers and 8-10 hours of photography. That would provide coverage for the bride preparation, ceremony and wedding reception.
Some brides may spend a higher amount on their wedding images if photography is a big deal for them and are looking for famous photographers to document their wedding day.
Couples who want to spend less on photography will choose more budget friendly packages that include less time or no wedding albums.
Finally, clients on a budget could only hire a professional photographer to document the bride and groom's preparation and wedding ceremony then ask guests to snap some pictures during the reception.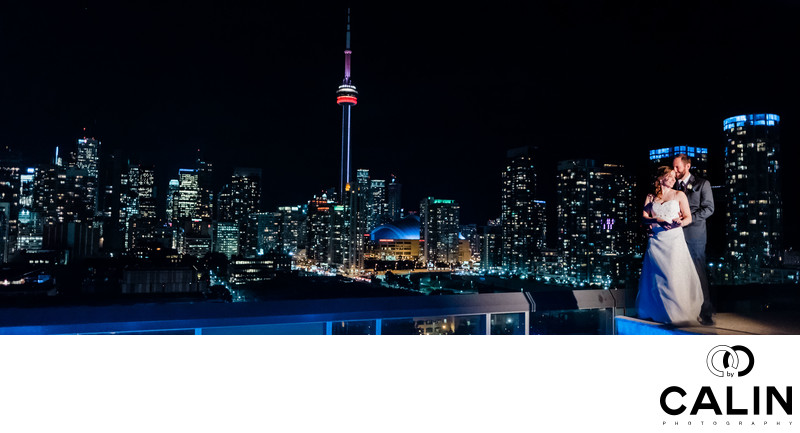 DISTRIBUTION of PRICES IN THE GTA
There is more to the picture than the average price. The distribution of prices gives you a clearer picture of the amount you can expect to pay.
As per Table 1 below, in Toronto, 66% of studios researched charge between $3,000 and $4,000 for a package that includes 10 hours of photography and a photo album.
That is consistent with the average cost calculated as a 10% of the average wedding budget.
Table1: Average Cost of a 10 hour package including two photographers and one album.
| | | |
| --- | --- | --- |
| Cost | Number of Studios | % of Studios |
| $2,000 | 1 | 3% |
| $2,500 | 2 | 7% |
| $3,000 | 4 | 13% |
| $3,500 | 6 | 20% |
| $4,000 | 10 | 33% |
| $5,000 | 2 | 7% |
| $5,500 | 1 | 7% |
| $6,000 | 1 | 3% |
| $8,000 | 1 | 3% |
Average TORONTO WEDDING PAckages
The price intervals are calculated considering a 10h coverage, 2 photographers and 1 album.
Upscale photographers (top 3% of the market): Do you have the money to hire a famous photographer who charges $8,000+? For a high budget wedding, that is a reasonable target.
Still, you need to make sure you are getting a good return on investment (ROI) and it is not just the marketing hype increasing the average cost.
You must love your photographer's wedding pictures and personality or you might not be getting the best deal.
Premium photographers are talented and experienced, yet not famous artists who charge anywhere between $4,000s and $8,000s.
Affordable wedding photographers in Toronto charge between $3000s-$4,000s for their packages. This is what 66% of GTA photographers charge.
Budget friendly photographers charge $2000-$3000 and represent roughly 10% of the market.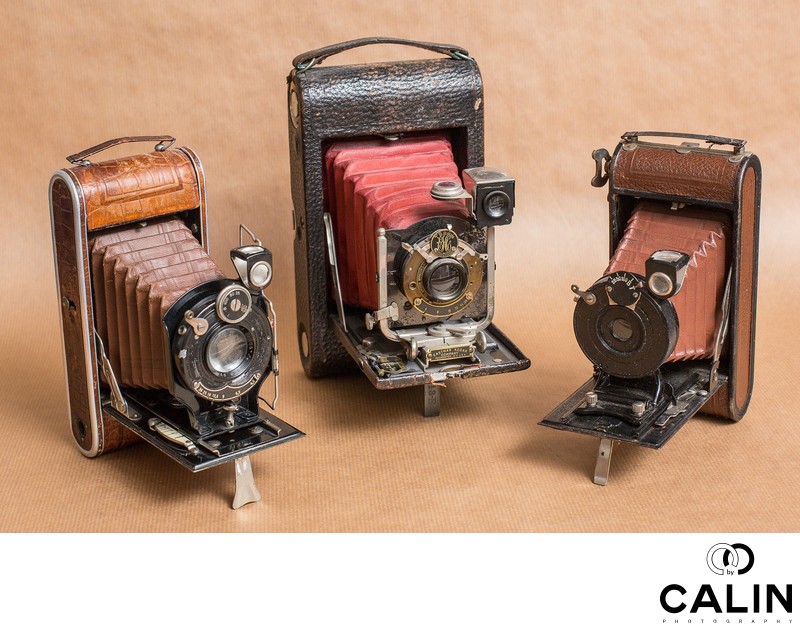 Last, you have the cheap photographers whose services you can buy for a song. Sure, they shoot cameras from the last century but they charge under $2000 and that sounds like a great deal!
Unless it is a friend-of-the-family rate, in this price range, clients are taking risks and need to do serious homework. If you intend to spend under $2,000 you are gambling your wedding photos.
CALCULATING THE BEST RETURN ON INVESTMENT (ROI)
Find three photographers whose wedding photos you really like and whose pricing and packages fit your budget. Assess the value of their packages including extra fees such as the cost of photo albums, travel fees and cost of digital files.
In Table 2 below, Package 3 ($2,500) has the lowest price, but it is not the best investment because you will need to pay extra for extra time, the second shooter, high resolution digital images and a wedding album.
Table2: Packages from 3 photographers
| | | | |
| --- | --- | --- | --- |
| Cost Item | Package 1 | Package 2 | Package 3 |
| Hours | 10 | 10 | 8 |
| Photo Album | included | not included | not included |
| Second Shooter | included | not included | not included |
| Digital Images | included | included | not included |
| Cost | $3,500 | $3,000 | $2,500 |
Table3: Additional Fees charged by the three photographers. Photographer 1 offers best Return on Investment
| | | | |
| --- | --- | --- | --- |
| Additional Fees | Package 1 | Package 2 | Package 3 |
| Time Charges | $0 | $0 | $500 |
| Travel Charges | $0 | $500 | $500 |
| Album Cost | included | $500 | $500 |
| Digital Images | included | $900 | included |
| Total Cost = Package + Fees | $3,500 | $4,900 | $4,000 |
Comparing the prices and packages above, Package 3 has the lowest price (Table 2).
Still, when calculating the total cost including the additional fees (please see Table 3 above), Package 1 gives you the highest return on investment, despite the highest price.
BE Aware of the following Pricing Techniques
Psychological Pricing a.k.a. Charm or golden pricing
This is a basic technique whereby the price of the product or service ends in an odd number just under the round amount. Instead of listing a package at $3,000, the common practice is to offer it at $2,999.
Why do we perceive the two offers so drastically different? Studies done by Thomas and Morwitz in 2005 show that because we are not able to remember the whole price, we form a perception of low, medium and high based on the left digit of the number. As such, as long as the left digit does not change, we don't perceive the difference.
As consumers, we think the difference between $4,000 and $2,999 is closer to $2000 than to $1000. Also, which package is more affordable? $2,999 or $3,000?
Price Insensitivity Intervals
There are intervals where we are completely price insensitive. For example, when comparing two photographers offering the exact same services, one for $2,780 and the other one for $2,999, the two prices feel the same.
Presenting Packages in Descending Order
Our brain relies on the first piece of information to make decisions in a process called "anchoring." Many companies present 3 packages starting with the most expensive to sell you the next service which now feels way more attractive.
Conclusion
In 2023-2024, the average price of wedding photography in Toronto can run between $4,000 and $5,000 and sometimes can exceed $10,000. Packages usually include 8 to 10 hours of coverage and two photographers. In comparison, our studio charges only $2,399 for 8 hours of photography.
In Canada (outside the GTA), couples pay between $3,500 and $4,500 for wedding photography services.
If you have questions or you want to book a consultation, do not hesitate to contact us!
Average Price of Wedding Photography in Toronto