Black Creek Pioneer Village Wedding Guide
2022-2023 Black Creek Pioneer Village Wedding Guide (Updated)
Many brides plan to have a wedding at Black Creek Pioneer Village. Because of its beautiful gardens, historical buildings, and low cost per head, this is one of the most popular venues in Toronto. As wedding photographers, this is one of our most favourite event spaces in the GTA.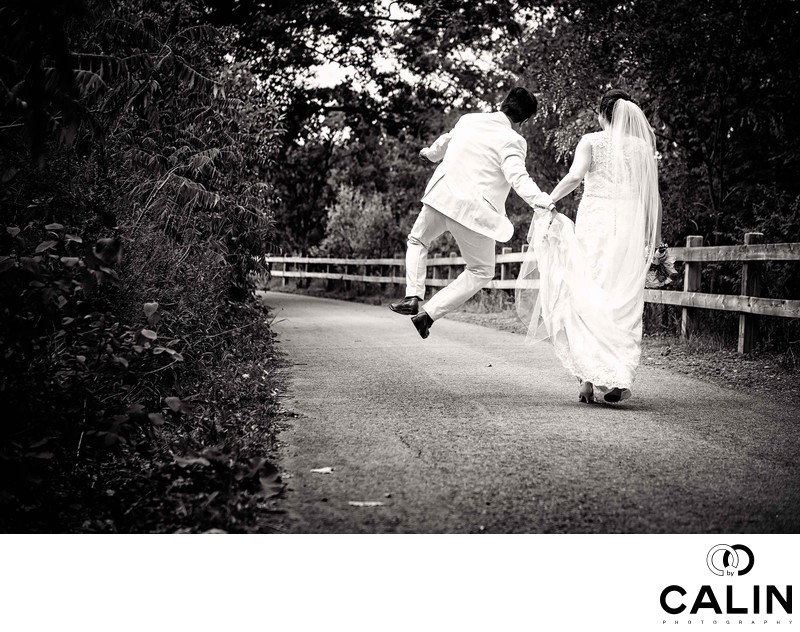 Article Structure
1. Wedding Cost
7. Reasons why this is the perfect setting for your Big Day
8. Important Additional Information
9. Best time to photograph at BCPV
10. About Black Creek Pioneer Village
11. Real Wedding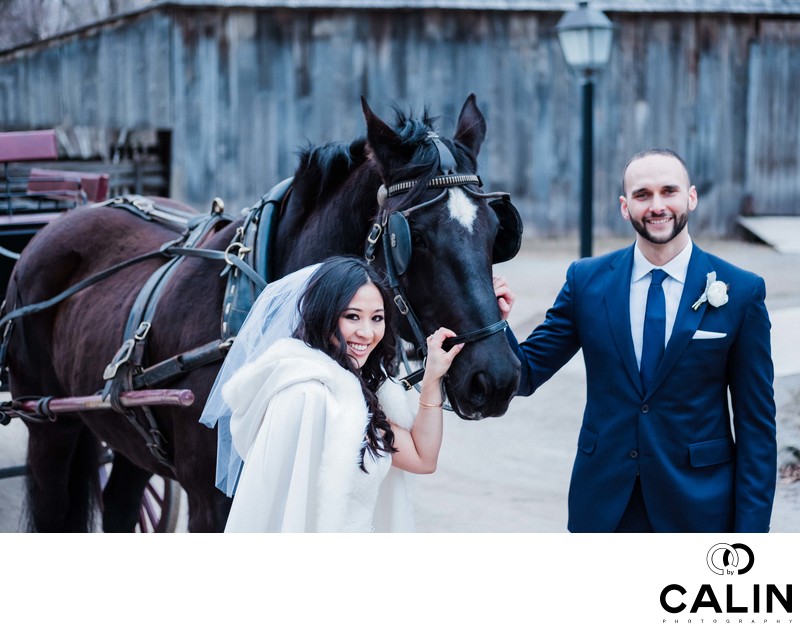 According to Black Creek Pioneer Village, the wedding associated cost is $150 per person and it includes an open bar and the rental of the venue. That makes the establishment one of the cheapest wedding venues in the greater Toronto area.
Here are the most common packages:
Ceremony Package
Ceremony with Reception On-Site to Follow: $800+HST
Ceremony Only
The ceremony only package costs $975+HST
The Ceremony Package Includes: Rental of ceremony site for 1 hour, Arch, Chairs, Lanterns, Signing table, One hour rehearsal on the wedding week, SOCAN and Resound license fees, Photo permit (value $300 + HST), Parking and admission fees for guests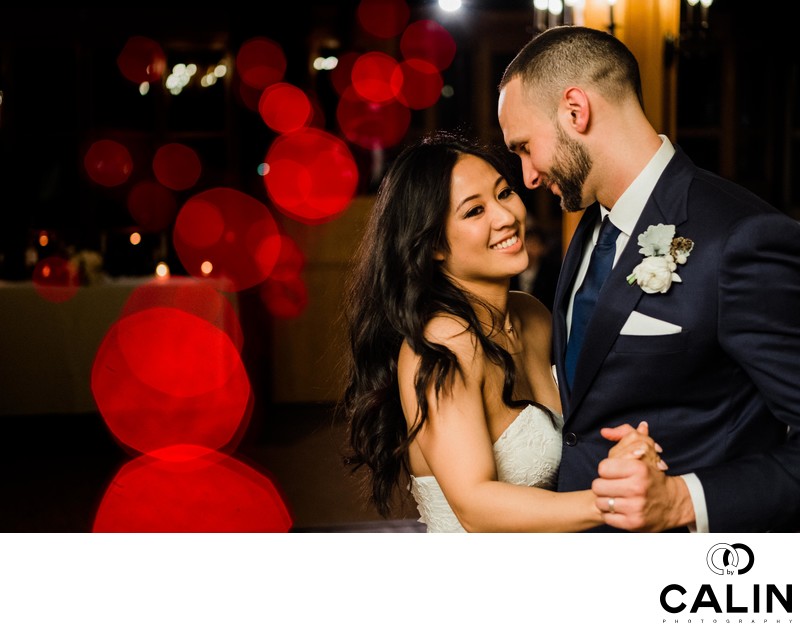 First Dance in Canada West Room
Reception Package
The costs outlined below refer to the Classic Menu Package
For November to March weddings the cost per person is $125+HST (minimum 50 adults)
For April to October weddings, the cost per person on Saturdays is $140+HST.
On Fridays and Sundays, the cost is $135+HST
The Reception Package Includes: Open bar, Wine on tables, Champagne toast, In house catering, Waiters and bartenders, Two vendor meals, Tables and chairs, Table and napkin linens, Parking and admission fees for guests, Photography permit and Menu tasting for the couple
For more details please contact the village through their website at weddings@trca.on.ca or at (416) 736-1733.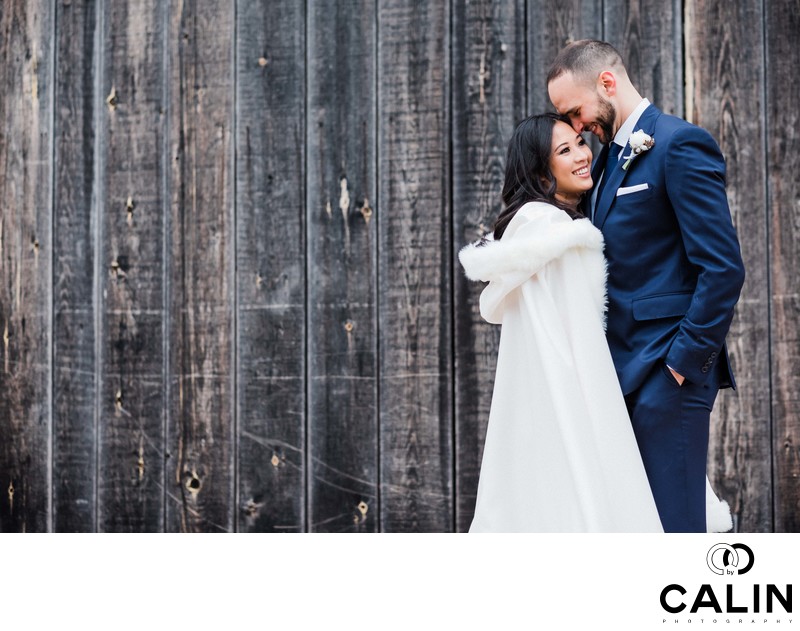 If you are tying the knot here, you will NOT need a permit. For couples who want to do their photo shoot here, the establishment sells up to five simultaneous photo permits (here you can purchase a wedding photography permit) at $300 plus HST. However, due to the size of the complex, you might see another bridal parties but you will be able to focus undisturbed on your wedding photography.
The permits include admission for up to 20 people during the hours of operation. Please note that the permits are not refundable and do not allow indoor photography. That being said, nobody stopped us from entering the buildings and taking beautiful pictures. After all, it's your wedding day and nobody wants to ruin it.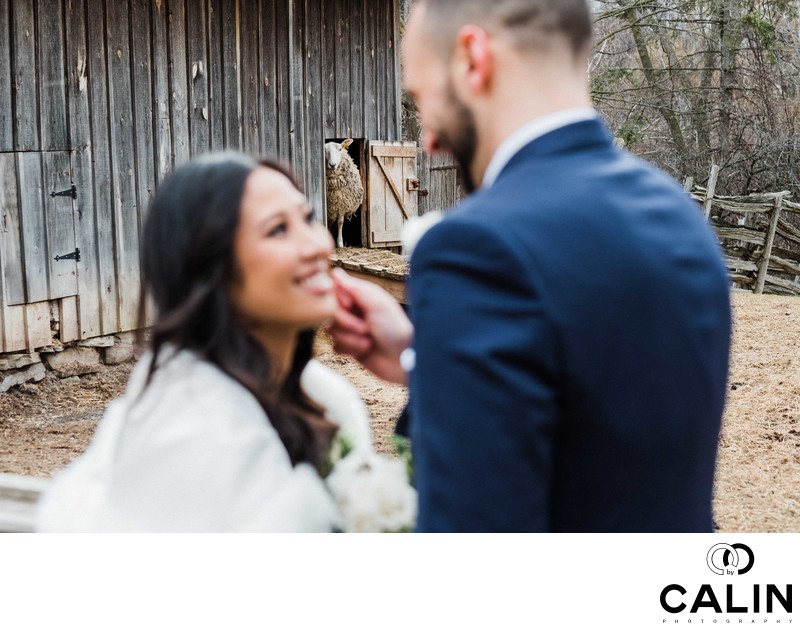 Please note that the village is closed to the public from January to April, but you can book your winter wedding here.
The hours of operation are 10 a.m. to 4 p.m. Monday to Friday and 11 a.m. to 5 p.m. on weekends.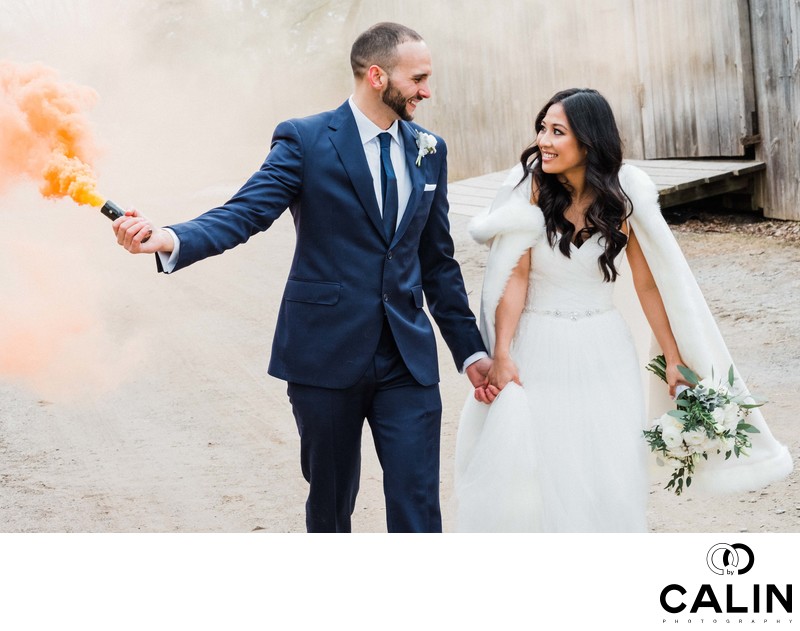 The complex boasts four ceremony locations that can host anywhere between 90 and 180 guests. They are Fisherville Church (120 people), Town Hall Green (a meadow located across the Grand Pavilion and able to accomodate180 people), Town Hall (90 people) and if the weather cooperates you can have an outdoor ceremony at Victoria Green (180 people).
Fisherville Church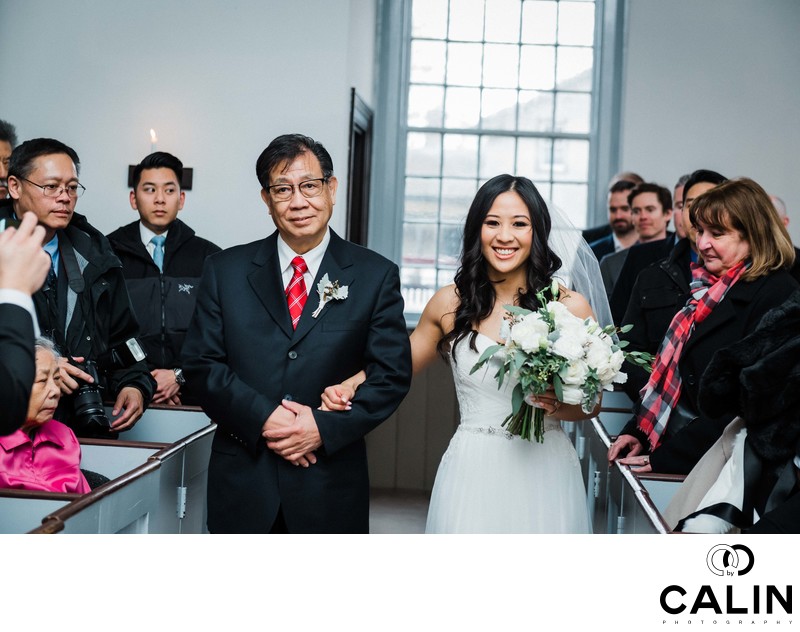 Town Hall
The complex can accommodate various sized events. From a more intimate dinner in The Victoria room to a larger party in the Grand Pavilion, you have it all. You can pick one of the following: Grand Pavilion (180 guests), Canada West (130 guests), the Patio (150 guests) and Victoria (90 guests). For more information, please visit the establishment's events section here. If you are interested in the menu, please visit this page.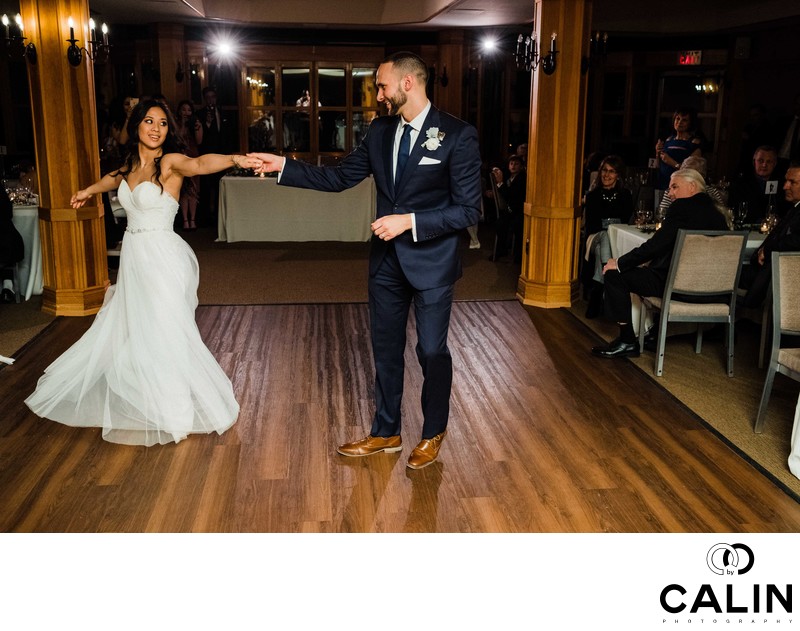 First Dance in Canada West Room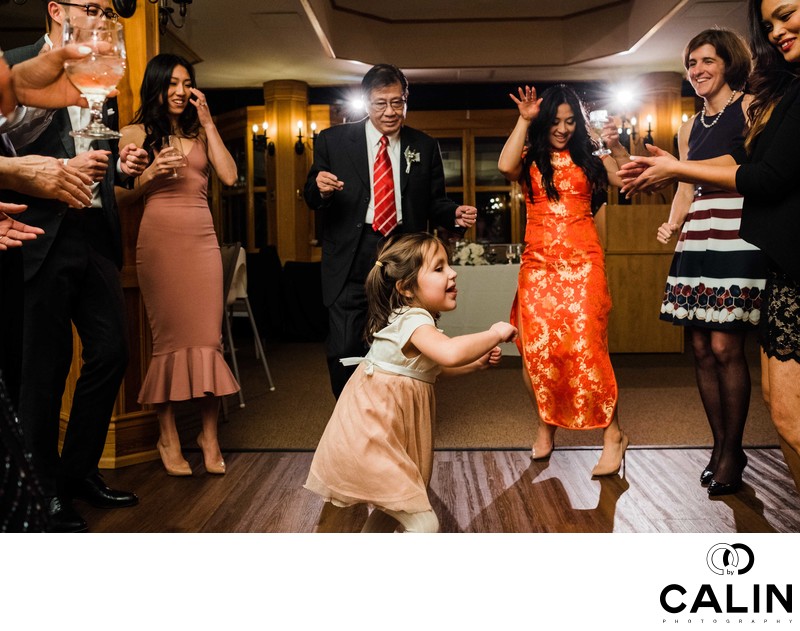 Wedding Reception in Canada West Room
Anywhere you turn you see perfect backdrops for your wedding pictures. However, our favourites are Roblin's Mill, the Half Way House, and the gardens.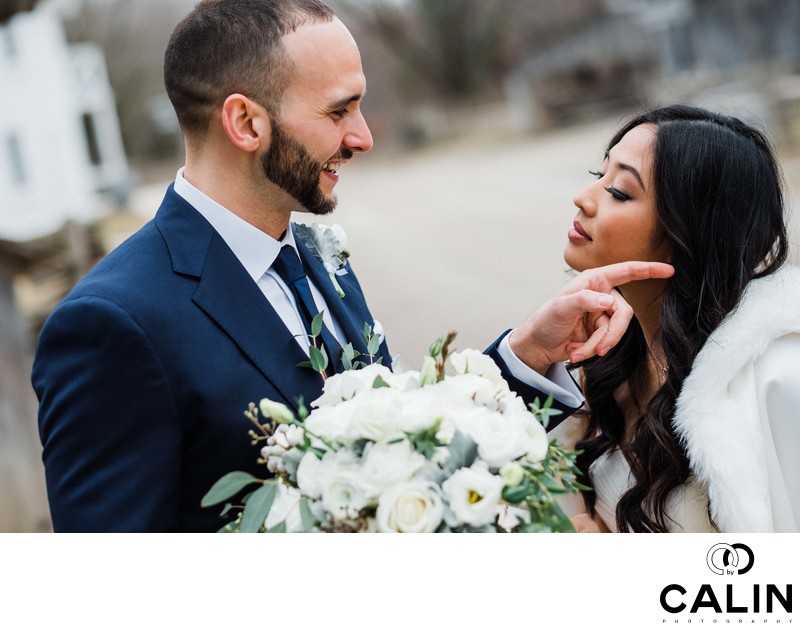 The album spread below was captured in front of the Halfway House.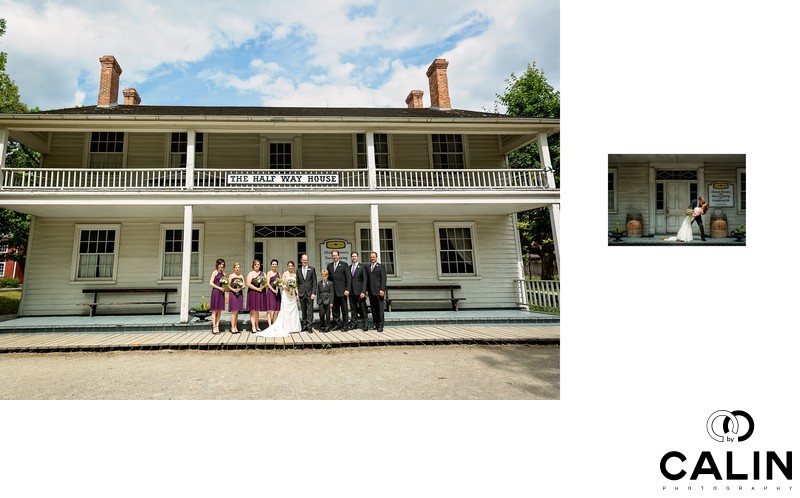 During the cold season , we photographed first looks in front of Snider Drive Shed. This structure creates a perfect backdrop for a cinematic first look as you can see below. Should the road be muddy, I recommend the Broom's Maker Shop. The building is the second one in the complex and you can walk on the boardwalk so that you will not ruin your beautiful shoes and dress.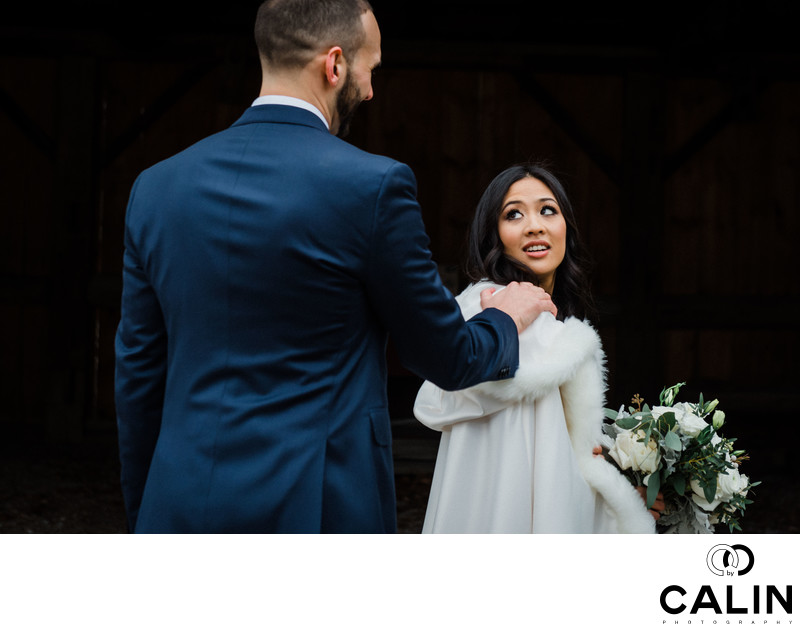 First Look by Snider Drive Shed
In the summer, I for the first look, the perfect setting is Maple Avenue, as you turn left when you come from the Visitors' Centre and the gift shops. The collage of photos below were taken on Maple Avenue.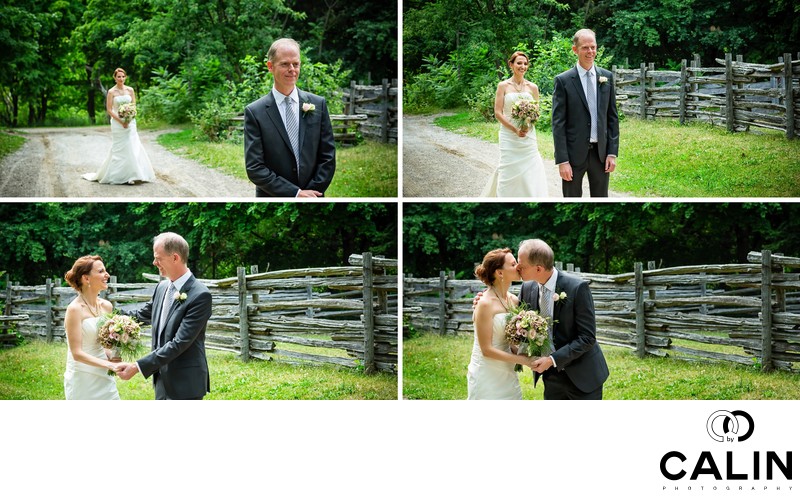 For family photos, the above mentioned buildings will do just fine. For larger groups I love Daniel Stong's Grain Barn. The barn exterior walls offer a beautiful textured backdrop and shade for the hot summer days. I also took some gorgeous images just as you exit the Visitor and Gift Centre on the right hand side where multicolour flowers create a splendid background for photographs.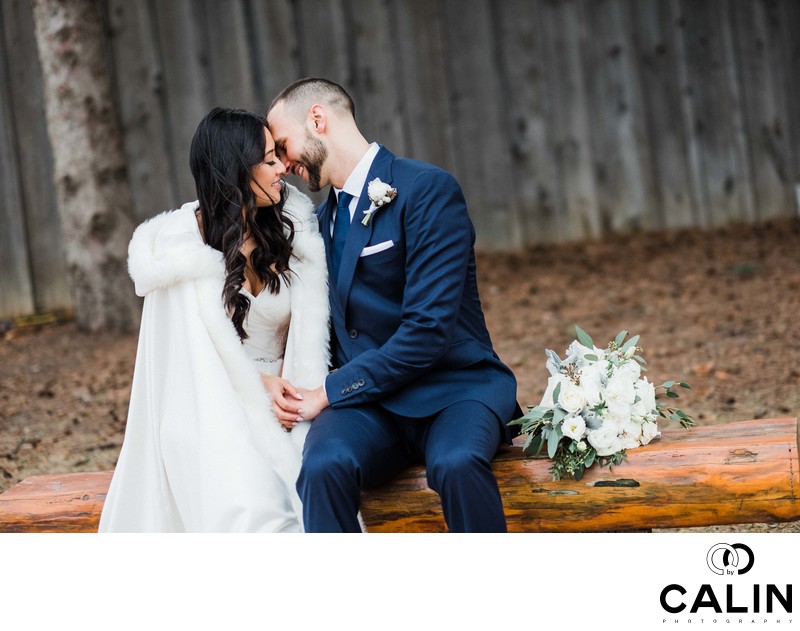 Here are some more reasons why this is your perfect wedding venue in Toronto Ontario.
First, you can have a beautiful outdoor ceremony at Town Hall Green or Victoria Green. Also, you can use one of the other buildings to tie the knot. Fisherville Church and Town Hall are capable of hosting between 90 and 120 people.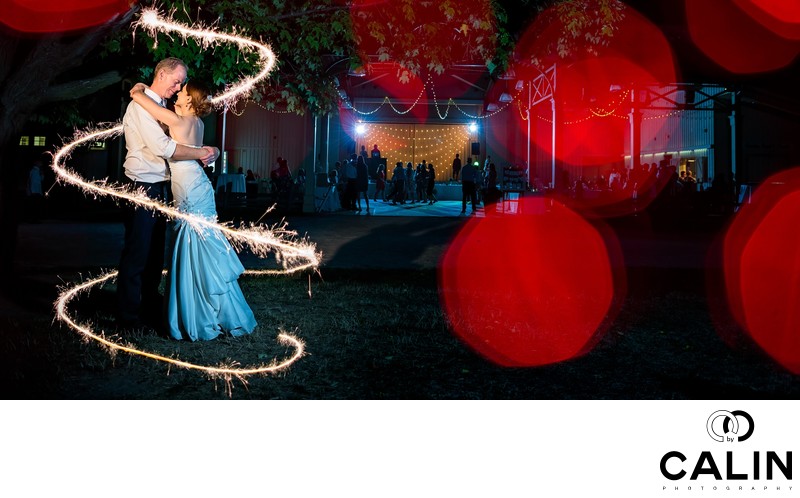 7.2 Perfect Backdrops for Your Photos
The village boasts over 40 heritage buildings from 1800. The character buildings make the perfect backdrops for your wedding photos. Even more, the green areas will allow a variety of pics. Finally, the pioneers dressed in traditional clothes love to take selfies with you.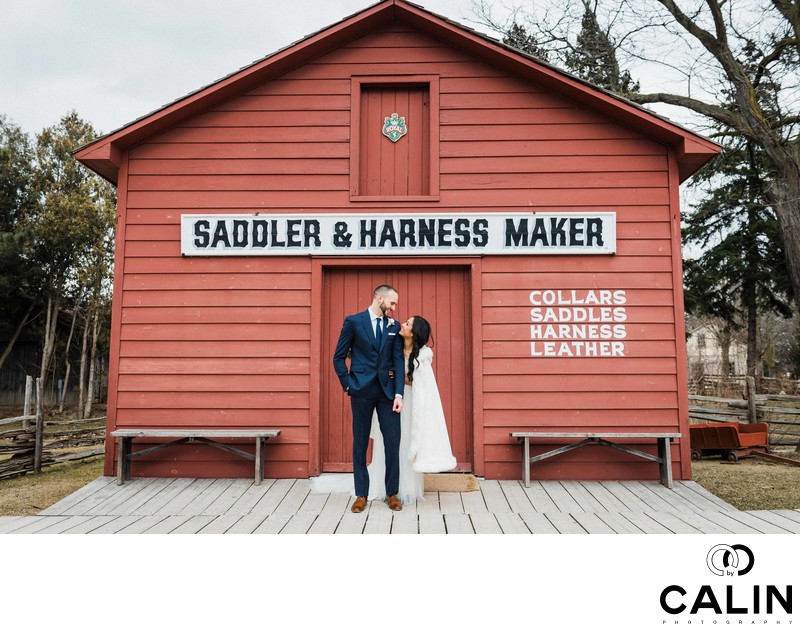 7.3 Excellent Service
The establishment has excellent ratings on Trip Advisor and Google. Every time I photographed a nuptial there, I was impressed by the staff's warmth and efficiency. Without a doubt, you can be sure the staff will do their best to make sure your special day is a success.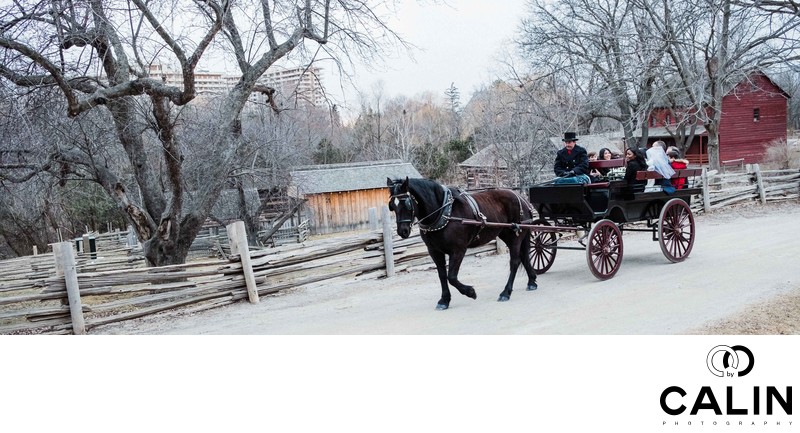 7.4 Convenient transportation
Access is available by car or bus and recently, TTC has opened a new Subway station close to the village. You can be sure now the venue will be even more sought after. For your guests, you can arrange a horse and wagon transportation. Children between 5 and 105 enjoy this means of transportation.
7.5 Proximity to the Pearson International Airport
if you expect friends or family from out of town, this is your perfect location because of its proximity to Pearson International Airport. It takes about 15 minutes to travel from the airport to the the village. Even more, the village is conveniently located close to Highway 401, one of the busiest in North America. As such, if your family and friends feel inclined to visit downtown Toronto, they can do it in a heartbeat.
7.6 Convenient ACCOMMODATION FOR YOUR GUESTS
Because the village is so close to the airport, there are plenty of hotels within a 3 km radius of the village. Here are the closest hotels to the complex in no particular order.
Extended Stay Canada Toronto (3.8* out of 5* on Google reviews) - Vaughan located at 3600 Steeles Ave W, Vaughan, ON L4L 8P5. Please check the availability here or call 1-800-804-3724.
Holiday Inn Express Toronto-North York (3.8* on Google) located at 30 Norfinch Dr, North York, ON M3N 1X1. You can check availability here or call 416-665-3500.
Courtyard by Marriott Toronto Vaughan (4* on Google) located at 150 Interchange Way, Concord, ON L4K 5P7. You can check availability here or call 905-660-9938.
7.7. Eco Friendly Wedding Venue
The establishment runs a series of programs that aim to reduce the village carbon footprint. Recycling, reusing, resourcing are to priorities for the village.
The establishment can serve local and organic menus, fair trade coffee and tea.
BCPV does not use any chemicals or pesticides.
All revenue is transferred to historical education programs and restarting the museum.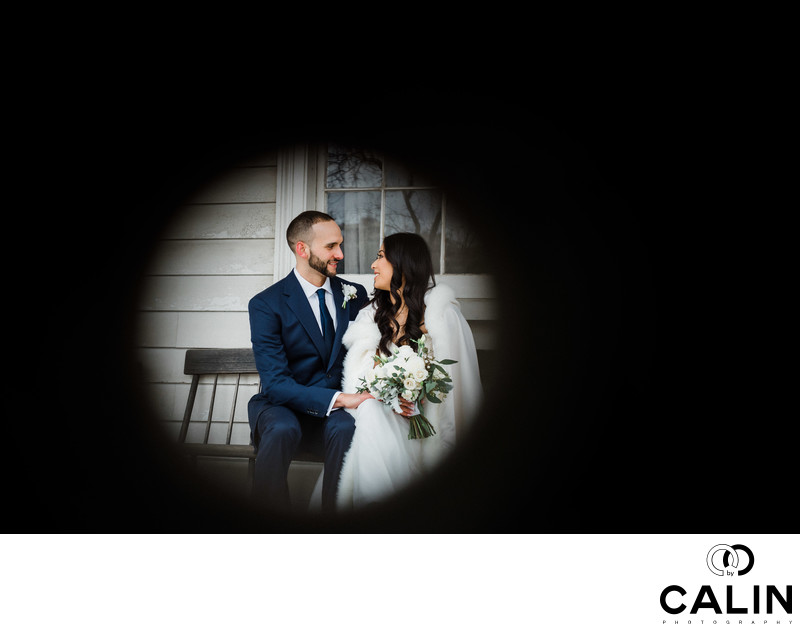 To familiarize yourself with the village, you might want to visit it via Google street view.
The village offers educational guided tours if your guests love culture.
The staff does not allow pyrotechnics at any events. However, if you like my sparklers photos, I can re-create the sparklers in post production.

Guests and vendors can park for free in the entrance lot closest to the main entrance. Parking info can be found here.
The Historic Brewery offers daily tours and tastings.

If you don't get married there, as with many GTA photo locations you will need a permit. Book a photography permit here. For security reasons, guests are not allowed to roam in the village after sunset. The establishment hosts plenty of events on the weekends! Please budget more time for your photo shoot.

If you don't like large crowds, avoid blackout periods. Here is a list of festivals held here. Among the most important annual festivals I can list the Canada Day Celebrations, Pioneer Harvest Festival, Thanksgiving at the Village, Light up the Night, Christmas and many more.
The village closes to the public during the winter, but you can still have a winter nuptial if you so wish. Here is where you can find more information about winter marriages here.
The village tries to keep an authentic atmosphere and it does not feature plenty of informative signage. Instead, it uses interpreters and tradespeople dressed in the traditional attire of the era. Should you require any information, ask the interpreters as they are experts in the village's history.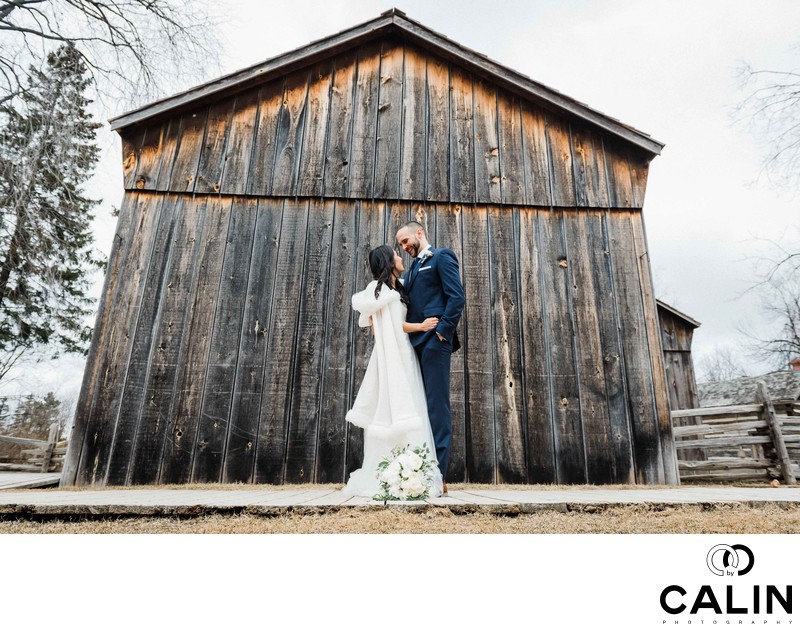 Portrait of Newlyweds by Henry Snider's Cider Mill

The best light for photo is during the golden hour or within an hour from the sunrise and an hour before the sunset. Confused? Here is a table that outlines the times of the day by month according to www.golden-hour.com.
Table 1: Morning Golden hour in Greater Toronto Area
| | |
| --- | --- |
| Month | Morning Golden Hour |
| January | 7:50 - 8:50 a.m. |
| February | 7:20 - 8:20 a.m. |
| March | 7:30 - 8:30 a.m. |
| April | 6:30 - 7:30 a.m. |
| May | 5:50 - 6:50 a.m. |
| June | 5:35 - 6:35 a.m. |
| July | 5:50 - 6:50 a.m. |
| August | 6:20 - 7:20 a.m. |
| September | 7:00 - 8:00 a.m. |
| October | 7:30 - 8:30 a.m. |
| November | 7:10 - 8:10 a.m. |
| December | 7:40 - 8:40 a.m. |
Table 2: Evening Golden hour in Greater Toronto Area
| | |
| --- | --- |
| Month | Evening Golden Hour |
| January | 4:00 - 5:00 p.m. |
| February | 4:40 - 5:40 p.m. |
| March | 6:20 - 7:20 p.m. |
| April | 7:00 - 8:00 p.m. |
| May | 7:30 - 8:30 p.m. |
| June | 8:00 - 9:00 p.m. |
| July | 8:00 - 9:00 p.m. |
| August | 7:20 - 8:20 p.m. |
| September | 6:20 - 7:20 p.m. |
| October | 5:30 - 6:30 p.m. |
| November | 4:00 - 5:00 p.m. |
| December | 3:40 - 4:40 p.m. |


10.1. Historical Information
Previously named Dalziel Pioneer Park, this complex of 40 restored buildings from the 19th century rural Ontario is an outdoor museum that recreates life of the early settlers.
The museum is located at 1000 Murray Ross Parkway, North York, just South of Steels, East of Jane and West of York University, on the shores of Black Creek river before it flows into Humber River.
Dalziel Pioneer Park was originally opened in 1060 and currently is run by Toronto and Region Conservation Authority, one of the 36 conservation authorities in Ontario, Canada.
Among the heritage buildings, the most notable are the Stong farm, a general store, a blacksmith shop, a one-room schoolhouse, Fisherville Church, a hotel, a log cabin, a water grist mill and several houses from the Victorian era, typical of the southern Ontario region.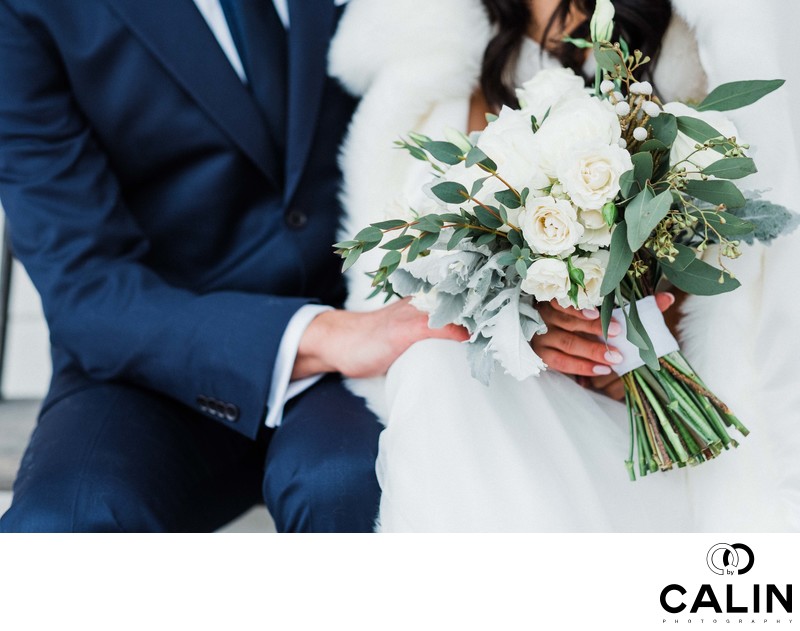 10.2. Committed to Being Green
Consistent with the way of life of the early settlers in rural Ontario, BCPV is committed to reducing its carbon footprint and was one of the pioneers among the event venues in Toronto.
Here are the most notable initiatives to make the venue "green" and to sustain local economy.
The disposable products used here are made of recycled material. Don't be surprised if the napkins, cups, cutlery and decorations are reusable and recyclable.
The leftovers are composted on site
The venue purchase food from local farms in southern Ontario. The establishment aims to source 60% of all food locally.
A local brewery sells artisanal beer.
Through festivals such as Honey Sommelier, Artisan Village Festival, Thanksgiving Dinner at the Village, the establishment promotes local food and beverages.
10.3. Christmas at Black Creek
From mid November to Christmas, every weekend the venue hosts Christmas programs. Victorian dancing, roasted chestnuts, apple cider and a ride around the village with Santa in a horse-drawn wagon are just several reasons why you might want to have your special event here.
Myself and my second wedding photographer started documenting the big day with bride's preparation at Michelle's house. Because the bride's hair and makeup were running late, we started taking photos of the details (dress, bouquet, rings, etc).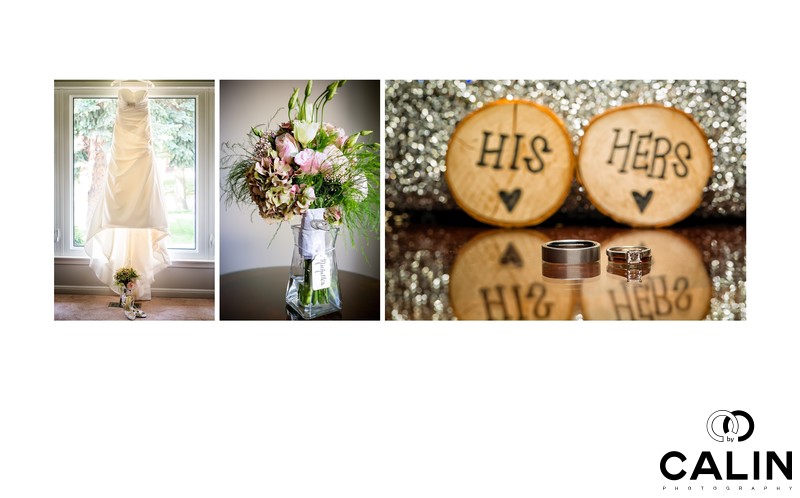 While photographing the bride's jewellery and other wedding related objects, we kept an eye on candid moments.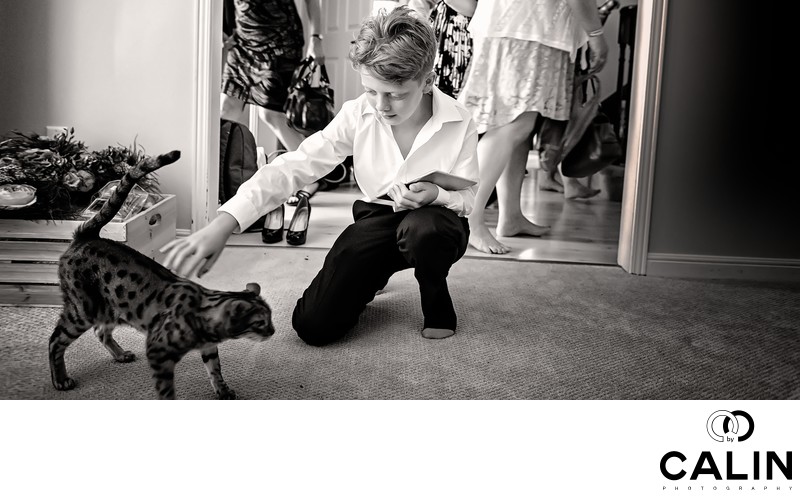 After all, a wedding album has to include both candid shots and more traditional ones.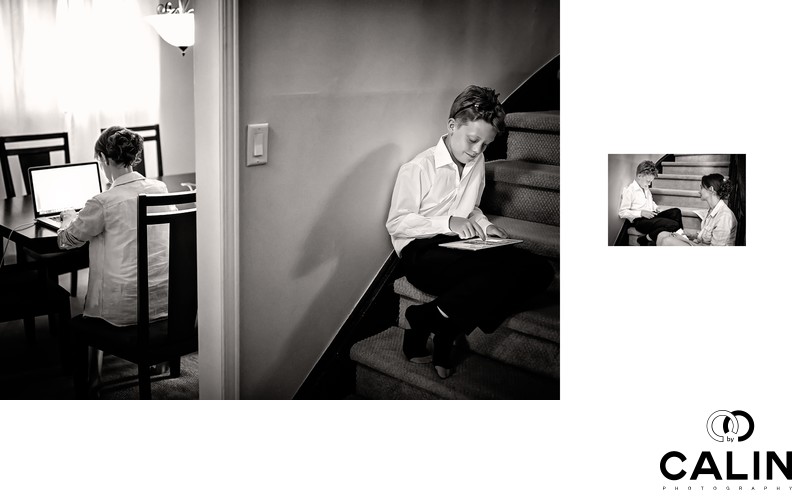 I especially like the images below where the sister of the bride and their mother express their emotions freely.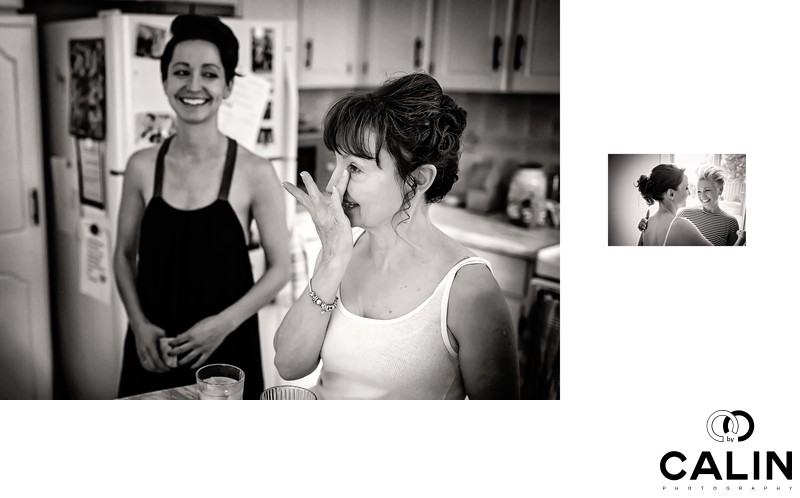 While the guests were enjoying a drink, I took a few touching portraits of the bride and her son.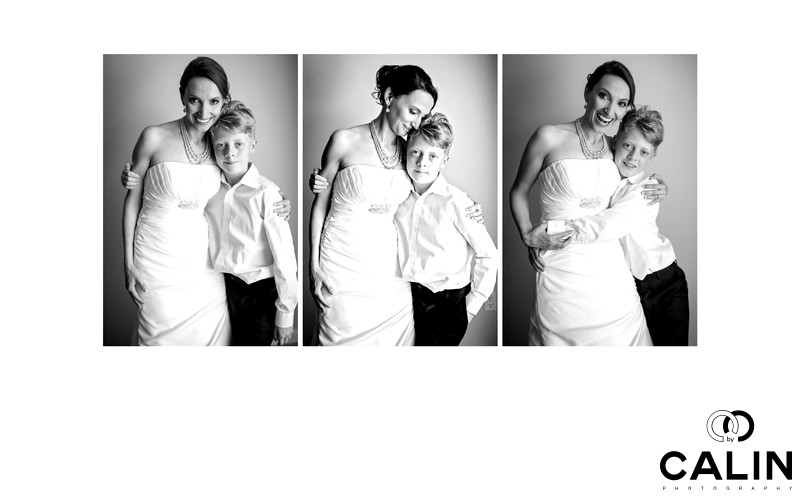 To provide the couple a variety of looks, I processed some shots both in black and white and others in colour.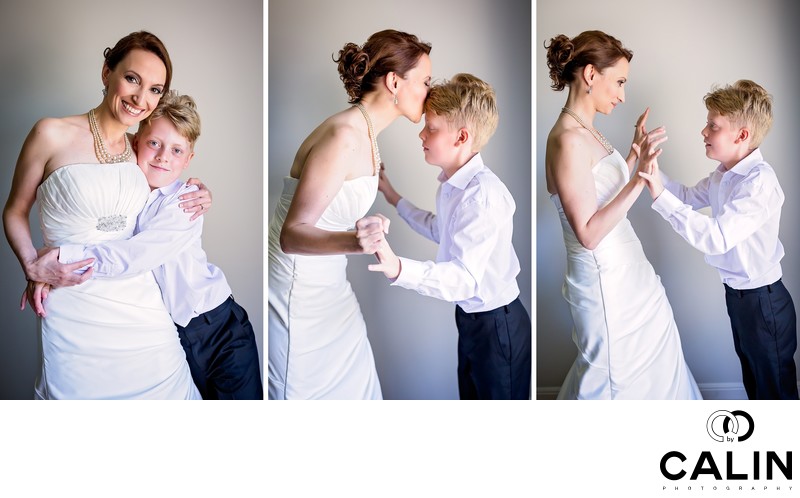 Soon afterwards, as it was almost time to leave, I asked Michelle if we could take a few portraits of her.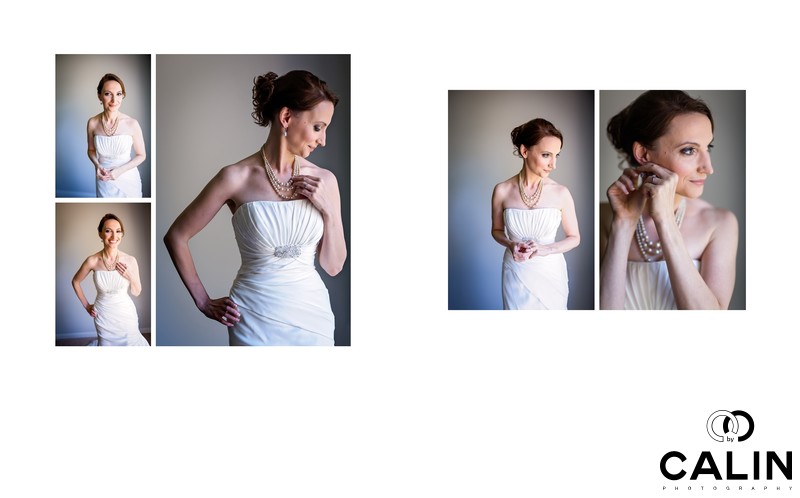 Originally a Jewish tradition, the bride's unveiling or the first look has become a mainstream custom. It is definitely one of my favourite times of the day when the bride takes time to enjoy a few moments with the two most important men in her life: her father and her husband to be.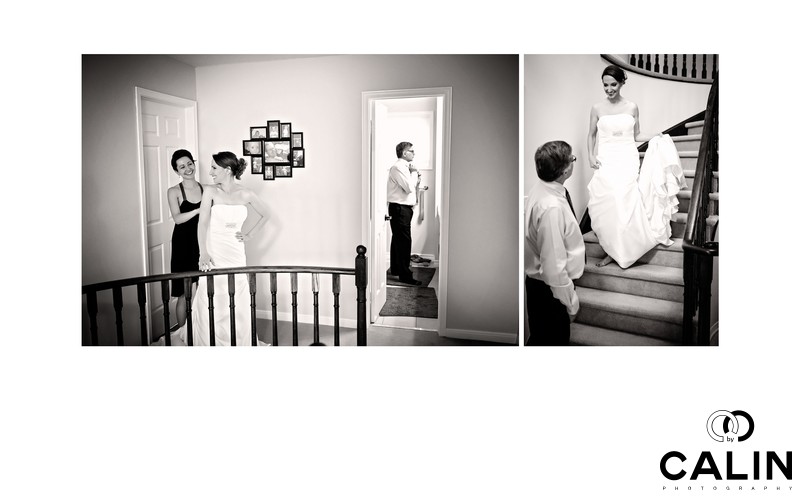 Next, we headed to the village for the first look. As the weather was splendid, Michelle and Mark saw each other on Maple Avenue, just at the village entrance.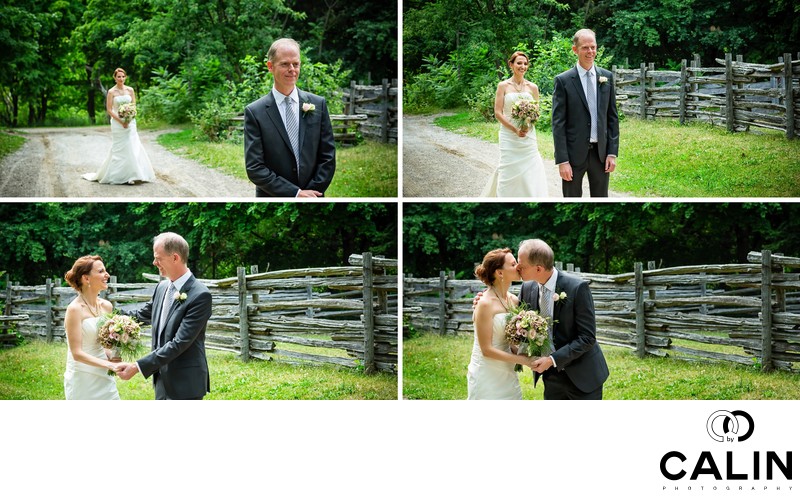 After that, we went for family photos to Daniel Stong's Grain Barn. No marriage is complete without pictures in front of Roblin's Mill. Built in 1842, Roblin's Mill is the last stone mill still functional in the Toronto area and a huge tourist attraction. Next, we took wedding day portraits of the newlyweds in front of the various buildings in the compound.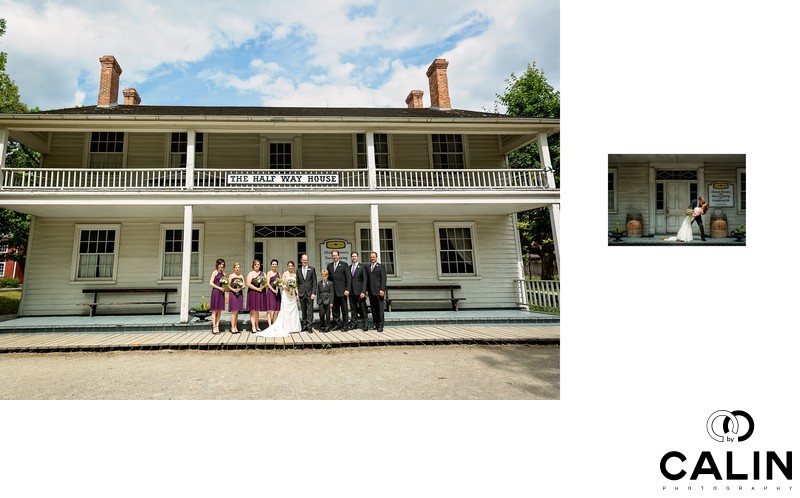 On our way to the ceremony, we stopped in front of The Half Way House for several romantic, formal and fun pictures of the bridal party. No matter where you decide to take your photos, the village is abundant in history. If you are interested, the building was erected in 1848 in Scarborough at Kingston Rd. and Midland Ave. It operated as a hotel, store, apartment building and nowadays it is a restaurant.
Wedding Ceremony
Fisherville Church is a heritage building moved to the village in 1960. Of course, Michelle and Mark could not pick a better spot to tie the knot. The wedding chapel was built in the Greek Revival architectural style is a perfect backdrop for the wedding ceremony photos. The most touching images were those of the bride walking down the aisle and her son showing his unbridled happiness to see her.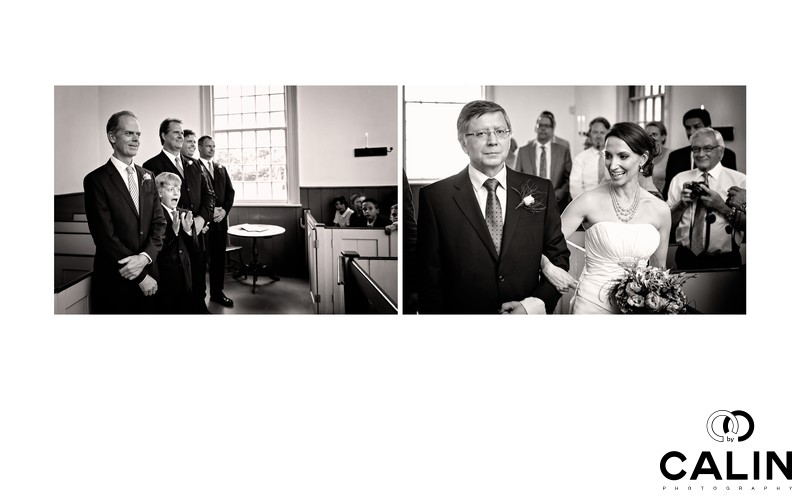 Another important moment of any ceremony is of course, the first kiss. This is when the son pulled a DYI "She Said Yes!" sign, moment immortalized in the album spread below.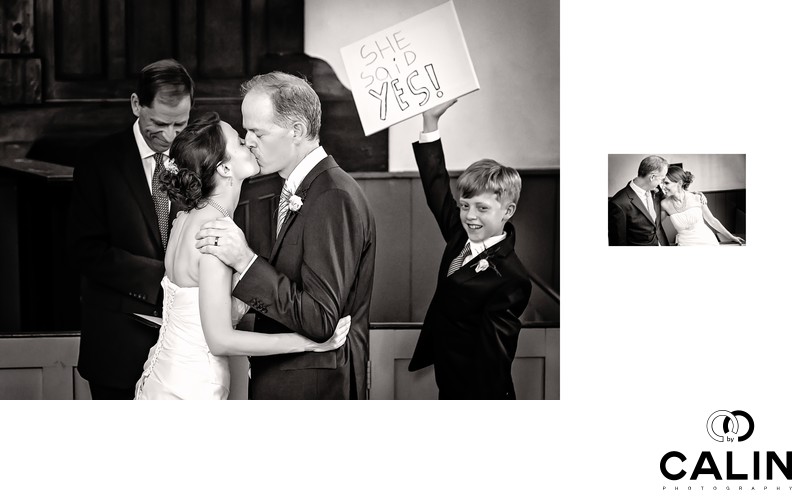 Wedding Reception at the Grand Pavilion
If you are not familiar with the establishment you might want to know that this is not your typical banquet hall. If you want the comforts of a banquet hall, while still maintaining the feel of a rustic wedding you might want to consider a country club or The Doctor House in Kleinburg Ontario.
Going back to our wedding at BCPV, after the ceremony, I took more portraits of the newlyweds.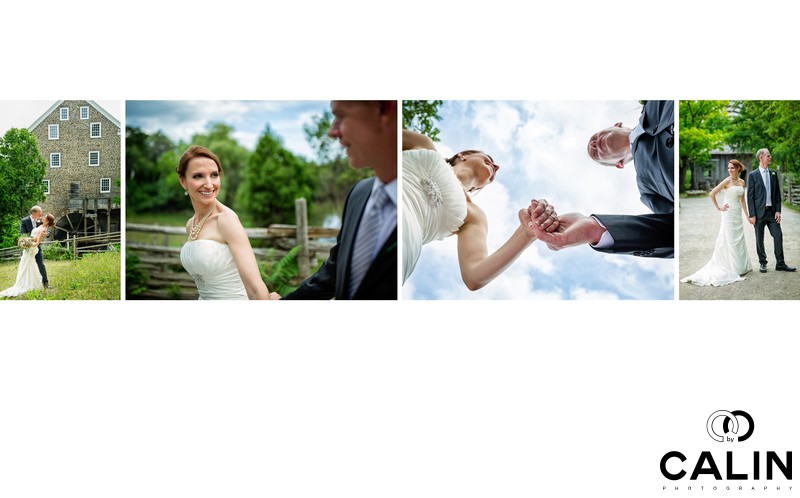 Although the Event Pavilion is an outdoor location, the weather was beautiful and the pavilion was the perfect setting for the wedding reception.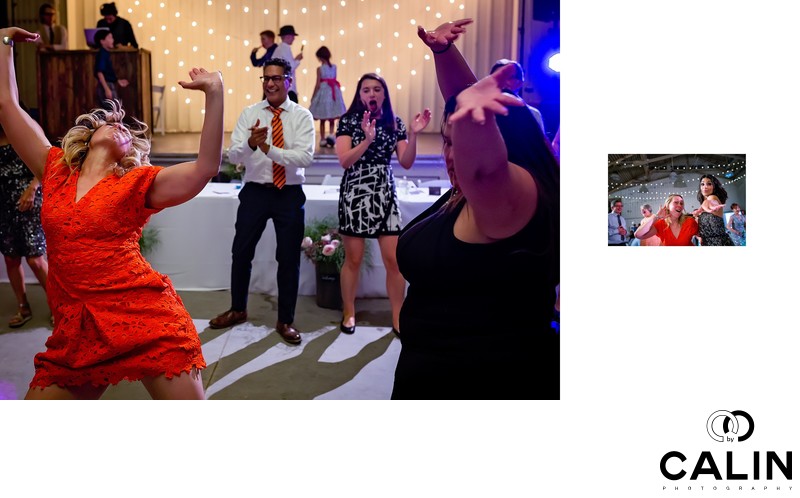 If you look closely at the album spread below, you will notice a few TV stars. The couple works at CTV and I was surprised to see a few celebrities present at this event.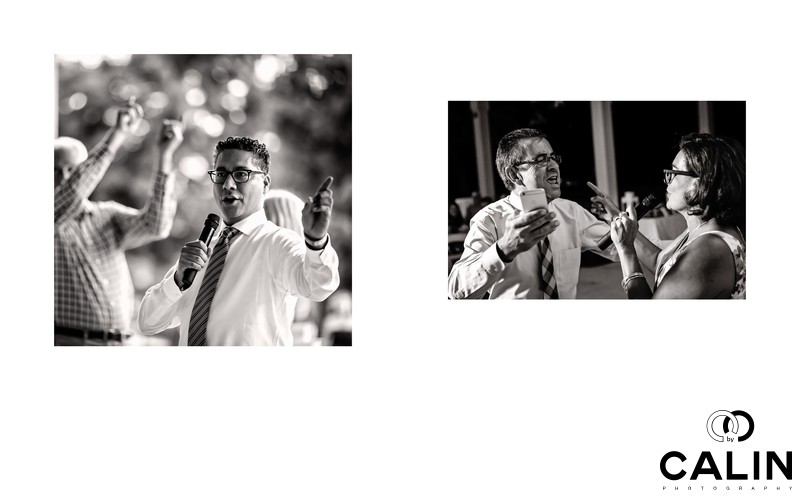 Later, we went out for two quick photo shoots, one at sunset and the last one before the end of the night. Here are the album spreads capturing the moments between the bride and groom.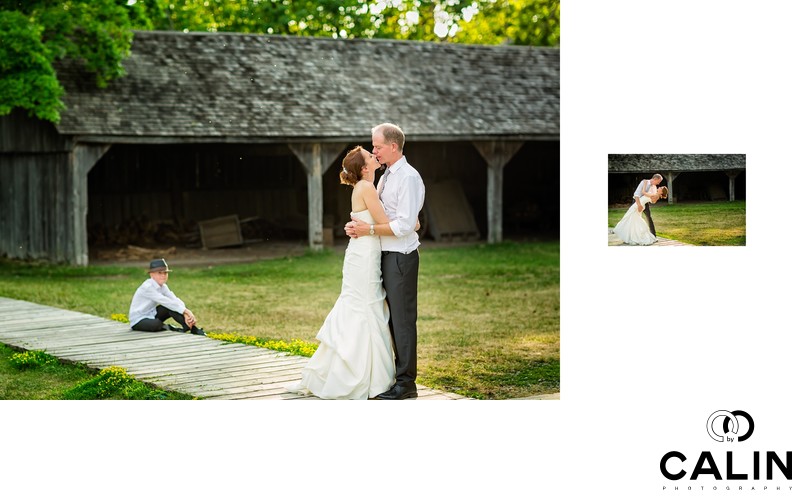 The last shot of the night shows the bride and groom hugging and while in the background we can see their guests dance inside the Grand Pavilion. This shot has everything. Sparklers, Christmas lights and a complicated lighting setup.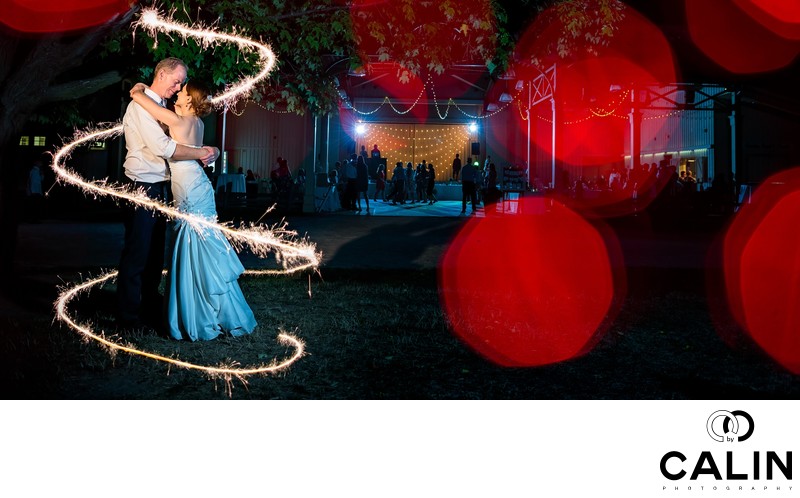 Here are two video clips with highlights from two weddings at this event space.
12. Cheap Venue
This event space is among the least expensive venues in town.