Roma's Hospitality Centre Wedding Guide
Roma's Hospitality Centre Wedding
When I heard that Karina and Mike chose to have a Roma's Hospitality Centre wedding I could barely contain my excitement. This Mississauga Banquet Hall is the perfect event space to create beautiful wedding photographs and also used as an event venue and conference centre.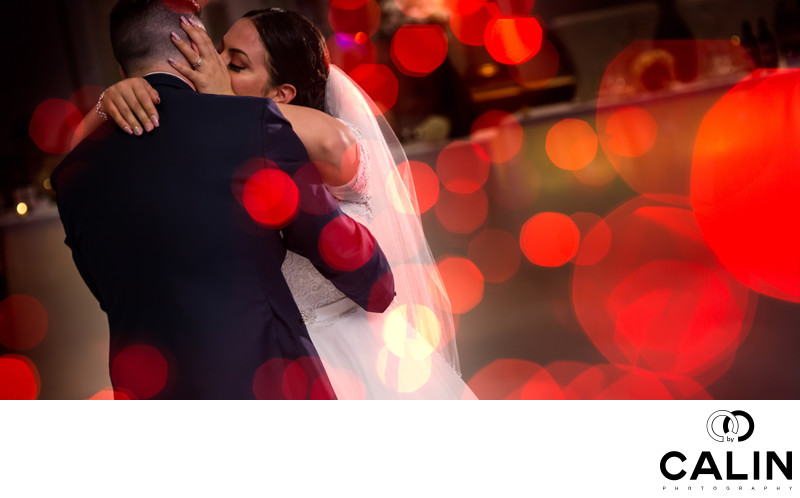 Lighting is Splendid at Roma's Hospitality Centre
First, the lighting at this facility is exquisite. Every centerpiece is lit by pin lights. My couple selected red, green and blue as their colours. Also, the podium and head table were perfectly lit by 2 reflectors, which made it easy for me as a wedding photographer to photograph them. The hall provides uplighting that gives the room a splendid ambient. The white ceilings are about 15 feet high, which makes them perfect for wedding photography. Often photographers bounce flash into the ceilings and this beautiful venue was built by someone familiar with photography. Also, the front of the building is perfectly fit for beautiful night shots of the bride and groom and cool shots of the groom and groomsmen
Even more, the hallway is the perfect setting for family photos and later for traditional receiving lines where the bride and groom, accompanied by their bridal party wait for the guests to arrive and great them. For this wedding, our bridal party cheered every time a new group of guests arrived at this beautiful Roma's Hospitality Centre wedding.
Convenient Location and Great Staff
Second, the wedding venue and event space is conveniently located close to major highways: highway 401, 407 and 403, so it can be reached with relative ease from any GTA point. That is especially important for situations when the wedding itinerary is derailed by unforeseen events.
Third and very important, the staff is very helpful, professional and accommodating. As a testament to the superior service, the venue has a 4.4 star rating on Google. The event space is often used as a corporate centre for corporate events, so please reserve early your special day. In the unfortunate event that Roma is booked, you might want to try Mississauga Convention Centre, Oakville Conference Centre, Le Treport, Harbour Banquet and Conference Centre, Natraj Banquet Hall and Swagat Banquet Hall. Personally I photographed a few wedding receptions at Oakville Conference and Event Centre and the banquet hall looks spectacular. In the unfortunate event that it rains on your special day, you can use a conference room to take family photos. Still, you might want to inquire in advance if there is a corporate event that day as the banquet centre is also a popular convention location.
Parking space is sufficient at this event venue and the food is delicious. The dance floor is large and the pillars give the venue a classy look to your dream wedding reception photos. The large chandeliers add character to the venue and the wall behind the bride and groom was adorned by a gobo projection of the names of the bride and groom and the date of their wedding. The bridal suite is a small room placed right at the entrance of the banquet centre.
Roma's Hospitality Centre Offers Great Value to Couples
While I am not familiar with the wedding packages offered by the conference centre, according to couples who had their wedding at Roma's Hospitality Centre, this banquet hall is one of the most affordable in the GTA and provides an amazing value. The facility offers deals on special events taking place in January, February and March and on Friday and Sunday weddings. This year Friday weddings are very popular with couples and choosing wisely could save you a lot of money.
Looking for a wedding photographer? Do not hesitate to contact us for a no obligation consultation.
Food Choices
The convention centre offers onsite catering services and according to their website, you can customize the menu for your wedding day. A testament to the high quality catering, the food is delicious at this venue. Roma's Hospitality Centre wedding menu includes choices of Portuguese, Italian and Continental menus. I personally tried the Italian menu and it is delicious.
The in House DJ IS Amazing
The in house DJ Legends Entertainments were phenomenal and guests were entertained with games during dinner and an excellent music choice for the rest of this special event. During a discussion with the MC, he confessed that he had been in business since he was 16. That gives you an idea how good he is! Highly recommended! They have 23 perfect 5 star reviews on google! Ask them to provide wedding monogram lightings using your design or some of their templates. As a Toronto wedding photographer, I get to see many venues and work with a multitude of DJ companies. DJ Legends impressed me with their professionalism. They informed me every time another event was about to begin so that we could be ready to capture it. Also very important their light was calibrated from a colour perspective so that it can be captured perfectly by our cameras as you can see in these candid shots taken on the dance floor. Among their service offerings, I highly suggest their wedding lighting as well as their spotlighting and dance floor lighting.
The interactive games showcase questions about the bride and groom and elicit amazing reactions from the audience as well as from the newlyweds!
Legends Entertainment are a preferred vendor at this event centre. Legends offer photo booths and video booths, which in my experience are always a hit with the guests.
Mike and Karina's Wedding Story
Karina started her special day at her sister's house. The bride and her seven bridesmaids were full of fun and gave me the opportunity to capture outstanding candid pictures. When Karina descended from the top of the spiral staircase, the brides mother, her sister and the other bridesmaids were in awe.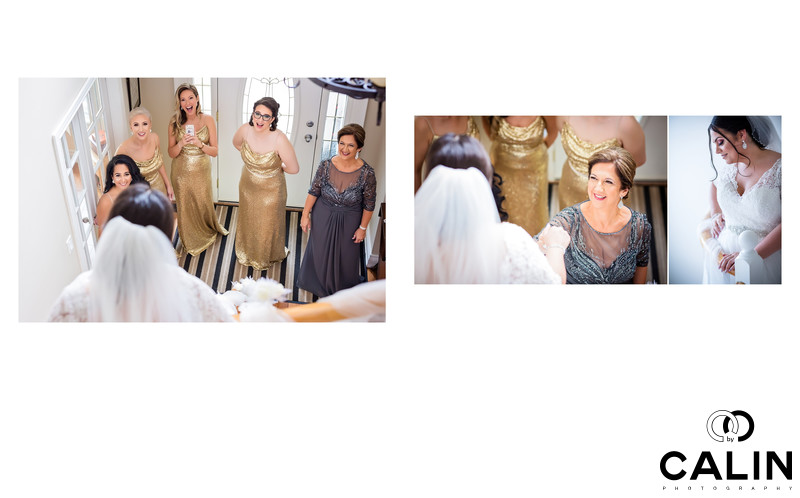 Soon after, I started taking portraits of the beautiful bride as you can see in the album spread below. Karina shows a classic beauty and exhibits a striking resemblance with Mila Kunis.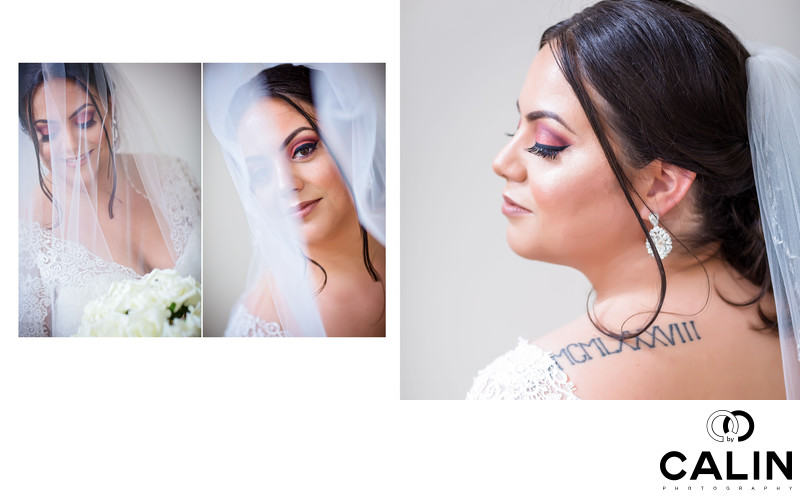 In the meantime, my second photographer was documenting the emotional moments during Mike's getting ready. Sadly, the groom's mother passed away months before the Big Day and many participants to this wedding were in tears. This brought back memories as my father also missed my wedding by a few months.
On the wedding day, after the bride and groom preparation we headed for the wedding ceremony to Our Lady of Fatima Church . This beautiful Portuguese Catholic church provides splendid backdrops for wedding photography. It is a large church adorned with outstanding stained-glass windows that look amazing to the human eye. Still, the multi-coloured light given by these windows poses a challenge to a photographer. Please ensure that your wedding photographer is familiar with this church so your wedding pictures look good.
After the ceremony, we headed to the Riverwood Conservancy located at 4300 Riverwood Park Ln, Mississauga. The park offers beautiful locations for you your wedding pictures such as a barn and plenty of greenery as you can see in the images below. Please be aware that despite the fact you need a permit to have your photo shoot in Riverwood Conservancy, there are plenty of hobbyist photographers and visitors who can slow down your photo session.
Here are a few more examples of our recent work: Chateau le Parc, One King West, Storys Building, King Edward Hotel, Thompson Hotel, Sassafraz Restaurant and Liberty Grand wedding.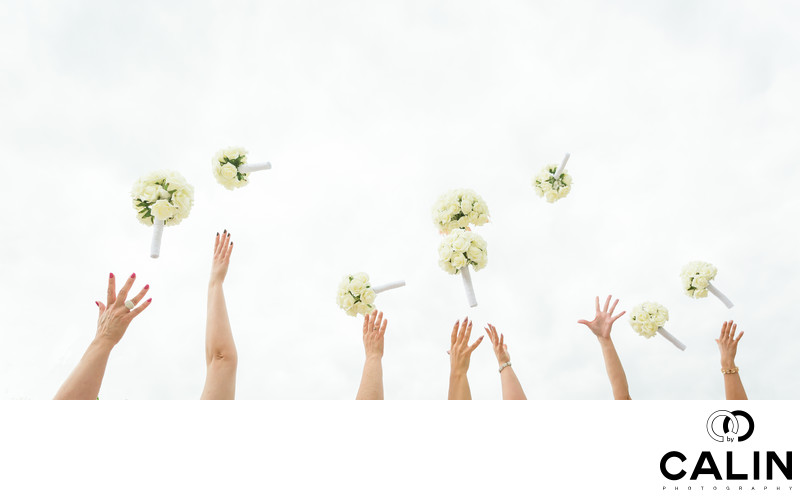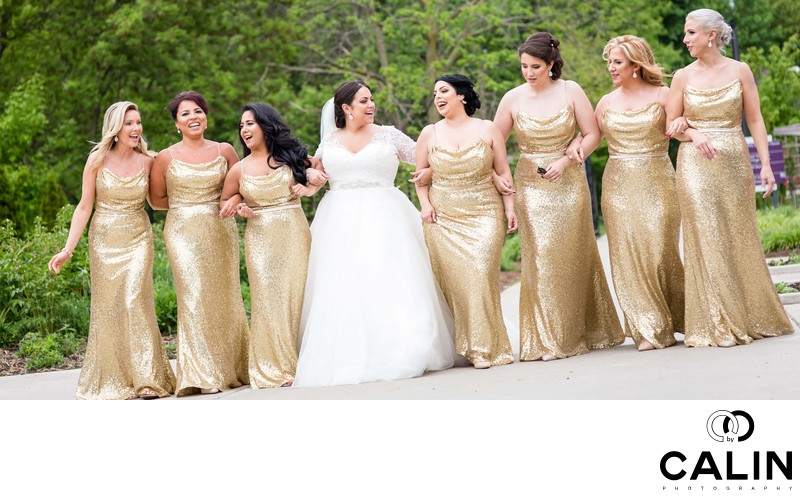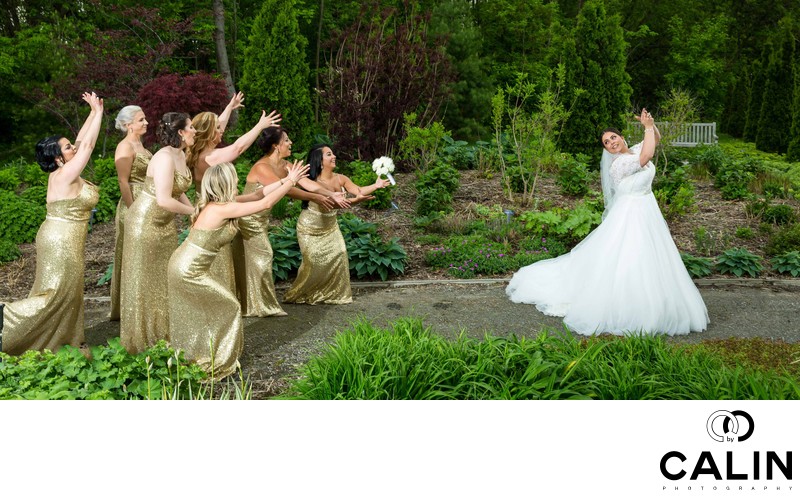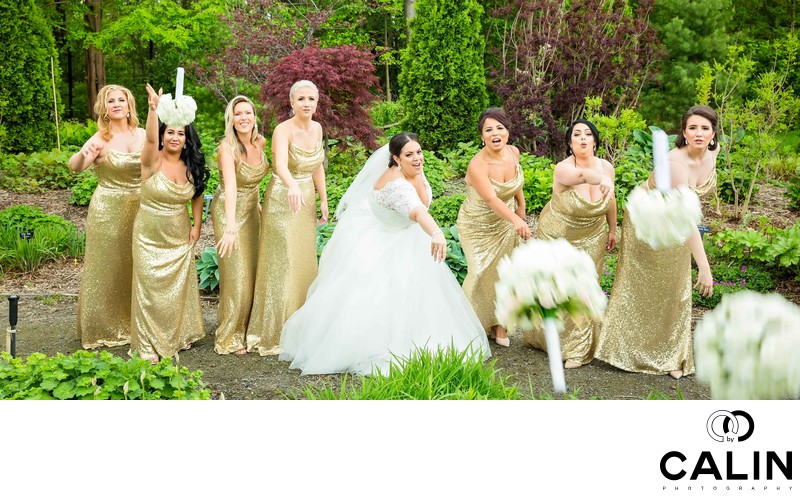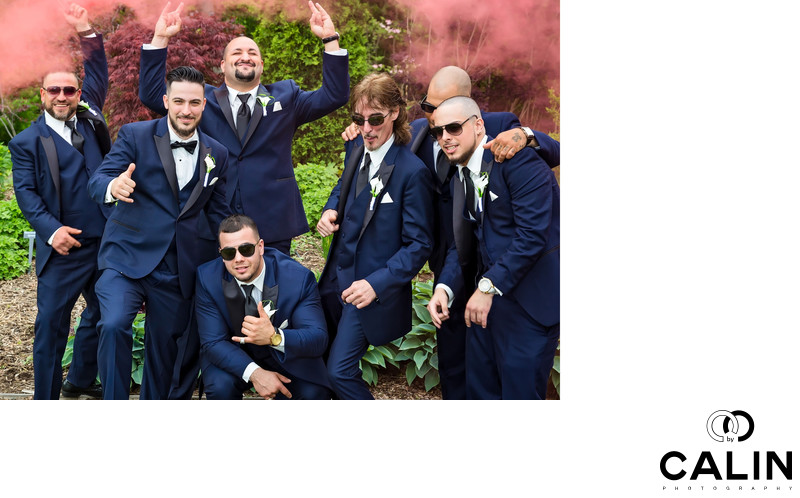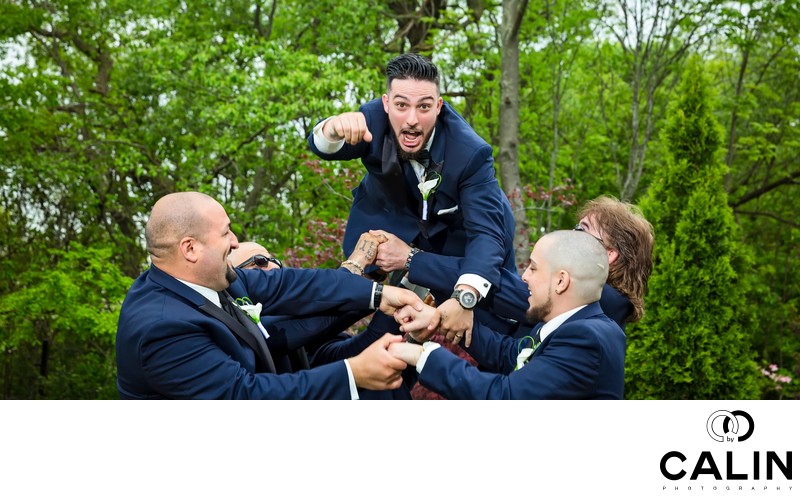 Once we finished the creative portrait session, we went to the banquet hall for the wedding reception. The evening had it all: laughter, tears, games and a lot of dancing. Towards the end of the night, we took a few images of the bride and groom. The groomsmen were enjoying their fine cigars, we took the opportunity to take a few environmental portraits of them in front of the wedding venue and ended the evening in a high note. The boys loved the picture below which became one of my signature shots after this wedding.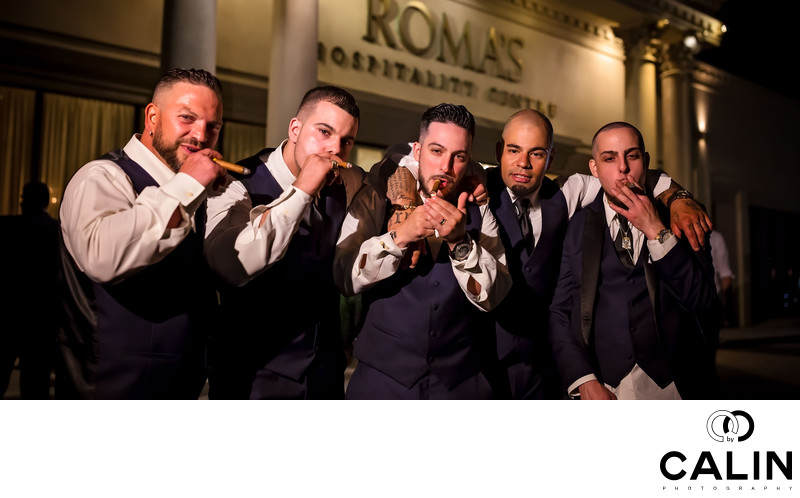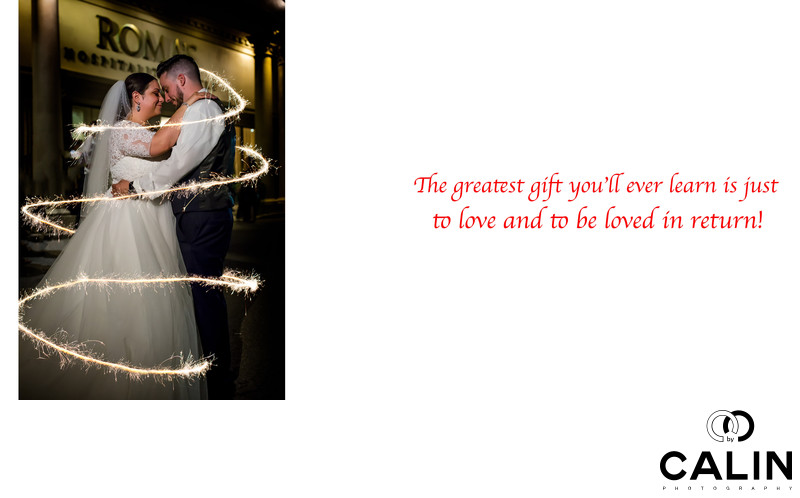 Finally, here is a video with the highlights of the day. Enjoy!